Photo Gallery
Gov. Bill Lee visits Cleveland High School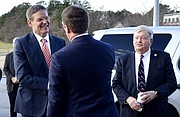 Tennessee Gov. Bill Lee says career and technical education programs at Cleveland High School are an example for the rest of the state.
"There are things happening here that are unusual - the partnerships with higher education, partnerships with the local private sector - and those things are crucial for the success of this," Lee said during a Tuesday visit there. "We want this to be happening all across the state."
Lee, along with Lt. Gov. Randy McNally and an entourage of lawmakers, Cleveland city officials and school district leaders visited several of the career and technical academies at the high school.
Junior Layney Talley showed off the school's new ambulance room that features a life-size replica, the Raider Rescue. Talley and her classmates are able to use the room as part of the school's health science academy, which allows them to take classes that prepare them to work as emergency responders or in other health care positions, and earn them credit toward a related college credential or degree.
The health science academy is one of 13 available to Cleveland City Schools students, including three at the middle school level, which prepare them for high school and dual enrollment courses.
"We want to duplicate this and expand this and give opportunities for children all across Tennessee, particularly in vocational and technical and agricultural fields," Lee said.
Lee continues to be an advocate for vocational training as the state as a whole has put an emphasis on work-based learning in recent years. In last year's State of the State address, Lee said high schools need to look different and the state has to help facilitate how communities can make that happen.
He also has noted that the most successful career-training programs are ones that are attractive to students.
Austin Bayne, a senior, is a project manager for Cleveland High's robotics team. He and his classmates, through a variety of robotics and mechatronics courses, have designed and built remote-controlled cars for young children with disabilities through the Malachi Project under the guidance of Cleveland High robotics instructor Ben Williams.
Williams was recently named the Secondary/Post-Secondary Teacher of the Year for the state by Tennessee Association for Career and Technical Education. He said most of the courses students can take, such as Robotics 2 and Robotics 3, allow them to earn college credit before ever setting foot on Cleveland State Community College's campus or tapping into potential financial aid through the Tennessee Promise program.
"I'm learning tons through classes like robotics or design classes, and it is fueling my urge to help these kids even more," Bayne told Lee.
Locally, Hamilton County Schools has launched more than a dozen similar career and technical academies, or Future Ready Institutes, since March 2018. Private companies and organizations including BlueCross BlueShield of Tennessee, EPB, Erlanger Health System and Unum have partnered with individual schools to help develop programs and offer work-based learning opportunities for students.
Last year, Lee launched his first major legislative initiative, the Governor's Investment in Vocational Education (GIVE) Act, which gave $1 million grants to about 25 programs to expand vocational training programs. Similarly, in 2017, the Governor's Rural Task Force developed a work-based learning grant program funded through the Rural Economic Opportunity Act that awarded grants to school districts across the state to develop or expand work-based learning programs.
On Tuesday, Lee said that he is committed to finding ways to continue to expand such programs.
"I want to hear how it is as a state to create an environment that supports our public schools in such a way and then we want to do just that," Lee said. "I think we should change the way high school looks and it needs to look more like this one."
Contact Meghan Mangrum at mmangrum@timesfreepress.com or 423-757-6592. Follow her on Twitter @memangrum.