Photo Gallery
Coronavirus COVID-19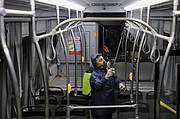 As concern among world health officials over a new coronavirus mounted Wednesday, local health officials are reminding Southeast Tennessee residents that their risk of contracting the potentially dangerous disease is low.
"There's a fear factor associated with the unknown," said Dr. Paul Hendricks, Hamilton County health officer. "People have heard of the flu. They've not heard of this. But the reality is, the flu is a much bigger concern than this virus, and there are many other things that are a greater concern."
To date, about 99% of the nearly 6,000 cases are in China. The new virus has now infected more people in China than were sickened during the 2002-2003 SARS, or severe acute respiratory syndrome, outbreak. On Wednesday, the number of cases jumped to 5,974, surpassing the 5,327 people diagnosed with SARS.
The death toll, which stood at 132 Wednesday, is lower than the 348 people who died in China from SARS. Scientists say there are still many questions to be answered about the new virus, including the full extent of its spread, how easily it spreads and how severe it is. They expect many crucial questions about the virus' behavior will be answered in the coming weeks as the outbreak evolves.
However, the World Health Organization said most cases reported to date "have been milder, with around 20% of those infected experiencing severe illness."
(MORE: China virus death toll rises to 170, transmission a concern)
Hendricks said officials from the U.S. Centers for Disease Control and Prevention, the state departments of health and the Chattanooga-Hamilton County Health Department are closely monitoring the situation.
Erlanger Health System's seven ERs and physician practices are "following standard protocols regarding airborne infection precautions and isolation processes for those appearing with symptoms of a probable infectious disease," reads an email from Erlanger infection prevention director Tamara Grayson.
Symptoms, which include cough and fever and in severe cases pneumonia, are similar to many other illnesses. People who experience those symptoms and who have recently traveled to areas near Wuhan, China, should contact a medical professional, Hendricks said.
"Our goal is to keep this new virus from becoming an issue," he said. "So from a professional perspective, it's something important for us to watch. For the general public, the risks from this particular virus are exceedingly small."
Meanwhile, the World Health Organization's emergencies chief told reporters on Wednesday that China was taking "extraordinary measures in the face of an extraordinary challenge" posed by the outbreak.
(MORE: Americans flown from China virus zone arrive in California)
The Chinese health minister and others have suggested that the virus is spreading before people display symptoms, but data to confirm that has not yet been shared widely beyond China. If it does, that might explain why China has already exceeded the case numbers for SARS.
"It's still unclear whether that takes place," said Malik Peiris, chair in virology at the University of Hong Kong.
"The fortunate thing about SARS, if there was anything fortunate, was that transmission did not take place before symptoms," he said. Peiris said that if it turns out that the new coronavirus can indeed be spread by people who don't show any symptoms, "a pandemic is a scenario that we have to consider."
Reports from Beijing
Dr. Michael Ryan spoke at a news conference after returning from a trip to Beijing to meet with Chinese President Xi Jinping and other senior government leaders. He said the epidemic remains centered in the city of Wuhan and in Hubei province but that "information is being updated and is changing by the hour."
Ryan said the few cases of human-to-human spread of the virus outside China - in Japan, Germany and Vietnam - were part of the reason the U.N. health agency's director-general has reconvened an expert committee to meet Thursday. It will assess whether the outbreak should be declared a global emergency.
Ryan estimated the death rate of the new virus at 2%, but said the figure was very preliminary. With fluctuating numbers of cases and deaths, scientists are only able to produce a rough estimate of the fatality rate and it's likely many milder cases of the virus are being missed.
In comparison, the SARS virus killed about 10% of people who caught it.
The new virus is from the coronavirus family, which includes those that can cause the common cold as well as more serious illnesses such as SARS and Middle East respiratory syndrome, or MERS.
Ryan noted there were several aspects of the new virus outbreak that are extremely worrying, citing the recent rapid spike in cases in China. He said that while scientists believe the outbreak was sparked by an animal virus, it's unclear if there are other factors driving the epidemic.
"Without understanding that, it's very hard to put into context the current transmission dynamics," he said.
Countries have begun evacuating their citizens from the Chinese city hardest hit by the virus. Chartered planes carrying about 200 evacuees each arrived in Japan and the United States early Wednesday as other countries planned similar evacuations from the city of Wuhan, which authorities have shut down to try to contain the virus.
The first cases in the Middle East were confirmed Wednesday in a family of four from Wuhan that was visiting the United Arab Emirates. Airlines around the world announced they were cutting flights to China, and Hong Kong was suspending rail travel to and from the mainland at midnight.
The number of cases in China rose 1,459 from the previous day, a smaller increase than the 1,771 new cases reported Tuesday. Australia and Singapore were among those reporting new cases, as the number outside China topped 70. The vast majority are people who came from Wuhan.
Four passengers on the evacuation flight to Japan had coughs and fevers, and two were diagnosed with pneumonia. It wasn't clear whether they were infected with the new virus, which first appeared in Wuhan in December.
The Associated Press contributed to this report.
Contact Elizabeth Fite at efite@timesfreepress.com or 423-757-6673.