Soft fabrics, muted colors and the faint scents of new wood and fresh paint give an instantly homey feel to the units inside a new building off of McCallie Avenue that will soon house participants in Chambliss Center for Children's Residential Living program, which provides 18-year-olds with a place to live on their own as they transition out of foster care and into adult life.
All of the building's six units - comprising two, two-bedroom apartments and four, one-bedroom units - feel larger than they actually are, which is no accident. Maximizing space and eliminating clutter are among the strategies used by nonprofit design firm Homes and Havens to create home environments specifically designed to cater to people impacted by trauma, said founder and main designer Kaysie Strickland.
Homes and Havens works with nonprofit partners and ministries that refer clients, typically women, who are in recovery from addiction or trauma. The design firm helps the client create a space where they can feel at home as they get back on their feet again.
"It's a very covert way to communicate dignity to someone," Strickland said, adding that design is often viewed as a luxury only certain people can afford.
(READ MORE: Chambliss Center has been caring for children for more than 147 years)
When a donor provided funds to purchase the new building, they also provided funds for Homes and Havens to transform the units with brand new furniture and home furnishings.
Drawing on her research on the psychology of color and how it affects a person's mood and disposition, Strickland utilizes neutrals found in nature in her designs, as well as maximizing the natural light of spaces to create inviting, uplifting living environments for her clients.
Photo Gallery
Chattanooga apartments for former foster kids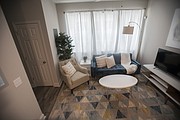 While the soothing, neutral shades of the walls and furnishings in the new Chambliss apartments are hallmarks of Homes and Havens' trauma-informed design, Strickland said she added playful elements to the design in these units to give them the feel of an 18-year-old's apartment, like velvet sofas, mid-century modern-style tables, rugs with fun patterns and abstract art.
Beds are topped with new, donated mattresses and pure white bedspreads. White bookshelves sit next to matching, visually appealing work spaces perfect for school work. A kitchenette with granite countertops and stainless steel appliances is outfitted with new, donated utensils, pots, pans and cookie sheets to fuel late-night study sessions.
A bathroom, washer and dryer complete each of the units, some of which will become home to tenants later this week.
The apartments are designed with the residents' independence in mind, with each intended to house one person, said Lesley Berryhill, director of special projects and events for Chambliss Center.
Chambliss' Residential Living program, which was launched in 2017, also has participants living in eight units near the Chambliss center, a duplex in Highland Park and a unit in Red Bank.
Program participants are required to be in school and hold a part-time job, though the latter requirement is being waived during the current COVID-19 health crisis.
(READ MORE: Chattanooga's foster care agency adapts during coronavirus pandemic)
Some residents are still in high school, since foster parents are only required to give their foster children a place to live until their 18th birthday.
Residents may remain in their apartments until they reach age 21, which some have done, Berryhill said. Others have gone on to move in with biological family members or have discovered they would like to live on campus to be more social, she said.
When someone moves out, there's always someone else who's ready to move in. New tenants, who live in the apartments free of charge, are typically referred by the Tennessee Department of Children's Services.
"If they don't have a support system, many end up homeless or in jail," Berryhill said. "Our case managers have seen over the years that there's a great need for this."
Case managers work with residents to develop goals, set budgets and continue to meet regularly to ensure they stay on track, she said.
Contact Emily Crisman at ecrisman@timesfreepress.com or 423-757-6508. Follow her on Twitter @emcrisman.