Jeff Cochran said his 8-year-old son, Colt, can't wait to get back to school.
Colt's about to start third grade at Leroy Massey Elementary in Chattooga County, Georgia. When Colt and his classmates were pulled out of school due to the coronavirus pandemic, Jeff said, his son finished up the school year strong and the family had a relaxing summer on the lake, all things considered.
"He really wants to go back to school and we really want him to," Cochran said. "We don't want him to regress. They just seem like they're jumping the gun by starting this Thursday."
Thursday is the first day of school for more than 2,600 students in the Chattooga County Schools.
Photo Gallery
Chattooga County Schools reopens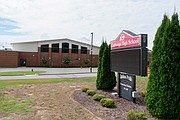 As other districts around the state have delayed their back-to-school dates or moved to all-remote learning, Chattooga County school officials are going ahead with plans to start Thursday, one of the earliest start days in the nation.
Teachers with the district reported to their schools Tuesday.
Superintendent Jared Hosmer said just over 200 students have enrolled in the district's virtual learning program as of Friday afternoon, which would account for about 8% of the student body. Some parents, including Cochran, have yet to make a decision.
The fact that the small community has faced a mild outbreak in the last week is not reassuring.
"We don't want him going over there and getting sick," Cochran said. "We're a small town. Everybody pretty much knows everybody. There's a small chance that the child gets sick, but what about the lunch lady, the janitor, the bus drivers, the teachers? You just don't know."
Hosmer has said the district will follow federal health guidelines and Georgia's "Path to Re-Opening Schools" protocols if someone in the school tests positive. The state says to handle each positive test on a case-by-case basis.
The school district used a combination of recommendations from the state's health and education departments and results of a districtwide survey to make the decision to reopen schools for face-to-face instruction.
The district - which has one high school, one middle school, three elementary schools and an alternative school - sent a survey that gauged the interest in and comfort with being back in schools amid the global pandemic.
By July 6, 1,965 of the district's 2,673 students completed the survey, and only 303 students said they were interested in the virtual path.
In all schools, masks for students and teachers will not be required but will be recommended where social distancing is more difficult.
Colt told his parents recently that he'll even wear a mask if he has to.
Student pickup, drop-off, lunches and recess will be altered to make sure social distancing is a priority. Water fountains will be replaced with bottle refill stations, recess will be limited to outdoor play, playground equipment will be off-limits and hand sanitation stations will be placed around each building.
A no-unannounced-visitors policy will be put in place at all schools. People with appointments will be allowed inside but will be required to wear face masks, have their temperatures checked and be asked screening questions.
Outside of virtual learning, the district will have a traditional path and three "hybrid" paths. The first hybrid path will be a four-day school week where students come to school Tuesday through Friday. Mondays will be used as deep cleaning days at each school.
In the second phase, the student body at each school will be split into two groups. Each group will attend school two days a week and learn from home on Fridays. Mondays will still be cleaning days.
The third phase, if necessary, will have students coming to school every other week while split in the same two groups. Each phase's usage will depend on how serious the COVID-19 spread is in the community.
April Robinson has a daughter who will be a sophomore at Chattooga High School and a son in seventh grade at Summerville Middle School. Her daughter will be attending school, and her son will be staying home to learn virtually.
"I would personally prefer a hybrid schedule but that isn't an option, unfortunately," Robinson said. "Two days a week or alternating weeks, I think, would be a much better idea than the full day, full week they have in place now."
At 7 a.m. on Thursday, the doors of Chattooga County High School will open for the first time since March, and people in the community are taking notice schools are opening at a precarious time.
Last week, a part-time firefighter tested positive for COVID-19, shutting down the Summerville City Hall for a week.
A few days later, three judges in Chattooga County tested positive, which shut down the courthouse annex and later the main courthouse. Three employees with the town of Trion tested positive, which shut down town hall there.
On Monday, Chattooga County Sheriff Mark Schrader said eight employees at the jail had either tested positive for COVID-19 or were feeling symptoms.
On Tuesday, officials with the Summerville Recreation Center said two employees had tested positive, and the center has closed its doors until further notice.
The county broke its single-day case record on July 23 with 14 new cases, according to the state health department. The previous high was six new cases on July 8.
Since July 22, the county has averaged more than 9 cases a day.
Students at the high school will notice a few changes early on. Buses will be less crowded to make sure social distancing can be achieved.
Breakfast will stop being served in the cafeteria at 7:30 a.m. The cafeteria would normally be crowded from 7:30 to 8 a.m. before first period, but now to ensure students don't crowd the cafeteria, kids who come in after 7:30 a.m. who need breakfast will pick theirs up and eat it in their first period room.
Hallway traffic will be monitored. Students will be asked to walk to the right, as if they were driving on a road.
Lunch will be eaten in classrooms and not the cafeteria. Students will also be dismissed for lunch and from the last period in a staggered schedule to limit exposure from student to student.
Students in all schools will have their temperatures checked before entering each classroom.
Cochran understands he and his wife are in a good place to teach Colt from home if that's what they choose. His wife is working from home and can handle at-home teaching better than other families. Nevertheless, they have a big decision to make.
"It's a tough spot to be in right now," he said. "All I ask is, give us another month. Give us until the 31st, and let's see where everything's at."
Contact Patrick Filbin at pfilbin@timesfreepress.com.