EDITOR'S NOTE: This is the third story in a series counting down the top five University of Tennessee at Chattanooga football players of the past decade.
Russ Huesman, the University of Tennessee at Chattanooga football program's head coach at the time, expressed excitement in February 2012 when offensive lineman Corey Levin chose the Mocs, even though it wasn't always trending in that direction.
"I was dead set on going to App State," Levin told the Times Free Press on Tuesday afternoon. "I took a couple of unofficial visits there, but as far as official visits, Chattanooga was my first one."
Ironically, one of his unofficial visits to the school in Boone, North Carolina, was for a game against UTC.
A week after his visit to UTC, Levin visited Georgia Southern and had an official visit planned to Appalachian State the following week, but he never went.
Over the next five seasons, Levin showed why he was worthy of the emotions.
Players always talk about wanting to be a part of the "culture change" for a struggling program, but Levin, along with Davis Tull, Keionta Davis, Jacob Huesman, Nakevion Leslie, Lucas Webb and so many others that were around the program during that time, were actually a part of it.
In the five seasons before Levin's 2012 signing class arrived, the Mocs were 20-36. In the five seasons he was around, which included a redshirt year in 2012, UTC was 42-21, won three Southern Conference championships and qualified for the Football Championship Subdivision playoffs three times.
"I'm very proud of the years I spent in Chattanooga, being with my teammates and helping turn things around," said Levin, who according to Spotrac.com, recently signed a two-year, $1.38 million contract with the Chicago Bears. "Our class didn't really have any highly rated recruits, just a bunch of hard-working guys under the radar that came in and bonded together to make something special happen."
Photo Gallery
Cancer Challenge 6/22/07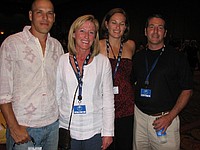 Levin's college career concluded with him named a three-time FCS All-American, three times being named a first-team All-SoCon selection and twice being awarded the Jacobs Blocking Trophy, which is given to the best offensive lineman in the SoCon. As an offensive lineman, he doesn't really have any stats, but consider that he was part of an offense that averaged 31.4 points, 217.8 rushing yards and 401.1 total yards per game during his four seasons on the field. Also consider that in 2015, the Mocs averaged 241.9 rushing yards per game, with running back Derrick Craine (1,251) and quarterback Jacob Huesman (1,244) putting together the two most prolific single-season totals in school history.
Levin was selected by the Tennessee Titans in the sixth round of the 2017 NFL draft and played two seasons for them. He was most recently on the practice squad for the Denver Broncos.
Levin is currently in Nashville, where due to the coronavirus pandemic, he's getting an opportunity to spend some additional time with his wife Anna and four-month old son Grant. It's time he wouldn't have otherwise had to spend, but time he's certainly grateful for.
The same can be said for his time in Chattanooga, where he helped turn a fledgling program into a top-10 team in the country.
"I'm just grateful, man," Levin said. "We were able to do, not everything we wanted - obviously we wanted to win a national championship, and I thought we had the teams to do that - but I'm grateful that we were able to turn a program around and get good guys in that locker room."
Contact Gene Henley at ghenley@timesfreepress.com. Follow him on Twitter @genehenley3.
READ MORE STORIES IN THE SERIES
No. 5: Isaiah Mack had finishing touch
No. 4: Keionta Davis worked to meet high standards
No. 2: Jacob Huesman was central to run of SoCon success