After a series of weekend protests - some of which resulted in interactions between law enforcement and protesters with little to no social distance - some advocates are concerned about the decision by police and sheriff's deputies not to wear masks.
On top of concerns by health officials about the spread of COVID-19 during the protests in general, those who helped lead demonstrations said law enforcement's decisions show a lack of care for their well-being.
"We see once again the significance of the police's disregard for the health, safety and even lives of those who they feign they are here to protect," said the Rev. Alaina Cobb, pastor at Mercy Junction Justice and Peace Center. "Flagrant disregard for even basic safety measures is reflected not only in their choice to not wear [masks] and reduce the spread of COVID-19 but also in their constant escalation tactics during protests."
According to modeling from the Centers for Disease Control and Prevention, around a third of all COVID-19 infections are believed to come from asymptomatic carriers, or people who are likely unaware they have the disease. Masks are recommended to stop people from spreading the virus through respiratory droplets that are released when someone coughs, sneezes or speaks.
Representatives from both the Hamilton County Sheriff's Office and the Chattanooga Police Department said wearing masks designed to stop the spread of the coronavirus can hurt law enforcement's ability to communicate.
On Sunday evening, tear gas was used to disperse crowds gathering outside the Hamilton County Courthouse. On Saturday and Sunday evening, law enforcement was seen pushing protesters and tackling some who were eventually arrested, mostly for disorderly conduct.
The Chattanooga Police Department has no written policy about personal protective equipment (PPE) related to COVID-19, but officers have been instructed to wear PPE at all times if it is feasible while interacting with the public, said Jeremy Eames, a spokesperson for the department.
Officers needed to communicate with demonstrators this weekend, Eames said.
"This weekend's protests were unique in that loud verbal commands were a vital part of our crowd control measures in trying to ensure everyone's safety," Eames said in a statement. "A mask can greatly inhibit the clarity and volume of those commands. Standing on the front lines of a large protest is not the time or place for confusion."
Photo Gallery
Three Rivers 01/27/08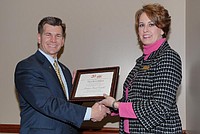 Chattanooga Mayor Andy Berke's office supports the police department's decision, said Kerry Hayes, the mayor's chief of staff.
Hayes said Tuesday that people who were out protesting should get a COVID-19 test after a few days when the virus would be present in their systems.
"It would not surprise any of us at all to see some spike in positivity a few weeks from now, once those results start to come in," Hayes said. "We have been encouraging, obviously all along, anyone who's out in public, if you have to be in public, to wear your mask and maintain social distancing."
Rachel Frizzell, public information officer for the sheriff's office, said deputies did not wear masks for the same reason but followed all guidelines from the Centers for Disease Control and Prevention when possible.
(READ MORE: Chattanooga police officers take a knee with protesters in sign of solidarity)
While hardly any law enforcement personnel wore masks during the protests, face coverings were significantly more prevalent among protesters. The majority of the protests involved standoffs between law enforcement and protesters, often at close quarters.
Photos of protests in cities across the country show a similar trend: Most officers are not wearing masks, with the exception of gas masks by some in riot gear.
Marie Mott, who organized several protests, said leadership needs to set an example, pointing to several instances over the weekend of Police Chief David Roddy talking with protesters without wearing a mask. If leadership is not doing it, other officers and deputies will not either, she said.
"There's no consideration," Mott said. "It's pretty bothersome. Beyond the fact that they could pick up and spread it between civilians, they could pick it up and spread among the officers."
Eames said Roddy does not have any comment about his decision not to wear a mask while talking to protesters last weekend.
Health officials are worried about the spread of the deadly coronavirus after a weekend of multiple gatherings of hundreds of people. Confirmed infections in Hamilton County have surged since the beginning of May, from 163 on May 1 to 1,178 on June 1.
The Hamilton County Health Department is concerned any time people are gathering and not wearing masks, said Carleena Angwin, communications chief for the department.
(READ MORE: Here's where to get free COVID-19 testing in Hamilton County this week, June 1-7)
Some people may have the virus and not show symptoms, increasing the risk they could be unknowingly spreading it. If cases begin to increase after the weekend's demonstrations, contact tracing to know who could have been exposed becomes complicated.
"In instances where the Health Department has a concern of a close contact public exposure where we cannot identify close contacts by name, we would issue a press release describing the dates and times of exposure, ask people to identify their risk, and seek testing," Angwin said in a statement. "Any time people aren't social distancing, it complicates our ability to keep the public safe."
Contact Wyatt Massey at wmassey@timesfreepress.com or 423-757-6249. Follow him on Twitter @news4mass.