If Hamilton County schools do reopen this fall, Erica Skidmore doesn't plan to send her children back.
Skidmore, a therapist, has two children who attend Rivermont Elementary School. Although they love their school, Skidmore and her husband have decided that they won't be sending their fourth and fifth grader back to campus in August.
"My older son and I both have asthma, and we don't feel comfortable taking that risk," she said. "Our administration is awesome. Our teachers are the best. But I know they even struggled with keeping the school as clean and sanitized as it needed to be just with the regular flu season this year. To us, putting our kids in school would be concerning."
Both spouses are able to work from home, and it won't be easy, Skidmore said. But until there is a vaccine for the coronavirus, Skidmore can't foresee when she'll be ready for her kids to be in the classroom amid the global coronavirus pandemic that continues to sweep the nation.
The Skidmores aren't alone. Nearly 70% of parents are concerned about sending their child back to a brick-and-mortar school this fall, according to a survey conducted by the National Coalition for Public School Options, a national school choice advocacy group.
"There is absolutely no way that I will be sending my child to school until there is a proven vaccine for COVID-19. There is no way I would ever put my child in danger like that when it can most definitely be avoided," said Tiffany Sneed, the mother of an 11-year-old, in an email. "Schools are a cesspool of germs, bacteria, viruses and illness. Too many parents send their kids to school when sick. He will be home with me."
Photo Gallery
Summer child care at East Ridge Elementary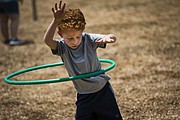 School districts across the country have released their own surveys in recent weeks to gain feedback from their communities on reopening schools this fall.
Hamilton County Schools launched its own survey that presents potential options to parents including sending elementary students to school while middle and high school students stay home, alternating daily school schedules, continuing virtual learning and reducing class sizes.
"We should have the choice of continuing to keep them home with e-learning," Sandra Bonner-King wrote in an email. "I have seen big progress and attitudes changing with the e-learning from home."
Skidmore hopes that the district will boost virtual options for students that will allow those at home to stay engaged with their classmates at their zoned schools.
Jaime Kerns, a Spanish teacher at Lookout Valley Middle/High School, thinks about reopening schools as both a teacher and a mother.
She and her teenage daughter will need an alternative plan for returning to school this fall. Kerns' daughter has an immunodeficiency disease and severe asthma, and Kerns also has asthma. She is also concerned that if either of them returned to school, the building wouldn't be safe for them.
Hamilton County continues to see a steady rise in positive COVID-19 cases, and many in the community remain divided over how much of a threat the coronavirus actually poses and whether businesses should be reopening.
"Couple our health needs with a very conservative school community that doesn't believe the threat of the virus for the more vulnerable makes for an unsafe and unfriendly school environment in which both students and some teachers refuse to comply with maintaining social distance or wear masks," Kerns sad. "This is not a blanket statement but truth based on her classmates [and] families not changing their behavior during the quarantine and now," she said.
More Info
For more information about Hamilton County Schools. School Reopening Task force, visit: www.hcde.org/safeschools/school_reopening_task_force. To take the district's survey, click here.
Others argue that schools need to reopen so society can get back to normal. Parents need to get back to work and children need places to go, many say.
"I do believe schools should reopen this fall. The alternative as to how children learn and are cared for in our present society demands it. When both moms and dads work, who takes care of the kids? When both mom and dad work, who teaches the kids? What is the goal?" Pam Dratnol wrote in an email.
And for some students, distance learning just doesn't work. As many as 25% of students in Hamilton County don't have access to the internet at home. And even though Hamilton County teachers felt their attempts to reach their students were successful while schools were closed this spring, many admitted that academic engagement was low.
Educators are also concerned about the widening gaps for more vulnerable populations such as students with disabilities, English language learners or students who are already behind.
"My young students with disabilities struggled with distance learning," said Heather Modrow, a special education teacher at East Ridge Elementary. "For many it was a compartmental issue: School is for learning, home is home, and they did not engage no matter how hard the parents tried. Many of our special populations of [English language learners] or exceptional education students in the younger grades struggled without a multi-sensory, hands-on-learning environment. I ended up sending home individualized packets of worksheets to maintain learning, not new concepts. Those students benefit from in-class, face-to-face, hands-on instruction."
Yozefu Rugina points out that even when parents are able to be present for their children, they often aren't very helpful when it comes to schoolwork.
"My son was studying DNA sequencing when schools closed this year, so, I had to study DNA with him at the same time. How can I home-school him if I have no idea of the subject at hand?" Rugina said by email.
Rugina thinks schools should start helping interested parents prepare to home-school their children this fall while also preparing to reopen.
"Schools should reopen when contact tracing is available to all schools, and all schools are capable of detecting symptoms of sick students , such as high body temperature. Immediate publicly-funded help must be made available to all school students who exhibit any symptoms of sickness before they are allowed into school facilities," Rugina added.
Most parents, even those ready to send their children back to school, believe that a variety of options should be available. Many educators agree.
"Our schools will not be able to return to 'normal.' We will need to create a new normal that takes into account individual student needs. Some students thrived on self-paced virtual learning, some students need the classroom and direct instruction," Modrow said. "Education should never be a one-size-fits-all model."
Skidmore acknowledges that working from home in order to keep kids out of school is not an option available to everyone.
"I recognize that we have a lot of privilege that allows us to make that decision, [since] we both are able to work from home," she said. "I'm thankful that our kids are a bit older, going into fourth and fifth grade they're able to work a little bit more independently."
She also hopes that other parents who can keep their children at home also do, so that social distancing and other recommendations for keeping schools safe will be easier. If her children aren't in school, that makes it safer for children whose parents don't have any option but to send them to campus each day, Skidmore said.
"Our family just feels strongly that we want to be part of the solution, whatever the experts say that is," she said. "We are prepared to do whatever we need to do as long as we need to do it."
Hamilton County Schools officials expect to have results from the district's survey sometime next week. The district's reopening school task force is expected to develop plans for multiple phases of reopening schools in the coming weeks and present an initial report with recommendations to district officials and the school board on July 2.
Contact Meghan Mangrum at mmangrum@timesfreepress.com or 423-757-6592. Follow her on Twitter @memangrum.