Mistreated. Unappreciated. Hated. Scared.
These are four ways that young children of color said they felt during a protest at First Horizon Pavilion in Chattanooga on Saturday afternoon.
Students were encouraged to hand off a microphone and share the way they felt by some of the adult organizers of the event.
"I feel scared because if I wanted to walk to the store, I might not make it back," said Jaelen Banks, an eighth grader at Chattanooga Preparatory School. The tall teenager is black, and he said sometimes it is hard to explain to his classmates how he feels about things like last month's death of George Floyd under the knee of a Minneapolis police officer.
"They don't always understand what I experience," he said.
Montrell Besley, director of community engagement for Chattanooga Prep - an all-boys public charter school that serves mostly miniority students or students from low-income families, helped organize the event so that young adults, from fifth grade through 12th grade and some younger, could have their voices heard.
"So many times, our youth voices go unheard," Besley told the Times Free Press. "Nobody ever asks our young people how they feel. It's time for these voices to be what's heard, and it's time for [these kids] to experience what a peaceful protest looks like."
Chattanoogans have taken to the streets for more than a week now to protest police brutality and Floyd's death, and though many of the demonstrations have been led by younger adults, there hasn't been a lot of space for children to share their thoughts.
"I'm a graduating fifth grader from East Brainerd Elementary," said one boy Saturday. "Going to middle school. I really only got just one question and that's why? Why does it have to be like this?
"Why can't we just live equal and have equality and peace. We don't have to get someone down by the knee, make them uncomfortable where they can't breathe. Flip the switch. What if you were on the ground? What would you be thinking? That's not cool."
Photo Gallery
Youth voices join those protesting in Chattanooga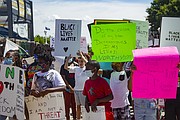 Several young women, most of them white, also spoke to the crowd. They said they also felt scared, as well as confused and hopeless.
The first girl who spoke, Kai Viland, said she felt privileged.
"It's just scary that my dad could get pulled over and nothing bad would happen because he's white," she said later.
Ava Grace, 13, said she didn't understand why some people think there is no reason to be protesting or that people shouldn't be taking to the streets.
"I don't understand how we kids, fifth through 12th graders, can understand what adults don't," Grace said.
Pastor Ron King of Inner Peace Church spoke to the crowd before helping lead them on a short march near the pavilion in Chattanooga's Southside. He told the crowd about some of his past encounters as a young black man with law enforcement and encouraged them to speak out against injustice.
"I always say if you are silent on the issue then you are on the side of the oppressor. If you have black friends, it is your responsibility to speak out on their behalf, because sometimes there are people who will listen to you who will not listen to us," King said. "If enough of us stand up against injustice and what goes on in our community, then change will happen. You are here today because your voice will be heard. Your voice will change laws. Your voice will put elected officials in seats. Your voice will remove people who should not be in seats, so it's very important and imperative that you speak out while you can. No justice, no peace."
Contact Meghan Mangrum at mmangrum@timesfreepress.com or 423-757-6592. Follow her on Twitter @memangrum.