EDITOR'S NOTE: This is the 10th story in a series on the 15 most memorable SEC football games beat writer David Paschall has covered since joining the newspaper in 1990. The games are being presented in chronological order.
The Alabama-Tennessee football rivalry is as packed with tradition as it is colorful, but it has become incredibly one-sided as a result of the Crimson Tide winning all 13 meetings under current coach Nick Saban.
Alabama has won the past four series matchups by an average score of 47-13, which is all the more reason to savor the Tide's 12-10 escape in 2009 that was decided on Terrence Cody's block of Daniel Lincoln's 44-yard field-goal attempt as time expired. The Tide won the 2009 national championship while enduring just two single-possession games - a 26-21 comeback triumph at Auburn and the outcome provided by a 6-foot-5, 354-pounder known simply as "Mount Cody."
"That play was really significant in terms of that team and what that team was able to accomplish," Saban said this past October. "My thoughts before the kick were that we had not played very well in the game. My thoughts afterward were that it was a great play by a lot of players, because I'm not sure if Julio (Jones) or somebody else would have blocked that kick if he didn't block it.
"Sometimes in rivalry games you have those tough tests, and you've got to be ready for them. We were very fortunate that day to be able to come out on top."
Alabama posted 41-17 and 29-9 victories over Tennessee during Saban's first two seasons in Tuscaloosa, but the top-ranked Tide in 2009 entered late October playing their eighth game in eight weeks. The Volunteers, meanwhile, were just 3-3 in what would be Lane Kiffin's one and only year in Knoxville, but they were coming off a 45-19 bludgeoning of Georgia that was followed by an open date.
It quickly became a defensive-minded game, and it looked like one of the more nondescript showdowns in series history when the host Tide led 12-3 with four minutes remaining. A roughing-the-punter penalty on Tennessee gave the Tide a new set of downs at their 38-yard line, seemingly zapping whatever life remained in the contest, but then Vols safety Eric Berry caused a Mark Ingram fumble that Tennessee recovered at the Alabama 43.
Ingram had gone 276 carries in his college career without losing a fumble.
"We're leading 12-3 and in total control of the game with 3:29 left and the ball," Saban said afterward. "That's how fragile a season can be. Make one mistake and you have to go overcome it. I hope that there are a lot of lessons our team can learn from this."
Tennessee was still low on hope when Jonathan Crompton was sacked at midfield, but then Crompton connected with running back Montario Hardesty for a 16-yard gain, and Bryce Brown had an 8-yard carry to the Tide 16 that help set up an 11-yard scoring strike from Crompton to Gerald Jones with 1:19 left. The Vols were within 12-10 and recovered the onside kick, and a 23-yard connection from Crompton to tight end Luke Stocker to the Alabama 27 provided a ghastly silence inside Bryant-Denny Stadium.
The Vols could not advance from there, however, and Lincoln entered having already come up short from 47 yards and having an earlier attempt in the fourth quarter blocked by Cody.
Alabama called for a "max block," with all 11 players going for the ball. Cody lined up across from left guard Cory Sullins, who was 84 pounds lighter, while 6-4, 296-pound Marcell Dareus and 6-4, 306-pound Brandon Deaderick had their sights on the block as well.
Lincoln's kick never had a chance, as Cody broke through and batted the ball with his left hand before ripping his helmet off in celebration.
"After I blocked that thing," Cody said, "I knew I was like a big hero."
Tennessee amassed 20 first downs and 341 yards compared to Alabama's 16 and 256, but the Tide had Mount Cody, and that accounted for a lot.
Contact David Paschall at dpaschall@timesfreepress.com or 423-757-6524. Follow him on Twitter @DavidSPaschall.
Photo Gallery
Oct. 24, 2009: No. 1 Alabama 12, Tennessee 10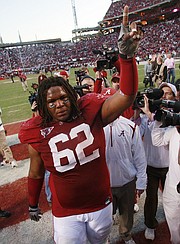 READ MORE STORIES IN THE SERIES
Thirty years of SEC memories began with dominance of Pat Dye, Johnny Majors
Florida 48, Auburn 7 (1990): Spurrier's Gators arrived while ushering out Dye's Tigers
Alabama 28, Florida 21 (1992): Steve Spurrier on SEC title game: 'I didn't even know it was legal'
Auburn 38, Florida 35 (1993): The year college football's 'best team on radio' went 11-0
Alabama 29, Georgia 28 (1994): The night Jay Barker had to outlast Eric Zeier
Tennessee 28, Arkansas 24 (1998): Billy Ratliff's play arguably the most memorable in Vols history
Georgia 26, Tennessee 24 (2001): When a 'hobnail boot' described an instant classic
Georgia 24, Auburn 21 (2002): The fourth-and-15 play that turned a Florida-Auburn SEC title matchup into Georgia-Arkansas
LSU 17, Georgia 10 (2003): Nick Saban gets LSU back among the national elite
Florida 31, Alabama 20 (2008): Turning the SEC title game into a national semifinal
Auburn 28, Alabama 27 (2010): The surreal day when Nick Saban lost a 24-point lead at home
Alabama 32, Georgia 28 (2012): Time runs out on Georgia in the most thrilling SEC title game played to date
Georgia 44, LSU 41 (2013): Aaron Murray and Zach Mettenberger meet again to provide a classic
Auburn 34, Alabama 28 (2013): Navigating thousands to interview 'Kick Six' components quite the task
Alabama 26, Georgia 23, OT (2017 season): Crimson Tide win walk-off national title over Bulldogs