Hamilton County District Attorney General Neal Pinkston has requested the Tennessee Bureau of Investigation look into the beating of a Black man by Hamilton County sheriff's deputies on May 23.
"Stop, stop, stop, stop stop! No! Ma, they're cutting my air off!" a handcuffed and shackled Reginald Arrington Jr. cried out from beneath six officers, according to dashboard camera footage released by Pinkston's office.
The beating happened just two days before George Floyd, another handcuffed Black man, died as a white Minneapolis police officer pinned him to the ground with his knee on his neck for nearly nine minutes - sparking a worldwide protest movement.
Hamilton County Sheriff Jim Hammond said the release of the footage "will improperly influence and sensationalize the events of this incident to the public without allowing the legal process to effectively take place."
"Effectively, what General Pinkston has chosen to do is indict my deputies in the court of public opinion prior to facts being presented in a court of law."
Hammond said that, while he ordered an administrative review to take place, he will not be placing the deputies on administrative leave, meaning they will remain on duty. He identified them as Sgt. Mickey Rountree, Cpl. Brian Killingsworth and deputies Nick Dewey, Todd Cook and Charlene Choate.
Photo Gallery
875th Returns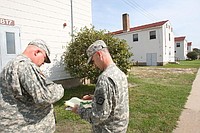 The deputies, all white, had been called to the area by a woman who lived in the 4800 block of Waverly Court in Ooltewah. She told deputies that a Black man in a blue jumpsuit was acting suspicious, walking up to women and "asking them questions and asked her how to get out of the neighborhood," court records state.
The deputies spotted the man, Reginald Arrington Jr., walking south on Old Lee Highway "in violation of the pedestrian on roadway law," which is what precipitated the arrest, according to court records.
Before arresting him, though, deputies questioned Arrington. He told them his car was broken down at a nearby motel, and it was leaking gasoline. So he'd gone to the neighborhood where a female friend lived, but she told him to leave.
Deputies then asked Arrington for his name and date of birth. They claim the information Arrington provided was false.
Arrington then began exhibiting what deputies called "erratic behavior" by emptying his pockets and "saying he didn't want to get shot," according to the arrest affidavit.
"He then laid down in the roadway with his hands stretched out," the affidavit reads. "Deputies advised him that was not necesarry and instructed him to get up. He was then placed under arrest for violation of pedestrian on roadway law."
While escorting Arrington to a patrol vehicle, deputies claim he grabbed Killingsworth's gun and "made several attempts to pull it from his holster."
Arrington was already handcuffed at the time, and both of his hands appear to be held by a deputy as they walk toward the patrol vehicle, dash camera video shows.
"Don't be stupid," one deputy is heard saying.
"I didn't do nothing!" Arrington screams repeatedly from the ground, in fetal position, as four deputies beat him with their batons.
"Please stop," he cries. His legs raise up multiple times as he screams.
"Put your legs down! Relax!" deputies order, still beating him.
"You're going to kill me," Arrington exclaims.
"Just relax. That's all you gotta do. Relax," a deputy responds as they continue to beat him.
At one point, one of Arrington's shoes comes off.
"Relax. Nobody wants to hurt you. Relax," a deputy says. "Piece of f - - s - -."
"He's completely combative still," a deputy is heard telling a dispatcher as Arrington lies on the ground, hands cuffed and feet shackled.
For five-and-a-quarter minutes, deputies beat Arrington and held him to the ground, the video shows.
Arrington's limp body is then picked up and placed in the back of a patrol vehicle.
Arrington was charged with resisting arrest, simple assault on police, criminal impersonation, pedestrian in roadway and four counts of aggravated assault on police. All of the charges were dropped on Tuesday by Pinkston.
"The video's horrific, and we believe that ultimately, everyone will make the right call as it relates to this unfortunate incident that Mr. Arrington was subject of," Arrington's civil attorneys, Troy Bowlin II and Mark Stephens, said.
The attorneys are conducting their own independent investigation of the incident, they said.
In a news release, DA Pinkston said the police body-worn camera and dashboard camera footage "caused enough concern to warrant an investigation" and, in addition to bringing in the TBI, has referred the matter to the Department of Justice for possible investigation, and notified the general counsel for Tennessee Governor Bill Lee.
"I have not made a final determination on anything related to this case," he said in a statement, "but what I saw in the videos was troubling. That's why I'm requesting a thorough investigation to ascertain whether or not excessive force was used in this incident."
Sheriff Hammond cautioned against a rush to judgment.
"We are a nation of law and order and in order to remain so, it is imperative we allow and encourage the legal process to take place," Hammond said. "This includes allowing for preliminary probable cause hearings to take place so all sides can be heard. As always, we welcome an outside review and will cooperate and offer any evidence necessary to seek a legal and appropriate resolution.
"As sheriff, it has always been my intention that this agency stand firm and remain transparent even in the harshest light of public scrutiny. However, I cannot sit back and remain idle while my deputies have their right to be heard infringed upon."
Contact Rosana Hughes at rhughes@timesfreepress.com or 423-757-6327 with tips or story ideas. Follow her on Twitter @Hughes Rosana.