Photo Gallery
2020 Best of Preps Scrappy Moore Coach of Year finalists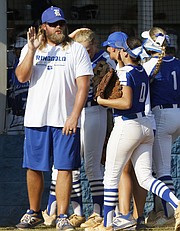 Earning championship hardware was not a prerequisite to becoming a finalist for Scrappy Moore Best of Preps Coach of the Year, but it certainly didn't hurt.
The six finalists for this year's award are Chattooga's Brian Beasley, Ringgold's Daniel Hackett, Red Bank's Bailey McGinnis, McCallie's Ralph Potter and Mike Wood and Cleveland's Reggie Tucker.
Because of coronavirus concerns, this year's winners will be revealed online rather than in a banquet setting. The virtual Best of Preps banquet will be shown on both the Times Free Press Facebook page as well as timesfreepress.com at 7 p.m. Thursday.
Chattooga's wrestling program had never won a GHSA team state championship until Beasley guided the Indians to the Class AA titles in both the duals and traditional state tournaments this past winter. In Beasley's 19th season as head coach, the Indians were dominant, rolling past five-time reigning champion Social Circle in the AA duals final, 59-21. Three weeks later, they returned to Macon and won the AA traditional title by a 73-point margin over runner-up Oglethorpe County, with five Chattooga wrestlers earning individual championships.
Ringgold's Hackett, a longtime softball assistant, took over one of Georgia's most prestigious programs in 2017 and was tasked with getting it back to its usual status after heavy graduation losses. A promising group of freshmen made their debuts that season, but their first two years produced a combined record of 28-34. This past season, their work culminated in a 31-4 record capped by the Class AAA state championship. Due to weather delays in Columbus that forced the state finals to home sites, Ringgold had to win two games at Franklin County and did so, 2-1 in eight innings and 7-5.
Just 10 years after graduating from Red Bank, McGinnis has helped her alma mater's girls' basketball team to 28 wins and a TSSAA Class AA sectional appearance for the first time in 25 years. Red Bank topped Signal Mountain for the District 6 titles in the regular season and the tournament, and the Lady Lions also finished as the Region 3 tournament runners-up to Meigs County before their season ended one step shy of reaching the state tournament. Under McGinnis, who stepped down after the season, Red Bank has had five straight winning seasons and is a combined 70-22 the past three.
In his 18th season at McCallie, Potter guided his alma mater to its second TSSAA Division II-AAA football state championship and first since 2001. The Blue Tornado finished the season 11-2 overall - that included a win at rival Baylor - and won the East Region title as well. As defensive coordinator, Potter helped the Blue Tornado hold opponents to an average of just 15 points per game. McCallie beat Montgomery Bell Academy 28-7 in the state title game, marking only the third time in 13 games the Big Red had been held to fewer than 10 points. The defense also set a state championship game record with nine sacks and allowed just 42 rushing yards.
In his first year as head coach of the Cleveland boys' basketball program, Tucker led the Blue Raiders to extraordinary heights. They started 29-0 and held the No. 1 ranking in the state's Class AAA poll throughout the regular season. Led by senior standout JaCobi Wood, voted Tennessee Mr. Basketball in AAA, Tucker's group finished 33-1 but was not able to compete for a state title because the tournament was canceled due to the coronavirus outbreak.
Wood guided McCallie to the Division II-AA cross country state championship, with the team's five scoring runners all finishing in the top 14. Wood's top four senior runners all clocked a time of 16:23 or faster during the regular season. The Blue Tornado won the local Front Runner Championship, finished second at the Knights Crossing Invitational in Virginia and were eighth out of 32 teams at the Florida State Invitational. Under Wood's direction, McCallie has won six TSSAA cross country state titles, with the first of those in 2001.
Contact Stephen Hargis at shargis@timesfreepress.com or 423-757-6293. Follow him on Twitter @StephenHargis.