Court has long been a place where people show up, stand up, and work out whatever's at issue in front of a judge or jury. From lawyers and their clients to court clerks and court reporters, it has always been all about being there.
Until now.
"On Monday mornings, I'm sitting at my desk with my telephone and my laptop and I have in front of me a docket that says '8:30: Smith vs. Jones,' and at 8:45 I have another motion, and that's just how it goes, one after the other," says Hamilton County Circuit Court Judge Marie Williams.
"I got my law license in 1977," she says. "Things have changed greatly in those years, but never an abrupt change like this."
On March 13, the Tennessee Supreme Court declared a judicial state of emergency, and began limiting the operation of the courts to prevent the spread of coronavirus. That order was revised in March, April, and May, but the preference to curtail in-person hearings has endured. So area courts, which have long been strongholds of the old-fashioned appearance, have found new ways to conduct business.
While the courts have continued to hear a limited number of urgent and sensitive cases, more routine work has gone either into a backlog or online. Hamilton County Chancery Court Clerk and Master Robin Miller has handled mediations and hearings over Zoom that would have required in-person proceedings in the past.
"I love it," she says of the new approach. "It saves time for the lawyers having to come up here, and in a mediation, if things seem to break down or we need to stop and do more discovery, we can just pick it up again in a few days."
Nicole Benjamin, who handles family law as an attorney with Legal Aid of Southeast Tennessee, says remote options have helped her keep serving her clients, and she hopes many of them will stick around.
"I've had a couple of uncontested divorce cases that we just did over the phone and that was really helpful," she says. "Normally, our uncontested divorce cases last four minutes, if that. It saves people the time coming down to the courthouse."
It's not just courtroom processes that have had to adjust. The offices that do the work behind the scenes have remained open, but have changed their practices to minimize contact with the public. Attorneys have been able to send motions and pleadings by fax and email, rather than needing to appear and file them in person, for example.
"That has helped tremendously," says Hamilton County Circuit Court Clerk Larry Henry.
Miller set up a table at the front door of the office where a member of her staff could receive requests from anyone who needed help.
"We knew we had to stay open and we had to make ourselves as accessible to the public as possible," she says. "We've been here every minute."
They also waived the normal $10 fee for filing by fax, are adding a more permanent formal efiling process, and have allowed email filing of documents in the meantime, Miller says.
"That's been a godsend," Miller says. "We got a special order to do that and the lawyers love it."
As the entire system has had to adjust its operation, some upsides have emerged, Williams says. Online proceedings are more efficient, they make life easier for people who would otherwise have to travel for court appearances, and they cut down on the waiting that is often inherent to the courtroom experience.
"There are things being done now that we've all known were possible, but lawyers are hard to change," she says. "They're concerned about the unknown, and this experience has been very positive for a lot of people."
There is, however, a steep downside to the efficiency of conducting court online, she adds. The backlog will be jammed with jury trials and cases that parties want heard in person, or that haven't been filed at all while lawyers wait for something like normal operation to resume. And, she adds, the online world can be isolating.
"I think people kind of miss seeing each other," Williams says.
Photo Gallery
Legal system adapts during coronavirus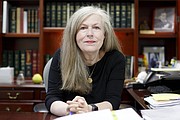 Hamilton County Sessions Court Judge Christie Sell agrees.
"We have a great bar here, so I really enjoyed seeing the other lawyers, and you get a lot of things worked out and you learn a lot as a young attorney watching other cases," she says. "You lose a lot of opportunity to engage."
And while the most urgent and sensitive cases have continued to be heard in limited courtroom sessions, there's a backlog waiting as the system slowly fires back up.
In the first week of June, the court slowly began resuming the detainer dockets where eviction cases are heard. But the plan is to go slowly to begin addressing the backlog, Sell says.
"People can file their detainer, but there are limitations," she says. "We're filling up our slots of cases, but it isn't a floodgate that has opened."
The courthouse where Sessions Court meets is a condensed space, with clerks' offices, multiple courts and the district attorney's office all in one building.
"It will be very gradual and we're being very careful because every court has to consider the impact opening up," Sell says. "We're all being very cognizant of the numbers so we don't overwhelm the courthouse."
Benjamin Danford, an attorney with Legal Aid of Southeast Tennessee, handles eviction cases and has been working with his clients to resolve as many as possible outside of the courtroom, he says.
"A lot of my time before was spent preparing for eviction hearings and detainers in court, and preparing to represent clients in the context of a hearing, and now we aren't having those types of hearings," he says. "So I'm trying to do what I can to assist people to negotiate some sort of arrangement with the landlord and trying to use tactics involving less litigation because that's really what we have available to us."
Hamilton County Juvenile Court Judge Rob Philyaw says that during these months of disruption, that court has seen fewer arrests of juveniles and fewer custody and visitation cases. But he expects a backlog of cases and demand is on its way.
"One of my biggest concerns is the lack of contact many of these children are having with the outside world," he says. "There's a real concern of mine and among people like me who are afraid there is child abuse or neglect we just don't know about yet."
Benjamin also says she anticipates an increase in everything from divorce to domestic abuse cases once the restrictions on courts start to loosen. Urgent cases have been addressed, including orders of protection or emergency child custody cases, but the number of domestic violence cases has gone down in recent months, she says.
That's not a sign of less domestic violence, Benjamin adds.
"We believe they're not able to reach out and get help as much," she says.
Hamilton County District Attorney Neal Pinkston and his staff have had some success in working to keep cases moving while the grand jury hasn't been able to meet, though there is sure to be a backup in the more severe cases, he says.
"I'm not sure we'll know how the backlog looks until everything opens up fully," Pinkston says.
Though many of the old processes will slowly return, some of the adjustments - including more use of technology and work to resolve cases without the grand jury - will be worth keeping, he says.
"This has given us all a chance to take a breath from the day-to-day grind when you can look broadly at things, and there are changes we're making internally and I sure hope they'll be long term," he says. "It's shown everyone that we can do things more efficiently."
READ MORE
* Pandemic practice: From labor law to estate planning, COVID-19 has reset the bar for many attorneys
* Record breaking: Hamilton County Juvenile Court leads the state in electronic conversion