Chattanooga shoppers are buying disinfecting spray, hand sanitizer, wipes and similar goods in bulk as they hunker down to deal with a possible coronavirus pandemic, area retailers say.
Other shoppers are avoiding going into stores and grocery pickup is increasingly popular.
"Our orders are doubled in online grocery pickup," said Kenny Norman, operations manager at the Walmart Neighborhood Market on East Brainerd Road. "They don't want to get in the store."
At Sam's Club on Lee Highway, manager Derrek Stevens has been hard-pressed to keep some items in stock.
"We sold out over the weekend on most of those items - hand sanitizer, Clorox, water, wipes, gloves, masks," he said. "They are stocking up on other staples, as well, but that's mainly what they're wanting."
Photo Gallery
Coronavirus panic buying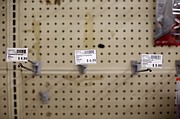 Some items are being replenished, but they're going out as quickly as they come in, Stevens said.
"We got wipes in today, and they're almost gone," he said on Wednesday at mid-morning. "Everyone today is still asking for them."
On Wednesday, California announced its first coronavirus-related death. That brings the number of fatalities to 11. Washington state has confirmed 10 deaths, with at least five of those related to a nursing care facility in Kirkland owned by Cleveland, Tennessee-based Life Care Centers of America.
While Tennessee hasn't reported any cases, at least two people in Georgia have tested positive for the virus.
Matt Hess, assistant manager of the Elder's Ace Hardware store on Dayton Boulevard, said face masks disappeared from its shelves pretty quickly, and he's hopeful of seeing some of those come in soon.
He, too, said hand sanitizer and Clorox wipes are "completely out."
"We can replenish those pretty quickly," Hess added. "We expect to have more in tomorrow and Monday."
Some people are panic buying, he said.
(MORE: Looking for hand sanitizer? Good luck finding it)
"Somebody will come in and grab nine and leave," Hess said.
Faniesha Davis at the Lowe's store in Hixson said it, too, is out of masks, and now they're on back order.
In addition, she said, the store is ordering more sanitizer and similar goods, though it takes a while to get the stock from its distribution center.
"It's going to take a bit to come in," Davis said.
Norman said supply can't keep up with demand for sanitizer, wipes, disinfecting spray and masks.
"We're trying to keep the shelves full," he said.
But, Norman added, the sharply increased use of online grocery pickup is "pretty unusual."
Hess said that when it comes to buying masks, there are differing opinions to their effectiveness.
The U.S. Centers for Disease Control and Prevention is specifically not recommending them for healthy people trying to protect themselves against coronavirus. While it may seem intuitive that a mask would filter some viruses, they're not effective against respiratory illnesses such as the flu and coronavirus, according to the CDC.
The CDC recommends surgical masks only for people who already show symptoms of coronavirus and must go outside, since wearing a mask can help prevent spreading the virus by protecting others nearby when a person coughs or sneezes. The agency also recommends the masks for caregivers of people infected with the virus.
Hess said the increased buying of goods helps business, but he feels badly about the reason.
"At all of our stores, everybody gets together to find other means to get supplies," he said. "We're trying to find a way to get something."
Contact Mike Pare at mpare@timesfreepress.com or 423-757-6318. Follow him on Twitter @MikePareTFP.
Contact Mary Fortune at mfortune@timesfreepress.com or 423-757-6653. Follow her on Twitter at @maryfortune.