Skills training is great, but without a paycheck it's just a pipe dream for most people, says Bo Drake, the vice president of Economic and Workforce Development at Chattanooga State Community College.
"People can't give up the work they're doing now to get the training they need if they can't buy diapers and put gas in the car," Drake says. "You can give them all the training in the world, but they have to be able to support themselves."
To bridge that gap, Drake is replicating a successful program he developed in his previous role at a community college in Indiana. With funding from the Benwood Foundation and a commitment from six local manufacturers that they would interview and hire program graduates, the Skill Up program launched in April 2019 on the campus of Chattanooga State.
Over six weeks, graduates of the program earned 56 nationally recognized credentials from the Manufacturing Skills Standards Council. They attended school every weekday from 8 a.m. to 4:30 p.m., earning $12.50 an hour, and had opportunities to meet with prospective employers.
Of the 15 students who started the program, 13 graduated. Two of those moved on without accepting jobs, but 11 found spots with local employers.
"None of this happens without employer partners," Drake says. "We want committed employers who will offer jobs."
Noah McDevitt, 20, came through the program and landed a job with Southern Champion Tray in June 2019.
"Since I had a lot of knowledge, they put me in a tray operator position immediately, which isn't an entry-level job," he says. "It's enjoyable, and there's room for advancement."
McDevitt, who graduated from East Hamilton High School in 2017, had been working in sanitation and doing kitchen work at a nursing home before he entered the Skill Up program. He was trying to save money for school after personal troubles derailed him and cost him his scholarship at Chattanooga State - but he wasn't making much progress toward that goal.
"That was a dead-end job," McDevitt says. "I make a lot more now than I did then."
The pressing need for skilled manufacturing workers is part of what motivated Chattanooga Bakery to support the Skill Up program, says Robin Nunley, a workforce development specialist for the company.
"Manufacturing has gone from heavy manual labor type jobs to more technical in nature," she says. "A machine operator, for example, truly has to become the expert on that machine."
Chattanooga Bakery didn't end up with any successful hires out of the first class of Skill Up, but there's more to supporting these programs than just filling roles, Nunley says.
"I'm proud of Chattanooga, and I want to do my part not only as an employer but as a resident and citizen to help build a stronger community."
That dual focus of filling workforce needs and building a system where people can build careers that can sustain families makes this work a good fit for philanthropic partnerships, says Lori Quillen, program manager for the Benwood Foundation.
"Workforce development is fundamentally connected to economic opportunity," she says. "There are a lot of ways we can talk about workforce development, but if it's not helping to change the face of opportunity here, it's not working."
In addition to funding the first Skill Up class at Chattanooga State, Benwood is a key funder of Step Up, a program through the Public Education Foundation that connects about 150 local high school students a year to paid internships with about 100 local companies.
Photo Gallery
Paid training programs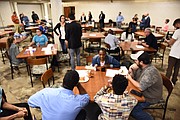 The program, which kicked off in 2015, has a specific focus on students who might not otherwise have the resources to make these professional connections, says Jeff Rector, business partnerships manager for Step Up.
"We're working with underrepresented populations that face the most barriers to success," he says. "We're helping them see there may be more to life than what they're used to at home or at school."
Ikasia Charles, 17, a junior at STEM School Chattanooga, had her first paid internship through Step Up with EPB last summer, and she's looking forward to another internship this summer. Even before the internship itself began, the mock interviews, resumé-prep classes and even sessions on how to dress and interact with employers were extremely valuable, she says.
"I tell everyone I know they should do this program," she says. "It was very hands-on, and they allowed me to be myself. I got to go up in the bucket truck, I got to splice fiber, which a normal high school student would not be allowed to do."
With two other part-time jobs - one at DSW and another at Bella Ballerina - Charles is juggling school, work and internships to save money and prepare for college.
"My DSW money is my spending money. The rest gets put away for school," she says.
Though she attends the STEM School, Ikasia is also captain of the flag team for the Tyner Pride marching band. She attended Tyner for middle school and moved to the STEM School in ninth grade, but she is able to participate in sports-related activities at Tyner because STEM doesn't offer sports. That connection to her zoned school helps her spread the word about Step Up, she says.
"My cousin liked the idea, so she joined, too," she says. "I told everybody at my school."
Apprenticeships are also an essential piece of the workforce development puzzle, says Patrick O'Hagan, program manager at Chattanooga State.
In 2018, in partnership with the Chattanooga Area Chamber of Commerce, the school launched its first college-sponsored, registered apprenticeship program through the Department of Labor. The program offers training in industrial maintenance, and a dozen people have been through the program in its first year.
"It's a job first - it's full-time employment with on-the-job learning and related instruction," O'Hagan says. "They are employees of the company and they are Chattanooga State students. They are both."
Program snapshot
These programs help local employees and students prepare for careers while they earn an income.Skill Up: Over six weeks, graduates of the new program at Chattanooga State Community College earn 56 nationally recognized credentials from the Manufacturing Skills Standards Council. They attended school every weekday from 8 a.m. to 4:30 p.m., earn $12.50 an hour, and have multiple opportunities to meet with prospective employers.Apprenticeships: The program combines full-time employment with full-time schooling for an Industrial Maintenance degree at Chattanooga State. Employers foot the bill for the degree, but employees juggle a demanding load of daily classes and workdays.Step Up: The program through the Public Education Foundation connects about 150 Hamilton County high school students each year to internships with about 100 local companies. Step Up provides interview and resumé prep classes, as well as skill and interest assessments to help students find the right job fit.
Chattanooga Bakery recently hired its first full-time apprentice. Antonio Moreno works from 6:30 a.m. to 3 p.m. Monday through Saturday, then heads to Chattanooga State where he attends school from 3:30 p.m. to 10 p.m. Monday through Friday.
"The program is really rewarding if you are willing to put the time into it," Moreno says. "You're coming out with a degree and a job at the same time."
In addition to employing him, Chattanooga Bakery covers the cost of his Industrial Maintenance degree - an important factor for someone whose first attempt at college was cut short by financial challenges. The 2017 graduate of Rhea County High School attended East Tennessee State University, but the costs of tuition and materials for his interior architecture program were just too steep.
"I really didn't have the money, and I ended up having to drop out," he says. "I came back to Dayton [Tennessee] and started doing construction for a year, but with the way weather is, you never know if you're going to be able to work or not and you can't maintain yourself."
He heard about the internship program and started with Chattanooga Bakery in September 2019.
"They took a chance with me having no experience and gave me the shot to become an apprentice," he says.
Read more in this month's EDGE Magazine:
Plugging into opportunity: Five-year electrical apprentice program in Chattanooga grows success Volkswagen flips the switch with electric vehicles in Chattanooga Get to work: Investments in the Chattanooga area workforce grow along with demand for skilled workers