A local vodka distillery is mixing up hand sanitizer to give away to those in need. Two tech-savvy supporters of the local food and beverage scene built an app that lets you tip your server from the comfort of quarantine. A creative shop is giving 20% of its time to help small businesses with marketing during the coronavirus crisis.
Using whatever skills and resources they have at the ready, people are getting creative to try and help their neighbors and friends through an unimaginably challenging time.
"Being a distiller, we've got lots of pure grain spirits - it's basically ethanol," said Danette Newton, the founder and CEO of Lass and Lions Vodka. "To make vodka we cut it to 40% with pure spring water. To make hand sanitizer, we'll cut it to 65% and thicken it up."
The company will hit up local businesses to get more bottles, build their supply of thickeners, and expand the reach of this volunteer effort, Newton said. They'll set up distribution points and advertise them on Facebook to give away the sanitizer to people who need it, she said.
Photo Gallery
Helping neighbors during coronavirus crisis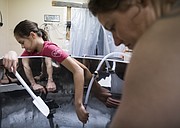 "It's not about giving away hand sanitizer just to give away hand sanitizer," she said. "It's about finding people who don't have the funds to buy it or who need it and can't get it."
Hand sanitizer, disinfecting wipes, medical masks and other supplies have been wiped out by panic shopping and hoarding.
Meanwhile, the local restaurant scene has been decimated by coronavirus concerns, with many eateries moving to carryout-only even before Mayor Andy Berke signed an executive order Thursday morning mandating all restaurants and bars in the city end dine-in services.
Don Sayers and Daniel Ryan dreamed up a site - serviceindustry.tips - where out-of-work servers and bartenders can sign up to get tips from folks who want to support their neighbors in the service industry.
"It's a big chunk of our population that's being put in a very tough situation," Sayers said. "I'd like to encourage people to continue to tip because these people are going to be without jobs for a month, maybe two."
Sayers and Ryan launched the site on Tuesday morning with about 50 servers signed up, and had 1,000 on the platform by Tuesday night. What started as a local project has morphed into a multi-city effort with more than 5,000 servers, 4,000 tip-button clicks and 250,000 pageviews.
"This is volunteer work," Sayers said. "The only people who will make money off this are the servers and bartenders themselves."
It may not solve their financial worries, but it will help - and it's a welcome source of human connection, Sayers added.
Tips appreciated
Help your local service industry: serviceindustry.tips
"We've been told again and again by servers and bartender friends that it's a giant morale boost when they're at home with their dog or cat watching NetFlix or looking for a job to see a sign that someone is out there thinking about them and sees them and recognizes the situation they're in," he said.
At Southside Creative, Ronelle Sellers is planning to carve out 20% of her team's time to donate to small businesses that need a hand with marketing and messaging during this crisis.
"Many times these small businesses and startups don't have marketing departments so they're in uncharted territory," Sellers said. "My heart has always been with small businesses, so small businesses were the first people I thought of. It is just breaking my heart when I read about these restaurants and other small businesses are going through."
Contact Mary Fortune at mfortune@timesfreepress.com or 423-757-6653. Follow her on Twitter at @maryfortune.