The Baylor School's COVID-19 diagnostic testing effort is attracting national media attention.
Sunday evening the two scientists staffing the university caliber research lab at the Chattanooga prep school were featured on MSNBC.
The two were interviewed by Kasie Hunt, a former NBC Capitol Hill correspondent and host of "Kasie D.C.," a public affairs program on the national cable network.
A major factor leading to a lack of COVID-19 testing across the country is that there are not many labs with the sophisticated equipment and professionals capable of analyzing specimens.
Photo Gallery
Shiloh vs. Mountainburg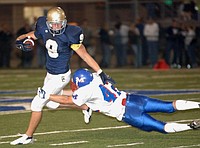 Last week, Hamilton County government pledged $1.5 million to support the Baylor lab effort if it operates as expected for three months. Hamilton County will be able to significantly increase its testing capacity through the new partnership.
The lab is a collaborative effort by Baylor instructors Elizabeth Forrester, a biochemist with a doctorate in cancer biology, and Dawn Richards, a molecular microbiologist with a doctoral degree in oceanography.
On the MSNBC program, Richards said it was Forrester's idea to undertake the testing.
"We realized we had the research equipment available, (and) we knew the techniques," Richards said.
"Our most recent run had 35 (tests) from hospitals in our community," Forrester said.
The Baylor School lab promises to return test results in hours instead of days, eventually churning out nearly 300 test results per day.