Commercial rafting on the Ocoee River will launch this weekend, two months later than normal and with some adjustments to keep people apart and increase cleaning protocols.
"We just got approval from the state parks and the Tennessee Health Department on guidelines," said Angie Arp, the owner of Ocoee River Rafting. "It's been crazy this week. The phone is ringing off the hook with people wanting go rafting. People are ready to get out and do things outside."
TVA, the state and National Forest Service worked together to develop guidelines to reopen the river to commercial rafters, who are working to follow CDC guidelines, especially in carrying customers on buses between entry and exit points along the river.
Rafting operators said they will sanitize gear and buses, limit capacity on buses to keep people apart, and do check-ins outdoors or online in advance. But once people climb into the rafts and head down the river, there's really no way to make social distancing work, Arp said.
"There's no getting around that on the river," she said.
Rafts hold six passengers and a guide, and outfitters will try to keep groups together and avoid mixing groups, but that's likely to be unavoidable in some cases, Arp said. Some people are buying out the rafts to ensure they're only with their friends or family, even if they don't have enough people to take every seat, said Dakota Vanoslen, manager of Outland Expeditions.
"A lot of people are doing it in groups of six - they're calling in and figuring out how many are in the raft," Vanoslen said. "You can bring five and buy another spot at a discount."
And while commercial rafting launches Saturday, not every outfitter feels ready to hit the whitewater just yet.
Several outfitters said they plan to wait until the end of the month to get their processes locked down and their people ready for the changes. The Nantahala Outdoor Center won't start running trips on the Ocoee River until May 29, said Laura Collins, an assistant manager for the outfitter.
"Because we do multiple rivers in multiple states, with phase one we're trying to figure out what processes we're going to use to make sure our guests are safe and our staff is safe," she said. "Georgia has their thing, Tennessee has theirs and North Carolina has theirs. We're trying to set up all the precautions so we have all the protocols in place."
Photo Gallery
Rafting on the Ocoee River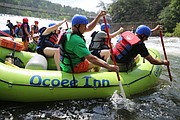 Despite the late start and travel concerns about the coronavirus, commercial rafting companies are eager to get back on the water, although advanced registrations are way down since there was no certainty about river access before this week.
"I think once we get going, we could have a potentially good year and the weather looks to be warm this weekend," said Ryan Cooke, president of the Ocoee Rivers Outfitters Association who owns both Ocoee Rafting and Lake Ocoee Inn and Marina.
Last year, commercial rafters took 168,213 customers down the Ocoee River. The best year ever for rafters was in 2010 when 243,331 customers went on commercial raft trips. During 2012, the Ocoee River became the most visited whitewater river in the U.S. with 229,542 visitors.
TVA spokesman Scott Fiedler said the utility has been releasing water on the river since mid-March, as usual, but the river was only open to private recreation until these guidelines could be established with the outfitters.
"They worked very hard to get a procedure in place that allows them to do this," he said. "This has about a $43 million impact to Polk County and provides about 600 jobs, so it's a prime driver of jobs and dollars into the economy."
Contact Mary Fortune at mfortune@timesfreepress.com or 423-757-6653. Follow her on Twitter @maryfortune.