KaDeadra McNealy was working as a trade analyst in Washington, D.C., and finishing up a master's degree in public policy when it occurred to her that she could reshape the nail industry.
"Getting my nails done was always like a self-care thing for me," says McNealy, a Chattanooga native who moved to D.C. in 2016 to attend graduate school at American University. "The hustle and bustle of D.C. can be very draining."
Finding a great nail salon convenient to work and school proved difficult, though, and when she asked around, she discovered that most of her friends were traveling to Virginia or Maryland to have their nails done. So McNealy started researching the nail industry, and learned it's a $8.5 billion revenue machine, and that recent years had brought an increase in nail technicians, but a drop in the number of salons.
"I realized a lot of nail techs that did awesome nails worked out of their homes," McNealy says. "So how do I bring the nail tech directly to the person who has a busy schedule?"
Her quest to answer that question has led McNealy to successfully pitch her Millennial Nail Bar business in a variety of forums, landed her contracts with big companies, and eventually brought her home to launch a storefront salon in East Chattanooga while she runs the mobile nail business in Virginia, Maryland and D.C. from her hometown.
"In March, my day job, which I was still working, sent everyone home to work remotely, so I say, 'OK this is a perfect time to come back to Chattanooga,'" McNealy says. "I packed up a carry-on with some workout clothes and bought a one-way ticket."
She hasn't yet brought the mobile nail salon model to Chattanooga, but she plans to in 2021, McNealy says. In the meantime, her business is running smoothly from a distance.
"I still can make sure those girls up there are thriving as nail techs," she says. "I don't have to be there."
As a graduate student, McNealy first pitched her vision for an app-driven mobile nail business to American University's incubator program and - much to her surprise - scored funding for the idea.
"I could tell I was losing them in the pitch," she says. "It was two older white males, clueless about nails, clueless about self care."
So when she won support to launch the business, she went back to the head of the university's incubator program and asked: Why me?
Photo Gallery
Mobile nail spa business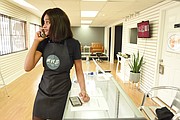 "He said, 'I went home and talked to my daughter and wife, and they said, 'I would do this,'" McNealy laughs.
By September 2018, when she had a small staff of interns and a website up and running, McNealy felt confident enough in her startup to send a direct message to Nordstrom through their Instagram page, offering to have nail techs work their events.
"They said, 'We want to do a contract and have you do all services for Beauty Trend Week in the D.C. area," McNealy says. "We did so well we got called out to do four of their events."
One month after that initial success, in October 2018, she was at Google's D.C. headquarters, pitching the business for Black Girl Ventures, which helps female entrepreneurs of color get access to funding through pitch competitions, social events, boot camps, and entrepreneurial training. In addition to winning support for her business, she nailed an invitation to work a big, year-end event for Google employees.
"At that time, I barely had 10 nail technicians on the books," she says. "I had two or three weeks to recruit."
McNealy connected with local cosmetology programs, and quickly built a funnel for getting the best talent from those schools. Through that experience, she also realized that she could build a business that would support Black nail techs in particular, McNealy says.
"We started to realize the nail techs, a lot were African American women, and we began to understand that the nail industry doesn't have a space for Black nail techs," she says. "A lot of the time, you have to go to Atlanta, New York, Chicago to see a Black nail tech or a Black nail salon."
Throughout 2019, she grew the business, pitching it at iconic tech conference SXSW in March and taking on big clients such as Equinox Gym and Saks. She was still working full time, saving money and running the business from startup funding, with a plan to go full time in 2020.
Millennial Nail Bar
KaDeadra McNealy juggled her startup and full-time work as a trade analyst for 2 years before she went all in on her entrepreneurial vision in September.* Location: Storefront at 2410 Glass Street, online at mnbgo.com
But 2020 didn't turn out the way she planned. As businesses everywhere closed down, customers continued to want nail techs to visit them, but McNealy decided to close off the app to new customers, serve only existing customers, and leave it up to the techs to decide whether they wanted to work.
"We did have a couple nail techs say they were OK with going to customers, but it still was slow because we didn't want to put people at risk," McNealy says.
The business has picked back up, with stringent safety protocols in place, and in July, McNealy opened a salon here and decided to enjoy being back home for the long term. In September, she left her day job and went all in on Millennial Nail Bar.
"There's so much stuff going on in Chattanooga, there's so much opportunity here," she says. "I love to see the young people going out doing stuff, creating businesses. Chattanooga is the new spot."