Will Hunt was going to break the rules.
The senior, clad in a sport coat and striped tie, stepped to the microphone. Behind him hung the chapel banner: "Man's chief end is to glorify God and enjoy him forever." The podium in front of him broadcast the seal of McCallie School.
In the first six minutes of his senior speech - which at the all-boys school is referred to as a "chapel talk" - Hunt detailed his scare with a heart abnormality, the hospital transfer by helicopter, the heart transplant and the month in a cardiac intensive care unit.
There was a chance his body would reject his new heart, he said. He could die. But when the surgery was successful, he promised himself he would love harder. He would be his authentic self.
"My life almost ended once," he said. His voice became shaky. "But now I have a second chance."
Hunt paused. Looked up at the crowd, across the hundreds of faces of classmates at Chattanooga's historic, college-preparatory school. Hunt looked down to his notes. He leaned into the microphone.
"I'm gay. And I have to say it here, in my community, among those I love because I know what it feels like to walk into a room full of people and feel alone. I know what it feels like to be unwanted and misunderstood, marginalized and stuck. I know what it feels like to be rejected," he said. "... But I promise to whoever that needs it, I am here and I accept you. Because I believe wholeheartedly that acceptance is a much stronger force than rejection. Thank you so much."
Before his last syllable could echo through the room, Hunt stepped away from the microphone, flipped the pages of his talk back to the front and walked off the stage.
He did not turn left to see his classmates.
They were standing in ovation.
Hunt's talk sent a ripple across the McCallie alumni universe. In the months of 2019 that followed, the standing ovation - or the way people at McCallie described Hunt's talk as "brave" - gave way to a larger conversation about the school's culture.
In the opening months of 2020, dozens of letters from alumni spanning four decades were sent to the McCallie administration. They described near-constant harassment from faculty and fellow students. Some said they developed addictions or experienced mental health crises resulting in hospitalizations. In their letters, they described the ongoing "don't ask, don't tell" climate to deny the presence of gay students at Chattanooga's prestigious school.
"At McCallie, I learned to lie and be ashamed. I learned to fear my classmates," one alumnus wrote. "I learned that leading as a suspected gay person was the surest way to get attacked."
"It has taken me many years and multiple therapists to recover from the damage that resulted from my McCallie experience," another former student told the school.
"If McCallie truly wants to extol its ideals of honor, truth and duty, it must meet the needs of all students, rather than forcing a significant part of its student and faculty body into lying, for fear of persecution," a graduate wrote.
The alumni, parents and allies beyond the gated perimeter of McCallie are calling for a greater recognition of the experiences of LGBTQ students. Let the students start a Gay-Straight Alliance, something students have tried unsuccessfully to form for years. More than saying the right things about loving one another, take concrete actions to prevent further harassment from students and faculty.
But many in the effort were met with silence. They said their calls and letters to the administration were not returned. Those who did hear back were told they would talk soon. At the time, McCallie was dealing with an emergency response plan to the COVID-19 pandemic or announcing a plan for improving racial diversity in the wake of the killing of George Floyd.
Then, in the late summer, the school made a series of public statements. At this year's convocation, the headmaster said all students should be treated with dignity and respect regardless of "identity, attraction or orientation." In an August newsletter, the board chair said the school's faculty was laying the groundwork for conversations on diversity and inclusion.
McCallie's leaders maintain these recent moves are not reactions to the LGBTQ rights campaign of alumni and parents but instead part of a yearslong process to improve diversity and inclusion.
Many alumni are skeptical about whether there will be actual change. But in the weeks since, their voices for change have only grown louder.
Photo Gallery
Coming out to McCallie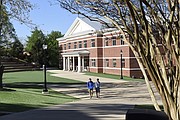 'BEST FOR THE BOYS'
Every window of headmaster Lee Burns's office looks out over the McCallie campus. Just feet from the glass, boys move between classes, to the campus chapel or the dining hall, which sits past the campus waterfall at the southern end of a long sidewalk.
At $29,900 a year for its day school, the 115-year-old school on its 160-acre campus boasts some of the best academic opportunities in the region. The 2020 graduating class averaged 1302 for the SAT and 28 for the ACT, sending five graduates to Yale University.
More than 900 boys are enrolled between its sixth and 12th grades, a mix of day students and those who live on campus in one of the five residence halls for $56,940. The school advertises an average class size of 13 students along with 15 varsity sports, an arts and music program and at least 5,000 jellyfish bred in its marine biology lab. In 2019, the school won the state championship in football.
On its 2017 tax return, the school reported $238 million in assets. Its alumni feature the likes of Pat Robertson, Bill Brock, Ted Turner, Jon Meacham and approximately 16,000 others.
As headmaster, Burns has to juggle these alumni, more than 200 faculty and staff, the board of trustees, the endowment and the Christian principles upon which the school was founded. But Burns, himself a 1987 McCallie graduate, emphasized there is one mission at his school.
"Here's how we make decisions at McCallie: What's best for the boys at McCallie. Period," Burns told the Times Free Press.
While the school is founded on and guided by Christian principles, it does not promote a specific doctrine. Such fights have fractured entire Christian denominations. Some Christian traditions are open and affirming. Others maintain a traditional Christian view of homosexuality, describing it as a choice and a sinful lifestyle.
For example, the Southern Baptist Convention considers homosexuality a form of sexual immorality that should be opposed by all Christians similar to acts of greed or racism. Some of the world's largest Christian denominations - the SBC and the Roman Catholic Church, for example - ban same-sex marriage.
McCallie's headmaster said he was grieved to hear the painful stories, some of which detailed harassment by teachers, from LGBTQ students and alumni.
But making a change to a school like McCallie takes time, conversations and developing a consensus, Burns said. Many people need to be on board for the change to be meaningful, especially on something like sexual identity and orientation, he said.
"It's a complicated, complex, polarizing topic that people in good conscience hold differing beliefs on it. And that's OK," Burns said. "And yet, because of that complexity, it takes a while to sort of bring an institution together around that."
Inclusive parents and alumni are skeptical of McCallie's statements. Many of their requests - forming a GSA and providing training to teachers and staff - are things that could be done immediately, they say. Time is the one thing they do not have, they said.
LGBTQ youth face higher rates of mental health challenges, such as depression and anxiety, than heterosexual youth. A 2015 study from the U.S. Centers for Disease Control and Prevention found LGBTQ youth were five times more likely to have attempted suicide than their heterosexual peers.
Mark Deaton, a 1984 graduate, said he began drinking and using drugs at the school to feel normal. His addiction only worsened. As a student, he drove drunk with other students in the car.
"The values the school tries to teach students is a community of brotherhood and a higher purpose and what I came away from the school with was a feeling of shame, a feeling of isolation," he said. "I drank and I used to change the way I felt."
Deaton, who is now more than 20 years sober and an executive trustee of the Houston Council on Recovery, said he recognizes McCallie will have stakeholders who will reject or push against change. But the school has to think about the students. If national estimates hold at McCallie, there would be around 40 gay students enrolled at McCallie this year, he said.
"There are kids suffering now," Deaton said. "And if you want to slow-play these kids, then those kids are headed towards alcoholism, suicide attempts, all these other things that come out of being shamed and being excluded."
Burns said he recognized the risk but said McCallie's approach to the issue will not be rushed.
"I get the sense of urgency and frustration that things haven't happened, and also I look at the statistics of gay students and their depression rates, rates of suicide, all kinds of markers which are really elevated compared to the general teenage population and I see that and it creates a sense of urgency," he said. "And so our position is, let's have urgent patience because to make a change at McCallie - and I think the same would hold true for large organizations in general - it's about conversations. It's about learning and listening. It's about developing a consensus."
CULTURE AT MCCALLIE
More than a dozen McCallie alumni, former students and parents described to the Times Free Press a hypermasculine, anti-LGBTQ culture at the school created and maintained under two fronts: the students and the administration.
Fellow students regularly used homophobic slurs, alumni said. Coming out meant putting a target on your back for verbal and, sometimes, physical harassment, they said.
"People were always talking about how somebody was gay," said Jay Gibbs, a boarding school student who graduated in 2016. "People wouldn't shower with someone who was called gay. There were all kinds of jokes about it. You heard the f-slur over and over and over again."
Geoffrey Cohen, who graduated in 2006, said during lunch one day a student said all gays should die. Other alumni, who studied at the school in other years, reported hearing similar statements. Cohen had a boyfriend as a senior but the couple's relationship was forced into secrecy, he said.
"We didn't even dream of being able to be public and open about it," Cohen said. "It was so far from the realm of possibility that it wasn't even a dream or an aspiration."
In June, a "Queer @ McCallie" page was launched on Instagram. The anonymously run account posts submitted experiences of McCallie, including how a favorite history teacher equated homosexuality to pedophilia.
For alumni who graduated decades ago, reading the experiences of today's students was shocking. Despite declining stigma around HIV/AIDs, greater representations of LGBTQ voices in American media and the constitutional right to same-sex marriage, the experiences of students today mirrored their own.
"Reading some of these accounts and realizing that McCallie has done nothing to move forward in the 35 years since I graduated, that's really painful," said Rob Greenberg, a 1985 graduate.
Many alumni blame McCallie's administration for not doing more to protect and affirm LGBTQ students. The silence of school leaders makes them complicit in creating a "don't ask, don't tell" culture, alumni said.
Former students said they gave presentations on ways to better support LGBTQ students to the administration, but the school's leaders turned those presentations into debates. Others said attempts to create a Gay-Straight Alliance on campus were shut down.
A 2016 review from Vanderbilt University of 15 studies involving nearly 63,000 high school students found that students who attended high schools with GSAs were 52% less likely to hear homophobic remarks and 36% less likely to be scared for their personal safety.
Burns said the school is looking very closely at a GSA among other options.
"I would say it's a complex topic for a school serving boys who are age 11 to 18 in a Christian context," Burns said. "It takes a while for institutions to make decisions on complex topics."
McCallie students can also seek out one of the school's counselors to discuss sexual identity and orientation, he said.
Alumni also said they were barred from taking someone of the same sex to prom, something they said would be a simple way for McCallie to support and affirm its LGBTQ students.
Burns said the school is also examining its guidelines around prom. However, the headmaster did not offer a clear answer when asked if a male student at McCallie could take another male student to prom if the dance was happening next week.
"That's something we're looking at but I don't think that's something that would give us a lot of heartburn," Burns said."... The idea I'm trying to get at is I don't think that's a big deal. ... The bigger picture is our students should be able to go to a dance and enjoy that dance with other McCallie boys and other girls. McCallie students should go to a dance here, I hope they would enjoy that dance both with boys and with girls."
Jack Harrison-Quintana, a 2005 graduate, also broke the rules and came out during his senior chapel talk. He said members of McCallie's administration told him doing so was inappropriate and against the Christian values of the school.
Burns said students are barred from discussing sexuality and sexual relations at the chapel since students as young as 10 or 11 years old are likely to be in attendance.
Harrison-Quintana's talk was his first step into public activism. He has since worked for the National LGBTQ Task Force's Policy Institute researching LGBTQ discrimination. What he faced at McCallie was a kind of Christian-based homophobia not unique to the campus but one that was supported by school faculty, he said.
"What I experienced was the constant chatter that the way that I was born, who I love, was wrong, was sinful, should be punished by death, that people should kill gay guys, that they should be beaten up," he said. "... Luckily for me, I was very confident and I didn't believe any of those things. But if you were at all confused, it could just be extremely damaging."
HIDING IDENTITY
Brandall Jones, a 2007 graduate and part of a family with three boys who attended McCallie, said gay students were openly ridiculed at the school. Calling something "gay" was a way to crack a joke. Teachers did not stop the behavior, he said.
"It affected me so strongly and it was so limiting that essentially I mentally removed myself and had a very bad nervous breakdown in my freshman year of high school," Jones said.
He had suicidal thoughts and was hospitalized for two weeks. He returned to McCallie still unsure of who he was but determined to get good grades so he could leave the school and Chattanooga.
It was not until the fall of 2006, in the first semester of his senior year, that Jones came out to a teacher at the writing center.
"She said something along the lines of 'Oh, there's nothing wrong with that,'" Jones said. "She essentially accepted me before anyone else accepted me, even my family had accepted me. And I will never forget that because I think my story shows the impact of having a safe environment in the school where young people can express themselves. That was such a defining moment for me in my growth and development."
Alumni said they learned to navigate the various leaders and teachers of McCallie, learning which ones they would be safe to talk about sexuality or orientation with and which to avoid. The fear of telling the wrong person and what that could lead to was an additional stress at a school already pushing limits academically.
For others, the environment meant shutting down any exploration of their identity.
Gibbs came to McCallie from North Carolina hoping to have a boarding school experience like those he watched on "Zoey 101." He soon became aware of the anti-LGBTQ environment at McCallie, he said.
"There were multiple people I know of who desperately tried to appear straight but couldn't really manage it. Their experience just became horrible with McCallie guys," he said.
He learned to ignore the increasing realization that he was pansexual and bisexual. Gibbs, who said he was also mistreated as a Black student, decided he could at least hide his sexuality.
"I knew that I didn't want a bigger target on my back," he said.
Harry Clark, who attended the school from 2010 to 2016, came out in eighth grade. Later, still in middle school, he attempted suicide. McCallie has a culture that erases kids like him, he said.
"When I think about how lonely I was and how much my school didn't help me, it was a missed opportunity," Clark said.
He was removed from the school his junior year and went to 14 months of psychiatric treatment out of state. Nearly five years later, Clark said he is still recovering from his experience at McCallie.
"There are a lot of gay kids who aren't getting heard from at McCallie," he said.
STEPS TAKEN
According to documents provided by McCallie, Burns told his faculty in 2015 that they would "spend some time considering the topic of sexuality, including homosexuality, at McCallie." Weeks earlier, the Supreme Court of the United States ruled in Obergefell v. Hodges that same-sex couples had a fundamental right to marriage.
"The Quakers have a practice center on discernment: taking a period of time to reflect deeply, often over an extended period of time, to consider something. I think that's where we are," Burns told his faculty in 2015. "We need to take a period of time to reflect and consider all of this."
Burns created a task force in 2015 to study sexual identity and gender expression. The recommendations for that group included implementing a more diverse curriculum that included LGBTQ topics, training school counselors and creating a diversity, equity and inclusion leadership position. In 2019, Burns appointed faculty and staff to a diversity committee and the school's board formed a diversity committee.
This summer the school strengthened its student conduct policy to say explicitly that racism and harassment based on "gender, gender expression, race, religion, sexual orientation or any other identity" is not allowed.
The school is looking at research and best practices on the issue, including bringing in speakers to teach the faculty, Burns said.
Yet, the choice to invite Mark Yarhouse, professor of clinical psychology at Wheaton College, to speak to faculty this summer outraged many in the movement to change McCallie. Yarhouse has written multiple books on Christian approaches to sexual identity and studied various types of so-called conversion therapy, a discredited practice sometimes using physical or emotional pain to attempt to change someone's sexuality. Yarhouse has written that such practices can not only be effective but can improve someone's life.
Burns said Yarhouse's presentation was "greatly misunderstood by people who weren't there."
The professor came to discuss foundational ideas around sexuality and gender identity. The professor did not advocate for conversion therapy, Burns said.
"What he did for us, his purpose in coming here and what he did is dramatically different than what a number of people think he did or presumed he did based on what they may have researched about something that he wrote a long, long time ago," Burns said.
Yarhouse did not respond to a request for comment to discuss his presentation.
McCallie will bring in more speakers with a variety of viewpoints throughout the school year and just because someone is brought in does not mean the school agrees with everything they have said or written, Burns said.
Similarly, Burns said McCallie's various employees are entitled to their different beliefs.
In 2010, while headmaster at Presbyterian Day School in Memphis, Burns co-authored "Flight Plan: Your Mission to Become a Man" which held that homosexuality is sinful in God's eyes and that "Sex between two men goes against His creation and design."
Burns said he has learned things since he wrote the book but declined to speak directly to whether he still agreed with the passage.
"What I would say, as head of McCallie, is that I want to make sure that an appropriate expression of our Christian beliefs and foundation is to make sure that every boy here is loved and treated with respect, equality and dignity and value," he said. "... And I'm personally committed to trying to ensure that every student here is treated with love and respect and dignity."
WHAT COMES NEXT
In September, the informal group of McCallie parents and alumni that began pushing for change almost nine months earlier formed the McCallie Pride Alliance. The website and Facebook page made public their months of advocacy.
Many of the parents and alumni expressed a deep love for the institution of McCallie, such as for the generations of family connections to the school, for the opportunities the school provided later in life.
But they want to know where McCallie stands. If McCallie will not support LGBTQ students with direct changes, then the school should say that. If the school is going to become open and affirming of LGBTQ students, then the school should make that clear.
Alison Lebovitz, a mother of two McCallie graduates and one current student, said if McCallie remains silent it is aligning itself with the status quo, the previous decades of mistreatment of LGBTQ students.
"McCallie does need to take a side," she said. "If they don't, they have by default chosen what they stand for."
Burns said the public may get some clarity following the upcoming board of trustees meeting.
"We can't go back and undo history. We can't right the wrongs or hurts of the past," Burns said. "But what we can do is envision the ideal community for McCallie and we can work toward doing that. And that's what we're trying our best to do. And I hope people will respect that and appreciate that and sort of rally around the McCallie community in trying to do that the right way."
On Oct. 2, the day after Burns met with the Times Free Press, the "Queer @ McCallie" page posted the story of a current boarding student who is gay.
"I haven't told anyone except for my sister," the student wrote. "It hurts so much hearing people use slurs around me constantly. It's hard to be this far away from home and feel like I can't feel safe to be myself."
The board of trustees meeting is scheduled for this Friday, Oct. 16.
Contact Wyatt Massey at wmassey@timesfree press.com or 423-757-6249. Follow him on Twitter @news4mass.
Voices for change
"If an institution has values like honor, truth, duty and a school that believes in good and being brothers and all these things about respecting one another, loving your brothers. For an institution that is rooted in those kinds of principles, I don't think that it is too much to ask that institution to uphold its principles, to stand up to his principles, when that institution seems to be wavering on them." - Brandall Jones, 2007 graduate"We feel this fierce urgency of now, as others in other civil rights movements have put it. And it's been months and months since our initial meeting. And we asked for really two specific things: A Gay-Straight Alliance and some professional development for teachers." - Kathleen Hunt, parent of McCallie graduate"Part of the reason why a lot of alums feel so strongly about it now is because we're finally in a place where we feel like we can handle talking about it. Because it's just very very difficult to do it while you're a student there." - Jay Gibbs, 2016 graduate"McCallie is a microcosm of some more backwards parts of Chattanooga but it doesn't represent the greater world. For kids to realize when you get off to college, if that is your path after high school, you're going to find a much more open and diverse and inclusive and thoughtful world out there." - Rob Greenberg, 1985 graduate"If McCallie thinks that this problem is going to go away, they should reality check that assumption. There are going to continue to be LGBTQ students at that school. They're going to be more and more empowered by the greater political movement for LGBTQ rights around the world and they can drag their feet and they can not deal with it yet but they're going to have to deal with it. It's not going away." - Jack Harrison-Quintana, 2005 graduate"It has become increasingly apparent that Lee Burns and other McCallie administrators think that they can support LGBTQ students without affirming them. They think you can foster a healthy environment while telling boys that homosexual behavior is sinful and should be repressed. That is impossible. You cannot support LGBTQ students without affirming them." - Mary Gardner, member of the McCallie family"What we're saying to the school is no, you have to see it. And if you believe in the ideals you espouse you have to quit teaching these kids that they're supposed to lie and that they should be ashamed." - Mark Deaton, 1984 graduate"When I came out, I knew it was right. I knew this wasn't something I had to hide." - Harry Clark, McCallie student from 2010 to 2016"McCallie is one of the best schools in Tennessee. Yet, it's a very, very dangerous place for marginalized groups." - Will Hunt, 2019 graduate