Despite a pandemic that has hollowed out some office buildings and ravaged many businesses, business is bustling inside the newly renovated downtown offices of Network Transport.
The logistics startup founded by trucking veterans David Ferguson and Ben Gordon four years ago is planning on more than doubling its 53-employee staff in the next couple of years after the company sold and merged in July with the Soar Transportation Group. Inside the Cherry Street headquarters of Network Transport in downtown Chattanooga and a satellite office in East Brainerd, Network is planning to add 80 more workers within the next couple of years to grow the freight brokerage business.
"I know we have developed a special company here that is capable of doing so much more," said Ferguson, who previously served as chief operating officer at Lipsey Logistics and president at Riverside Transport in Chattanooga before starting Network in 2016.
As a 25-year veteran in the trucking industry, Ferguson has seen the rise of Chattanooga as a logistics industry capital. Even with nearly a dozen freight brokerage companies operating in town, Ferguson grew Network Transport to generate more than $40 million in annual revenues within the first three years of the company.
Photo Gallery
Network Transport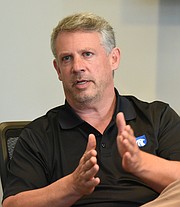 To help propel the next phase of growth for the company, Ferguson began looking for other partners or buyers last year to gain access to the systems, capital and markets needed to grow the company as Ferguson envisioned. A year ago, Ferguson met and began talking with New York equity investor Marc Kramer, founder of AVC Partners LLC who started Soar Transportation after working as an investment banker specializing in the logistics industry.
On July 1, 2020, Soar Transportation acquired Network Transport, although the two companies are continuing to operate under separate names.
Soar is as asset-based trucking based in Salt Lake City that is one of the top 20 shippers in the refrigerated trucking sector with about 450 trucks on the road and plans to add even more. Network Transport arranges freight shipments across the country from offices in Chattanooga, Dallas and Salt Lake City.
The combined Soar Transportation companies have revenues of about $250 million, which includes the combination of what were once five companies. Prior to Soar's purchase of Network in July, Soar acquired the 125-tractor carrier Robert Heath Trucking based in Dallas. Network previously bought American Logistics and Nav Logistics.
"We now have the opportunity to go after business in a lot of different industries and markets and we're able to combine both asset-based and non-asset-based businesses to serve our customers," Kramer said.
Network Transport plans to grow its freight brokerage business around pods based on seven key industries to allow brokers to specialize in different industry shipping needs, Kramer said. Brokers will gain expertise in the particular types of shipments, such as pharmaceuticals, food and beverage or industrial supplies, and should be able to add new customers in each industry more efficiently, Kramer said.
Although the combined company is still only a few months old, the leadership team brings more than a century of experience in trucking and logistics to the growing enterprise. Kramer, the chief executive offer for the SOAR Transportation Group, is chairman of Network Transport, while Ferguson remains CEO and Gordon is general manager of the Chattanooga office. Cody Isaacson, who was the president of SOAR before the deal, will serve as president of both companies.
Bob Poulos, who founded V3 Transportation in 2013 and who led the company to become a Top 5 Carrier in the Expedited Market, recently sold his interests in V3 to join the Soar Transportation Group as the company's chief commercial officer.
Poulos said the non-asset brokerage business at Network Transport should drive much of the company's anticipated growth. Network already ranks among the top 60 among freight brokerages in the transportation market
"We're leading with logistics, which opens us up to a world of service opportunities with our customers that are not limited to the asset," Poulos said.
Kramer said a key difference in Network's approach with other freight brokerages is its effort to recruit, develop and keep the best talent by building a culture where employees want to work and know they can grow and develop. The company offers tuition reimbursement, 401(k) plans and health benefits, as well as competitive salaries and bonuses.
Even during a pandemic, Kramer and Ferguson said finding and keeping the right employees in an industry known for turnover is key to success.
"We want to be a place where people work hard, play hard and have fun together," Ferguson said.
Contact Dave Flessner at dflessner@timesfreepress.com or 423-757-6340.