With apologies to everyone else in the University of Tennessee at Chattanooga football program, there isn't a player more ready for Saturday's game against Western Kentucky than Drayton Arnold.
The Mocs' starting quarterback is entering his fifth season of eligibility and second at UTC, having spent three previous seasons at Old Dominion. Saturday will be his first start since high school.
"I'm just so ready to play," said Arnold, who played in three games last season as Nick Tiano's backup and threw 10 passes, completing five for 36 yards against Tennessee. "We're all excited. We're all prepared. We've been practicing now for three or four weeks and we're just ready to go have fun and try our best to get a win."
It's been a long, winding process to get to this weekend's game in Bowling Green, which will kick off at 4 and will be streamed online on ESPN3. The game was scheduled for the opening week of the season, initially on Sept. 5. Then it was moved to a Thursday night, two days prior before being pushed back to a date "later in the year" as conferences scrambled in the face of the COVID-19 pandemic that flipped college football on its head and canceled seasons everywhere. That included UTC's Southern Conference, which eventually announced it would play a spring schedule.
Photo Gallery
Mocs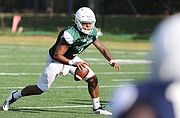 "You've just got to stay optimistic," Arnold said. "I think that as a quarterback, you have to stay that way, so yeah, I did think this (game week) would finally come. I didn't know when, or what the timetable would look like, but I'm glad to see that it's happening now."
With only one game on the horizon, the coaching staff is treating this like any other game week, albeit with a few perks that would give it a sort of "bowl week" feel. Catered meals were provided to the team after Monday's practice with intentions of another similar-type meal later in the week, and those making the trip will receive additional gear not otherwise provided to them.
"We're just trying to make the best out of a bad situation the last two or three months and let them know we do love them, and try to make it as good as we can," Mocs coach Rusty Wright said Monday.
UTC didn't start looking at film of the 1-4 Hilltoppers until Sunday, instead focusing on more team work. Wright noted it's been good to stand in the middle of the field and observe the first-team offense go to one end of the field and go through the game plan against WKU's defense, and vice versa.
For some, it could be a springboard into the potential spring season. For others, it will be one final chance to play. Life will take some of the players into other avenues of life after this game, while others will look towards the opportunity of playing an eight-game SoCon schedule in the spring of 2021.
Offensive lineman and former Signal Mountain standout Harrison Moon isn't worried about what lies next. Already in his sixth season of college football - having spent three at Mississippi State prior to transferring to UTC in the spring of 2018 - he is only thinking about creating offensive opportunities for the Mocs against the Hilltoppers. The rest will just have to wait.
"You just have to approach this like a regular game and look at this as an opportunity to get better," Moon said. "Then we can start preparing for the spring, start preparing for that next fall. But for right now, we've got a great team ahead of us to play, and it's a great opportunity to win one."
Contact Gene Henley at ghenley@timesfreepress.com. Follow him on Twitter @genehenley3.