Summer's last gasp this Labor Day weekend comes during a year of dismal tourism and hospitality activity, with campers and road-trippers driving travel trends.
"Families aren't wanting to do the plane flights and the hotels, and they still want to be able to vacation, so they're finding a way to take home away from home," said Troy Hooper, general manager of Dunlap Family RV in Ringgold, Georgia, where sales have boomed for months.
Hooper normally has about 130 campers on his lot, but his inventory is down to just 14, and everything he has on back order will be sold before it hits the lot, he said. "I'm as low as I've ever been on inventory," he said.
(READ MORE: Here are three things to know for your Chattanooga area Labor Day gatherings.)
Photo Gallery
Labor Day weekend travel driven by road trips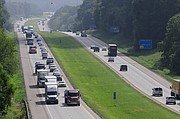 People are still wary of flying as the coronavirus pandemic persists, but there will be a small boost to air travel out of the Chattanooga Metropolitan Airport for the Labor Day weekend, said airport authority CEO Terry Hart.
"We've seen maybe a 10% to 15% increase in projected bookings out on these few days compared to the last few weeks," he said.
However, Labor Day weekend numbers are off about 35% from last year, he said.
"Everything is different in the COVID world," Hart said.
Also fueling the road trip trend, Labor Day gas prices should be the lowest since 2004, according to GasBuddy. The company predicts a national average of $2.19 per gallon, down nearly 37 cents from last year and the lowest-priced Labor Day gas since 2004's $1.82 per gallon average.
Also, the Tennessee Department of Transportation will halt all lane closures on interstates and state highways beginning at noon Friday until 6 a.m. on Tuesday.
(READ MORE: Small towns big on adventure that are within 10 hours of Chattanooga)
This summer, AAA predicted Americans would take 700 million trips, down nearly 15% compared to last July through September and the first decline in summer travel since 2009. All forms of travel were expected to drop, but car trips were anticipated to take the smallest hit of just 3% year-over-year. Air travel, meanwhile, was expected to dive about 74%.
If not for the pandemic, AAA reported it would project 857 million trips during the third quarter, a 3.6% increase over last year. That data suggests the pandemic wiped out nearly 150 million trips this summer.
Across the U.S., 65% of hotels remain at or below 50 percent occupancy, according to the American Hotel & Lodging Association. The organization also reported that only 33% of Americans have traveled overnight for leisure or vacation since March, and just 38% saying they are likely to travel by the end of the year.
The long Fourth of July weekend delivered an influx of traffic to the local tourism scene, and Barry White, CEO of the Chattanooga Tourism Co., is hoping the Labor Day weekend might do the same. The extension of the mask mandate through Oct. 8 in Hamilton County will help, he added.
"Mask mandates absolutely do not hurt, but they actually help destinations and people feeling safe when they travel," he said.
(READ MORE: Mayor Jim Coppinger extends Hamilton County mask mandate as coronavirus continues to spread)
Thom Benson, chief marketing officer for the Tennessee Aquarium, said the mask mandate, limited capacity with timed tickets and frequent sanitation are all creating the safest possible environment for visitors.
"The regional travelers that are moving around right now look to Chattanooga as an example of doing things as well as possible and offering a safe escape from the worries of today," he said.
About 75% of visitors to the aquarium are from out of town, with most of those from drive-in destinations, Benson said. That continues to be true, though the numbers are down significantly. The aquarium is operating at about half capacity and officials expect to finish 2020 about $6 million in the red, he said.
"This is a situation that is literally going to take us years to recover from," Benson said.
Contact Mary Fortune at mfortune@timesfreepress.com or 423-757-6653. Follow her on Twitter at @maryfortune.