One of Chattanooga's oldest manufacturers is shutting down production after 115 years due to the decline in coal production and the worsening of industrial activity this year amid coronavirus.
Chattanooga Boiler & Tank Co., known as CBT Manufacturing, is ceasing new production of fabricated materials at the company's Main Street complex. The company told the last two dozen manufacturing workers still producing products this week that their jobs are ending and the manufacturing division will no longer fabricate tanks and boiler equipment.
"There is a lack of work in the industrial markets the company serves, an over-saturation of competition and, in many cases, an overly
aggressive customer base," said Marianne Pastor, a vice president of Williams Enterprises, the Smyrna, Georgia-based parent company of Chattanooga Boiler & Tank. "Production will end when the work currently in the shop is completed."
Photo Gallery
Chattanooga Boiler & Tank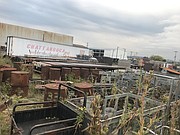 The company will keep its field support services and distribution operations, but CBT Manufacturing is ending its fabrication of tanks, boilers and other industrial equipment. The company has had about 35 to 40 manufacturing employees at its Chattanooga facility in recent years, but it has been cutting staff for several months, Pastor said.
Chattanooga Boiler & Tank Company fabricates and erects storage tanks and pressure vessels throughout the United States and ships prefabricated units around the world. The company had designed and built both shop-fabricated and field-erected tanks, stacks, silos and pressure vessels from stainless steel, carbon steel, aluminum and exotic alloys in a 122,779-square-foot warehouse and factory near the Sculpture Fields at Montague Park.
Chattanooga Boiler & Tank also specializes in larger, more complex shop-fabricated tanks, pressure vessels, custom fabrication and other welded steel plate structures.
Pastor said the business has suffered in recent years as coal mining, oil production and industrial sales of tanks and boilers have declined. According to Statistica Research, the dollar value of metal tanks and power boiler and heat exchanger manufacturing dropped from more than $18 billion in 2014 to $16.35 billion last year even before the pandemic further slowed sales in 2020.
Chattanooga Boiler & Tank Co. was founded in 1905 by E.J. Walsh, I.B. Merriam and E.C. Patterson Sr. to serve the boiler repair and vessel fabrication needs of the Tennessee Valley. Williams Enterprises, a privately held firm that is primarily a steel fabricator and distributor for industrial and construction firms across the Southeast, bought the Chattanooga company from Bristol Steel in 1987.
"Future uses of the facility are still being evaluated but all necessary measures will be taken to support ongoing field operations," Pastor said.
The company began in 1905 with its original location on Eleventh Street, near the current location of TVA's office complex in downtown Chattanooga. In 1915, the company moved to 1101 Main St., where it is currently located with both an office on one side of Main Street and a production complex, warehouse and storage yard on the other side of Main Street.
The company originally worked on steam radiators that were used to heat residential homes during the early 1900s. According to the company's website, the emphasis of the company at its start was routine maintenance and repair on these boilers that were heating the homes of the region. In the 1930s and 1940s, the focus shifted away from boiler fabrication to pressure vessel storage tanks.
"In the early years of the company, steel plates and material were unloaded and moved into the Main Street shop using a team of mules. 'Pull dogs' were hooked to the sheets, and then a mule team would pull them into the shop," the company says in its history on its website. "Our reputation as a competent and efficient tank and vessel fabricator grew to the point that boiler work was de-emphasized and eventually phased out in favor of the tank fabrication and erection business. The name, Chattanooga Boiler & Tank, was left unchanged to preserve continuity with our valued customers."
Contact Dave Flessner at dflessner@timesfreepress.com or 423-757-6340.