A record-breaking season in the garden industry last year has contributed to a nationwide plant shortage this spring, but officials at Chattanooga-area garden centers say they've worked hard to make sure customers won't notice.
"Luckily, we're still bringing in trailer load after trailer load," said Cole Webster, general manager of The Barn Nursery off Interstate 24. "There are certain items we're not going to have, but it's still a great selection."
As the coronavirus pandemic emerged last spring, droves of newly homebound suburbanites turned their attention to gardening, whether a plot in the backyard or a few pots on a windowsill. Their interest was fueled partly by the extra hours at home and partly by a need to do something tangible when so many other forms of contact were off-limits.
As Jennifer Atkinson, author of "Gardenland: Nature, Fantasy and Everyday Practice," told NPR last May, "We spend all day on screens. We can't be around each other at restaurants or ballparks. We can't even give hugs or shake hands. So all of a sudden, the appeal of sinking your hands in the dirt and using your body in ways that matter, that becomes irresistible."
It wasn't just ready-to-go flowers and greenery that were snatched up. Agricultural news site AgWeek reported that seed companies saw unprecedented sales last season. Burpee Seed Co. sold more seed in March 2020 than at any time in its 144-year history. Johnny's Selected Seed noted a 270% increase in normal spring sales. Stokes Seed Co. sold four times its normal quantity of gardening products.
This season is expected to be just as strong. Research by Axiom Marketing found that 80% of pandemic gardeners surveyed felt they were successful in their gardening efforts last year. In the 19-40 age group, 80% indicated they would plant even more in 2021. Of those ages 40-55, 64% planned to increase plantings.
The surging numbers led Steve Bender, Southern Living's "Grumpy Gardener" columnist, to predict, half-jokingly, that "plants are the new toilet paper" for spring 2021.
[READ MORE: Find advice on when to plant your garden this spring.]
But most Chattanooga-area retailers say they've sought out alternatives when they couldn't get the standbys, so the shelves are stocked, but often with new selections.
"I just pivoted and forced myself to look at other things," said Cath Shaw Truelove, owner of Bees on a Bicycle, a specialty garden shop on Market Street.
She also countered the looming shortage by ordering earlier than usual and sourcing new suppliers. But the scramble for inventory was "kind of like being in business again for the first time."
Photo Gallery
Nationwide plant shortage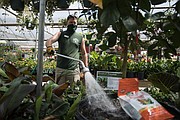 "We've got plenty of stuff at Bees, but I worked really, really hard in February and March to get here," she said. "Normally I'm taking a winter hiatus those months, but that didn't happen."
Analysts say the gardening industry was caught off-guard by the surge in interest last spring. When coronavirus lockdowns began in mid-March, many garden centers had locked in their orders for the growing season, never imagining how demand would spike.
"Last year, with COVID, no one knew what to expect," said Jason Rymer, gardens category manager for Elder's Ace Hardware, which has 22 stores in Chattanooga, Cleveland, Knoxville and North Georgia.
"It was amazing to see the number of people who gave up on gardening or had never gardened before who got into it," he said. "A lot of those people loved it."
Rymer said the Elder's Ace stores have seen an uptick in sales "across all spectrums" - from garden starts to landscaping plants and houseplants.
Gardening is likely to remain above pre-pandemic levels through 2024, according to The Freedonia Group. The market researchers attribute the trend to an elevated interest in home food production and what some analysts see as a continuing shift toward remote work.
That means shortages, especially for favorite varieties, could remain for more than a season. Pots, liners and other garden supplies can be hard to come by as well, local sellers report.
"Even our preferred soil mixtures and containers have been hard to find," said Melonie Lusk, executive director of Crabtree Farms on East 30th Street, where a spring plant sale is running online through April 24.
"One of our biggest challenges has been getting enough plant starts and giving them time to grow so they're ready to go in people's gardens," said Lusk. "At our fall plant sale, we sold so many blackberry bushes that we have a shortage now. We haven't been able to replenish them in time. We've tried to be as flexible as we possibly can. We're looking at different varieties and doing a lot more research to make sure they'll do well here."
Webster said The Barn Nursery is taking a similar approach to fill gaps in the inventory. For instance, most years he could stock Firepower Nandina "100 at a time." This year, "they're not to be had," he said.
"But I've got Obsession Nandina. I have plenty of different options. We know how to steer everybody in the right direction."
Contact Lisa Denton at ldenton@timesfreepress.com or 423-757-6281.