Finley Stadium has hosted numerous soccer legends over the years, from the U.S. men's and women's national teams to outstanding talents who have played in tournament and championship games.
Chattanooga Football Club's home stadium once again will serve as a solid landing spot, this time for the National Independent Soccer Association which kicked off the 2021 season with the Legends Cup on Tuesday.
"Having all the teams from NISA here in Chattanooga is going to be really good for the city," said CFC midfielder Juan Hernandez, who has become a fan favorite with great footwork and memorable goals over the past seven years with the club. "Finley Stadium is a really special place. This is a great city and we can host events like this. Teams here will feel the support for the game. It's special to host a professional soccer tournament like this."
Hernandez sent a header in for the equalizer and CFC's first goal of the season in a powerful 4-1 debut victory over the Los Angeles Force on Tuesday night in front of nearly 1,300 fans. Cameron Woodfin and Markus Naglestad also scored first-half goals while Sean Hoffstatter added one in the second half for CFC.
Photo Gallery
CFC opens regular season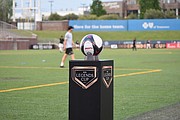 The Legends Cup will consist of 14 matches over a 12-day span in which all nine of the league's teams will compete for a chance to win the championship match on April 25 at 8 p.m. The winner will secure a spot in the spring semifinal of the league's 2020-21 playoffs on June 30 at Detroit's Keyworth Stadium.
In 2020, all NISA Clubs felt the harsh effects of the pandemic financially. However, CFC believes being able to host the Legends Cup will provide a boost for the season ahead.
"I don't know if the NISA Legends Cup gives us a head start, but the tournament does give our city some momentum to get back to what we are used to," CFC managing director Jeremy Alumbaugh said. "With CFC being a big part of the landscape here, having a two-week tournament certainly gives us some momentum and will showcase this league and the high level of play and talent it has. We are extremely grateful to host. I think this will help us throughout 2021."
The NISA Legends Cup matches will be broadcasted nationally by beinsports.com/us/. The Legends Cup was designed as a way to honor the players and bring all of the league's clubs together before the start to the NISA spring regular season.
NISA Legends Cup
Remaining Scheduleat Finley StadiumFriday, April 16New Amsterdam FC vs. Chattanooga FC, 8Thursday, April 22No. 8 seed vs. No. 9 seed, 11No. 6 seed vs. No. 7 seed, 2No. 4 seed vs. No. 5 seed, 5Semifinal: No. 2 seed vs. No. 3 seed, 8Sunday, April 25Championship: No. 1 seed vs. semifinal winner, 8
Chattanooga has been a leader on the forefront for NISA, which debuted last season. The league is tier-3 in the country's professional soccer landscape along with USL League One.
"What CFC has done here is phenomenal," NISA commissioner John Prutch said. "They have climbed the ladder the right way and are the perfect example of how a small market team can go professional. The Chattahooligans are awesome. CFC has also been a huge support to the new clubs coming into NISA and has been willing to share their practices with other clubs, which has helped shorten the time frame for those clubs to find success."
Expectations remain high once again for the storied CFC club which is now in year two under head coach Peter Fuller.
Over the final 25 minutes of the first half, the Chattanooga attack looked in peak form on its way to putting forth 13 shots in the opening 45. Tate Robertson deked a defender on the far right sideline and sent in a picture perfect cross to Cameron Woodfin to slide in to take the lead for good at 2-1.
CFC has brought back 14 players from last year and welcomes back familiar faces in keeper Phil D'Amico and midfielder Felipe Oliveira, who have had standout seasons with the club in the past.
Hernandez and Richard Dixon (wingback) look to be strong leaders again while standout scorers Ian McGrath and Brian Bement are back. Woodfin and defender Shaun Russell are also integral parts to the team's goals for the season.
Contact Patrick MacCoon at pmaccoon@timesfreepress.com. Follow him on Twitter @PMacCoon.