I don't know how many times I've driven past the cute little food truck in Lakesite with Go Gyro Go emblazoned on its side. It seems that every time I've gone past, it's either on a Sunday or Monday, when it's closed, or it's too early for supper or I've already had dinner on days it's open.
It took some planning on my part, and then when I went, it was gone. No cute little food truck to be found.
Gone but not forgotten - and not gone forever. Come to find out, Paco Fotiadis sold his little food trailer and bought a new one - not a whole lot bigger, just a little wider. So he's back.
His new food trailer is outfitted with two refrigerators, a steamer for his rice, plus heat, air and a few other features that make cooking more comfortable and streamlined.
Fotiadis has four rotisseries in another kitchen where he can make enough gyro meat to last for a while.
Photo Gallery
Go Gyro Go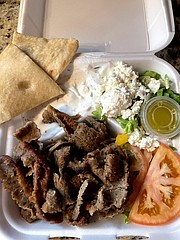 THE MENU
Online reviews says it's some of the best Greek food in Chattanooga. I cannot disagree. Fotiadis has lived around the world and picked up a lot of knowledge about not only how to cook Greek food on a large scale, but what people want. His menu isn't large, but it's got the foods that most people want on their plates when they're hungry for Greek for lunch or dinner.
Here you'll find the classics: gyros made of beef and lamb, chicken or spinach and feta; spanakopita; Greek lemon potatoes; and baklava among the handful of selections. Everything from the falafel to Greek salads are made to order, right down to the tzatziki sauce that adorns many of his dishes. He also makes his own hummus and spanokopita.
THE ORDER
A gryo platter, beef-and-lamb gyro, hummus with pita and a huge square of baklava that was simply too tempting to resist sitting there on the counter.
Many large cities have dedicated areas designated as Greek Town. Chattanooga does not, but one bite of Go Gyro Go's gyro meat put me right back in the heart of Greek Town in Chicago, where lamb turns on spits and sends smoke signals through the neighborhood, drawing you closer and closer.
Fotiadis doesn't hesitate to load his gyros with plenty of meat, lettuce, tomato and onion piled inside a lightly grilled pita and drizzled with tzatziki sauce. It's really a handheld version of the gyro platter - convenient for those who prefer a one-bite-does-it-all approach to dining. And with the amount of fillings in the gyro, you won't need more than a couple of bites to fill you up.
I can make a meal off of hummus, but I prefer my pita crispy, and though Go Gyro Go pita triangles are grilled, they're still soft. But that's the beauty of takeout meals - you can bring it home and add your own touches. A drizzle of olive oil and a couple of minutes in the air fryer brought the pita to a warm golden crisp, and they were just right to dip into the hummus, which was perfectly balanced with the right amount of tahini and seasonings.
And the baklava? Is there such a thing as bad baklava? If so, I've never experienced it, thank goodness, because baklava is my favorite sweet. There are a number of ways to make it, from crispy layers to soft and delicious. Go Gyro Go's baklava falls into the latter category, and I don't know what Fotiadis sprinkles all over the top of his baklava, perhaps more cinnamon than others I've had, but it was divine.
"My food is good. It's honest. It fills you up," Fotiadis says.
IF YOU GO
* Where: Go Gyro Go, 8615 Hixson Pike* Price range: $5 (hummus and pita) to $12 (large Greek salad with meat)* Hours: 11 a.m.-5 p.m. Tuesday-Saturday* Alcohol: No* Contact: 423-362-2701, gogyrogo.business.site
THE SPACE
There is no space. Nor is there a place to eat outside around the food truck. Go Gyro Go is strictly takeout, but it's not far from Chester Frost Park if you want some really good food for a picnic that goes beyond deli meat and chips. You can't help but notice his food truck as you drive Hixson Pike through Lakesite. The colorful trailer, pulled into a corner of a large parking lot outside Calvary Chapel, looks like it just got moved from Coney Island and should possibly be serving hot dogs and funnel cakes rather than healthier fare, like Greek salads and falafel.
THE SERVICE
Fotiadis has things down pat when it comes to preparing your meal quickly, but while you're waiting, take advantage of learning a bit more about the man preparing your meal. Born in Greece, he grew up in New York City. He hasn't always been in the food-truck business. He co-owned 2 Crazy Greeks, a small eatery on Hixson Pike near Northgate, but at the same time, he had a food truck he hauled behind his pickup, taking his food on the road to catering events. Three years ago, he closed 2 Crazy Greeks and hit the road permanently, eventually landing in that Lakesite parking lot.
THE VERDICT
The food-truck business has boomed since the onset of COVID-19. Food trucks were made for takeout, but until Fotiadis moved his truck to the Lakesite area, there were none to serve areas north of Chattanooga. Go Gyro Go fills that void, so what are you waiting for? Go.
Email Anne Braly at abraly@timesfreepress.com.