Tim Kelly will lead Chattanooga for the next four years, after a campaign in which he promised a more equitable future for city residents.
A self-proclaimed member of the "Chattanooga Party," Kelly, 54, won the runoff election against nonprofit leader Kim White, 60, on Tuesday, earning 15,966 votes or 59.9% of the total vote in final unofficial results.
Kelly's victory is a show of support from across the city's demographic, social and political groups, who continued to line up behind Kelly throughout the six-week runoff.
"Chattanoogans from every walk of life came together to choose a better way forward. A way forward that ensures every child in our community has access to the early education opportunities they need to succeed. A way forward that will begin to close the opportunity gap between our neighbors. A way forward that brings every community to the table around our common purpose as Chattanoogans, instead of dividing us along the same old partisan lines that too often keep us distant and bitter toward one another. Together, we chose One Chattanooga," Kelly said in a statement Tuesday. "From the bottom of my heart, thank you, Chattanooga."
The 66th mayor-elect celebrated victory at his Chattanooga Brewing Co., which he co-owns, while Chattanooga Football Club - of which Kelly is chairman and a co-founder - hosted the National Independent Soccer Club tournament just yards away.
Photo Gallery
Daily Photos 06.15.2011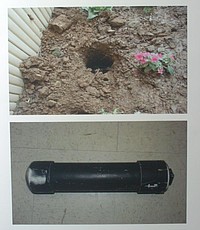 "Make sure there's a beer ready," a red-faced, celebratory Kelly yelled to a staff member as he finished his acceptance speech and prepared for interviews. "I'm gonna want a beer."
Known for his string of successful businesses and three decades of leadership in the city's various nonprofits, Baylor School alumnus Kelly ran his campaign on business savvy and a love for his native Chattanooga.
After selling Kelly Subaru, his family's legacy car dealership, during the campaign, Kelly still owns Southern Honda Powersports, a dealership he is relocating to nearby East Ridge. He co-owns SocialBot, an ad-tech agency in automotive advertising, and the brewing company.
Kelly lives in Fort Wood but says the campaign has given him exposure to residents all over the city.
(READ MORE: Tim Kelly wants to use 30 years of vision to lead Chattanooga)
"I've learned that one of the pleasures of running for public office is getting to know a lot of interesting people along the way, particularly people who share my passion for this city," Kelly said, in a nod to White. "While we might've disagreed on an issue or two here or there, Kim and I share a common passion for Chattanooga that made this race feel constructive rather than divisive, and for that I hold a tremendous amount of respect for her. I look forward to working with her to move Chattanooga forward."
Over the past 10 months, Kelly has campaigned on the promise of bridging the gap between Chattanooga's "haves and have-nots," to promote economic growth and "one Chattanooga."
In the speech Tuesday, Kelly said he will help make Chattanooga the best city in the country.
"Chattanooga can and will be the best city in America, and it's not because of our gig [internet speeds], or our tourism sector, or even our great outdoors - as amazing as all of those things are." Kelly said. "Chattanooga has this potential because of her truly extraordinary people, people who value this place, and our common purpose, more than they value themselves. I've never been more grateful to have met and heard from so many of them. And I'll continue to do so in the months and years ahead."
White conceded to Kelly just after 8:30 p.m., congratulating him on the campaign and echoing the love for Chattanooga and its people.
"It has been a tough race. I am so proud of the way we conducted ourselves," she said to a room of supporters. "The best part of this whole season was the people I met in this community who love this city."
"I love this city too," she added.
Afterward, White told the Times Free Press that she was proud of the campaign.
"As hard as it is to stand here tonight without the outcome we wanted, I stand here saying that this campaign has truly been a highlight of my life," White said in an email. "I am proud to have been part of this journey where I got to meet and engage with people all across our community. People who love this city and want to be part of making it better. That's what this campaign has been about - our city, what makes it special and how together we can build on what we have. We may be disappointed in the outcome, but we share an optimism for our wonderful city. I thank you deeply for your support."
White announced her campaign in September and out-fundraised Kelly and other opponents with over $980,000 raised to Kelly's $450,000. Kelly also loaned his campaign $1.2 million from his personal wealth.
Ultimately, White came up short of being the city's first female mayor.
In March, Kelly was at the top of the 15 candidates vying for outgoing Mayor Andy Berke's seat, but failed to earn enough votes to win on Election Day. In the runoff, he maintained an apparent lead with positive polling and support from nearly all of the defeated candidates.
Now, he has six days to transition into office.
"In the coming days, I will announce the members of my leadership team that will help advise me as we prepare to govern and act on day one," he said. "Our city's public health and the health of our economy are linked together, that's why my administration will prioritize ensuring our vaccination efforts are effective and don't leave our most vulnerable communities behind. As we get vaccines into arms, the city will quickly transition to a recovery plan to jumpstart our economy and make sure that good jobs and economic opportunity remain the cornerstone of our economic development strategy. Tomorrow, the work starts to build a better economy than the one we left behind - one that includes all Chattanoogans."
Kelly told reporters Tuesday he will announce his senior transition team in the next two days and will aim to be "evolutionary not revolutionary," to keep things running smoothly during the change of watch.
(READ MORE: Kim White vs. Tim Kelly: How the two Chattanooga mayoral candidates compare)
Kelly will be sworn in Monday, along with the nine city council members, including District 2 Councilwoman-elect Jenny Hill and District 5 Councilman-elect Isiah Hester, who were also elected in Tuesday's runoff.
The mayor and all council members have been elected to serve four-year terms. The new mayor is limited to two terms.
Contact Sarah Grace Taylor at staylor@timesfreepress.comor 423-757-6416. Follow her on Twitter @_sarahgtaylor.