Barger Academy of Fine Arts unveiled its new outdoor classroom - comprised of a pond, outdoor classroom area and garden - to mark Earth Day on Thursday.
Students and teachers will be able to use the area for outside classes and learn about plant and aquatic life.
Development of the classroom originated in fall 2019, when fifth-grade students at Barger started designing an outdoor learning area. Susan Dorsa, fifth-grade teacher, had students redesign the pond to fit with state standards for science and engineering practices.
"We already had a pond, needed some tender loving care there on that corner of our campus, and so they researched and learned and collaborated with each other - we have three fifth-grade homerooms - and they designed landscaping, they designed what they wanted the patio area to look like, all the way down to tiny details, like they wanted a specific type of turtle fountain spitter to help aerate the water in the pond," said Allison Bishop, parent involvement coordinator at the school.
Photo Gallery
Barger Academy of Fine Arts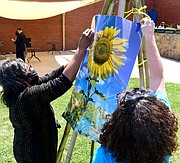 Following the pond renovations came the outdoor classroom phase of the project, which included elements like an awning and whiteboard that rolls in and out for classes to take place.
"When that was finished, the following fifth grade class for their science and engineering lessons, we designed an outdoor classroom," Dorsa said. "We already had a concrete patio close to the pond, so to me it seemed to be a perfect fit to tie the two together."
Although COVID-19 delayed the project, students and teachers at the public magnet school in Brainerd resumed work upon returning to school.
"Well, this year I took the fifth graders, when we got them all back on a five-day schedule, and had them design an outdoor garden that would go along with the outdoor classroom and the pond area so we can make it a total learning environment for every student in the school," Dorsa said.
While fifth graders spearheaded the design process, all grade levels played a role in the process and will have projects to complete pertaining to the pond and the garden.
"So every student is involved, the kindergartners of a couple years ago made the stepping stones, the plant life was done by first and second grade as part of their science unit," Dorsa said. "The future animal life that's going to be in here, because we're going to watch for naturally occurring growth within the animal life, it's all tied into their science standards to different grade levels."
Going forward into the fall 2021 semester, Bishop said they hope to grow the garden into a community garden.
"They can do lessons out there, they can eat lunch out there, they can have recess out there, it'll be a space that they can - on the patio, the outdoor classroom area - they can sign up and utilize throughout the school day, and then the pond area will be a living classroom where they can go and learn about aquatic life and nature and the plant life cycle and everything that that entails," Bishop said.
Contact Anika Chaturvedi at achaturvedi@timesfreepress.com or 423-757-6592.