Tourism spending in the Chattanooga area plunged by more than 30% last year, reversing decades of growth in visitor spending in the Scenic City and cutting nearly 3,500 jobs in Hamilton County.
The downturn sparked by the outbreak of the coronavirus and its subsequent limits on most travel was the worst in modern history for one of Chattanooga's biggest industries. But a new economic study of the industry released Friday found that hotels, restaurants and tourism attractions fared better in Chattanooga than in any of the major Tennessee cities and visitor spending across Tennessee declined less than the national average.
Nationwide, tourism spending plummeted an average of 42% last year when the coronavirus pandemic shut down restaurants, hotels and air travel for months in the spring of 2020.
"COVID was devastating for many in our industry," said Hugh Morrow, president of Ruby Falls on Lookout Mountain and the former chairman of HospitalTN, the state's biggest trade group for the lodging, restaurant and tourism industry. "Social distancing (encouraged to limit the spread of the virus) is the antithesis of what we do. We bring people together and create great new experiences which unfortunately many people didn't get to do last year."
Photo Gallery
Chattanooga tourism spending drops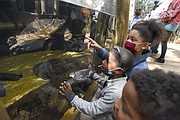 But Morrow and state officials said tourism is recovering strongly this year, especially in the leisure travel market. Morrow said Ruby Falls visits in the past couple of months are back to the record levels in 2019 since the underground cave attraction was able to resume more normal operations again, starting on Memorial Day weekend.
Barry White, president of the Chattanooga Tourism Company which promotes travel to Chattanooga, said East Tennessee's natural and outdoor appeal lured more visitors and Chattanooga's focus on road trips, rather than air travel, aided the industry during the pandemic. White said his agency has expanded the scope of its marketing efforts beyond 250 miles, but most of those coming to Chattanooga are still coming by car.
"Our losses were not as severe as in many areas, but this report really quantifies the devastation and economic fallout of COVID-19," White said. 'We did not have meetings, conventions, sporting events or concerts for the most part so we focused our efforts on leisure travel. To a lot of people, we were considered a safe site to visit because of our outdoor recreation and opportunities."
Tennessee has benefited from its outdoor appeal, which boosted visits to the Great Smoky Mountains to a record 12 million visitors and also boosted visits to Tennessee State Parks last summer to an all-time high.
Tourism in Hamilton County
* Nearly $1.1 billion spent by tourists in 2020, down 30.2% from the peak in 2019* 10,661 persons employed in tourism-related jobs last year, down 24.4% from 2019* $135.8 million paid in state and local taxes from tourism last year, down 25% from 2019Source: U.S. Travel Association and Tourism Economics, 2020 Economic Impact of Travel in Tennessee."
Among the 95 counties, 15 saw an increase in tourism spending even with the pandemic, including rural, sparsely populated counties such as Grainger, Van Buren, Cheatham, Hickman, Campbell and Union Counties which saw an increase of more than 5 percent.
Most of the downturn in tourism spending that continues through this year is in business travel and convention spending.
The drop in conventions and business travel hit Tennessee's biggest tourism county - the "Music City" in Nashville's Davison County - the hardest of any of Tennessee's 95 counties. Tourism spending in Nashville nearly fell in half from more than $7.9 billion in 2019 to less than $4.5 billion in 2020.
Among the major tourism communities in Tennessee, Sevier County with Gatlinburg, Pigeon Forge and the Great Smoky Mountains fared the best with a decline in tourism spending of 13.5% to just under $2.5 billion.
White said business travel and conventions have been slower to return and the recent delta variant and resurgence in the number of local coronavirus infections is raising some questions about the fall season.
With more remote work and online meetings spurred by the pandemic shutdown of in-person gatherings, many businesses have learned to operate with fewer in-person meetings and are shifting conventions to virtual meetings to save money. That could delay the return of business travel, which is traditionally the best paying for airlines, hotels and conventions, White said.
With expanded convention facilities and the addition and later expansion of the Tennessee Aquarium over the past three decades, Chattanooga's tourism industry has grown steadily in recent decades. Tourism spending in Hamilton County doubled in the decade prior to the pandemic shutting down much of the economy last year, rising to more than $1.5 billion in 2019.
Statewide, tourism spending in Tennessee totaled $16.9 billion last year even after a 31.6% decrease from the prior year. Across the state, an estimated 149,800 persons work in tourism-related jobs, making tourism the fourth largest employer of any industry in Tennessee.
"Tennessee's scenic beauty, strong outdoor assets and compelling rural and road trip destinations gave it an edge against other states," said Mark Ezell, commissioner of the Department of Tourist Development. "We've seen parts of our state not only survive, but also thrive. Our mission as a department is to inspire travel to all 95 counties, and we are committed to restoring economic prosperity for our industry."
The study reported that Tennessee attracted 75 million domestic travelers last year.
"Tourism is a vital part of our state's strong economic recovery," Tennesse Gov. Bill Lee said in a statement accompanying the release of the tourism spending study. "By working together to support small businesses and drive job growth, we will ensure Tennessee continues to be one of the top travel destinations in the world."
Contact Dave Flessner at dflessner@timesfreepress.com or at 423-757-6340.