By 7:15 a.m. Thursday, most students at Soddy-Daisy High School had made their way upstairs to start their first block classes as the sun shone brightly, giving one of the second-floor hallways an orange glow.
Some students arrived late, filing in from the student drop-off line, while others sat in clusters at circular tables in the common area - chatting, eating breakfast and waiting on schedule changes.
Across the region at Orchard Knob Middle School, the eighth-grade hall that was bustling with students just moments earlier was empty and quiet. Students in math teacher Jasmine Everett's class were seated, pencils in hand, huddled over pieces of paper as they worked through a "five-minute multiplication frenzy" with hip-hop music softly playing in the background.
Down the hall, eighth grade English teacher Kelly Johnson conducted an icebreaker exercise that ended in a candy prize for the winning team before ushering students to their desks for an overview of classroom expectations.
"No. 1, we must respect each other at all times. OK? We have to - we're together, we're a team," Johnson said, moving down her expectations list, which included reminders to stay seated until it's time to move around and not to share items.
"Unfortunately, we're still battling this pandemic, so I have plenty of supplies back here," she said, motioning to a jug of hand sanitizer.
Students in Hamilton County Schools largely returned to the classroom Thursday, some for the first time in more than a year. As school districts begin their second fall semester amid the COVID-19 pandemic, some instructional modifications and safety protocols from last year have carried over.
Photo Gallery
First day of school for Hamilton County students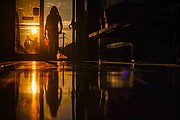 Transitioning back
With some students returning to school after months of virtual learning, Orchard Knob Principal Tiffany Earvin told the Times Free Press Monday that the school has a team of two counselors.
"Honestly we've been focused on our social-emotional learning when it comes to that transition because students have not been face-to-face. Some of them have literally been at home for a year. We're looking at really focusing on - besides the academic piece - our personalization piece, which is making sure they have that time for positive peer-to-peer interaction during the school day, making sure our counselors are available to them," Earvin said.
HCS at Home, the district's campus-based virtual learning option last year, is no longer offered as a result of action by the state Board of Education, although the districtwide Hamilton County Virtual School remains an option.
Of the district's 44,000 students, 14,189 students - nearly one-third - were enrolled in HCS at Home at the end of last fall. On April 5, 8,656 students - 19.67% - were enrolled in the virtual learning option.
Soddy-Daisy freshmen Evan Hixson and Garrett Daugherty learned virtually last year. Hixson said he liked virtual learning but probably wouldn't choose it again if it were offered, and Daugherty said he prefers in-person learning because he can see his friends.
Senior Alli Harvey transferred to Soddy-Daisy this year and said she much prefers learning in person.
"I would much rather come back to school than [do] virtual again. Virtual did not work well for me at all," she said. "It felt like I wasn't being given much information and, I don't know, I feel like the videos weren't very helpful."
Science teacher Christy Leffew is entering her 20th year of teaching and 17th year at Soddy-Daisy. She said returning to in-person learning will hopefully be less stressful for her students and herself and that students will be able to use new science equipment this year.
"We just wanted to have a closer-to-normal experience as much as we can, especially with a science class. It's very difficult to try to teach that from a computer screen," Leffew said. "I hate that the group last year missed out on those hands-on things, but hopefully we can make up for it double this year."
English teacher David Sneed, who began his 24th year teaching at Soddy-Daisy High School on Thursday, said one of the school's focuses in returning to fully in-person learning is cultivating relationships among staff members and with students.
"We really kind of came together as a staff and said that climate is one of the really big things that we're going to work on, because if we can help students understand that they're safe here and that they're loved here and that we care for them, then they go the extra mile with the academics, so I'm really excited about those relationships I'll be able to form," Sneed said.
Lessons learned
Less than 24 hours before the first day, Hamilton County Schools announced a mask requirement effective Thursday for staff and Monday for students, though parents can opt out of the requirement starting Friday.
All adults at Soddy-Daisy wore masks on Thursday, and some students wore them while others did not. At Orchard Knob, the overwhelming majority of students wore masks.
Both Earvin and Angie Cass, principal of Soddy-Daisy High School, said academics and keeping students safe are the main focuses going into the new year.
"I'm sure there's anxiety, but it's not brand new to us anymore. Our focus is health and safety, teaching and learning," Earvin said Thursday. "Our total focus is making sure that our students are growing every day, they're learning every day. If we can remain calm in the pandemic, we can keep our students calm and make our parents feel like we're going to protect their students."
With the rise of different learning platforms due to hybrid learning last year, some teaching and learning changes will continue into the new year.
At Orchard Knob, Earvin said something continuing into this year is common connections, a game room space where students can meet during lunch and after school to talk with each other or teachers outside of academics. Students will also meet by grade level, rather than as a large group, in the mornings.
In Suzanne Skyles's first block English 10 class at Soddy-Daisy, one of the first tasks students did was fill out a "welcome back" survey on their Chromebooks.
Cass said elements from last year, like the use of online tool Canvas for students to access work and strengthened communication among the district, the school and families, will continue into this year.
"As always, the teaching profession has the profound need to be flexible, and I think we've just taken that term to a whole new level, just the flexibility and being able to maneuver those hurdles as they come along," Cass told the Times Free Press Monday. "Those are a lot of lessons we learned from boots-on-the-ground work that we did last year, and we're just carrying over those best practices to this year."
Contact Anika Chaturvedi at achaturvedi@timesfreepress.com or 423-757-6592.