In light of his extensive success on the mat for Cleveland High School during the winter, it could be easy to forget that Tetoe Boyd has also starred in the fall, rushing for more than 1,500 yards as a sophomore for the Blue Raiders during the 2019 football season.
Cleveland was never able to develop a competent rushing attack last year, though, and Boyd's production dipped tremendously. Instead, he had to settle for winning an individual state title in wrestling while also helping the Blue Raiders sweep the TSSAA Class AAA team championships.
But it appeared there was a conscious effort to improve heading into this football season, and in Friday night's opener at Red Bank - a Class 4A semifinalist last year - Boyd and the Blue Raiders revealed the first results.
Boyd rushed for 156 yards on 24 carries, and Cleveland built a 17-point lead before having to hold off the Lions to win 17-10.
Photo Gallery
Cleveland at Red Bank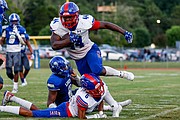 "I feel like a lot of that sophomore year came back," Boyd said. "As a whole, we just did great."
It was far from a solo effort for Cleveland, which is still attempting to regain some consistency as a program.
Destun Thomas had 135 yards on six catches, including a 80-yard touchdown on a screen pass on the first play of the second half. Defensively, the Blue Raiders held Red Bank to 170 yards of total offense, only 13 through the air.
(READ MORE: Scores and photos from Friday night's Chattanooga-area high school football games)
The Lions' brightest spot was running back A.D. Crutcher, who had 103 of his 106 rushing yards in the second half, including 79 on his final four carries before dealing with cramps for much of the rest of the game. He also intercepted a pass and scored the Lions' lone touchdown.
But Cleveland's Brian Beard Jr. intercepted a pass, and on the Lions' final possession the Blue Raiders forced a fumble that was recovered by Jared Canales.
"We haven't played a game like that on defense since I've been here," third-year Cleveland coach Marty Wheeler said. "I credit that to the weight room. I talked about it last year, how we needed to get in there, and I think tonight they showed a lot of the work we've done in the weight room. We were able to get it done when it mattered most."
Nothing definitive can be gleaned from Friday night. The Lions are replacing a lot of talent from last season, while the Blue Raiders returned most of theirs. But for Cleveland, which is 62-58 since 2010, getting a win of that caliber can only serve as a positive for the rest of the season.
"Last year we wouldn't have beat this team in this situation," Boyd said. "We really showed up tonight. Last year we would have just got to the ground and sat there, but tonight we finished and got the win."
Daune Morris added 39 yards on the ground for the Lions.
Contact Gene Henley at ghenley@timesfreepress.com. Follow him on Twitter @genehenley3.