Roy Rosenfeld arrived at Chattanooga's new Trader Joe's store at 6:20 a.m. on Wednesday, about two-and-a-half hours before the market's opening.
"I'm a loyal shopper," the Chattanooga man said, adding that he visits the grocer's stores when he's out of town where he picks up unique items that Trader Joe's offers.
He was first in a line of well more than 200 people who waited in the parking lot for the Gunbarrel Road store to finally open. And scores of shoppers kept coming and stood in line even after the doors opened.
Noah Stevens, the new store's "captain," thanked the customers for showing up at a short ribbon-cutting ceremony at the entrance festooned with balloons as upbeat music played.
"What a great turnout," he said. "I expect to go into the weekend, it will be booming."
(READ MORE: Here's our Trader Joe's shopping list. What will you buy now that Chattanooga's store is open?)
Photo Gallery
Trader Joe's opens Chattanooga location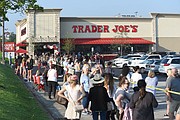 Stevens said the store likely will stay "pretty busy" for the first couple of weeks.
A Trader Joe's employee said such large turnouts on opening day are common in cities that don't already have one of the markets.
Rosenfeld said he likes the grocer's style, service and attitude.
"I'm thankful they've been able to pull it off," he said about the 11,000-square-foot market located at one of the main entrances to Hamilton Place mall.
Alicia Dawson, also of Chattanooga, said she'd been waiting since about 6:30 a.m. She said she moved to Chattanooga from Nashville last year, where she shopped at Trader Joe's.
"Trader Joe's is awesome," she said, noting she likes the selection of goods in its stores. "I want to see how different this one is."
Shopper Sheri Harr of Chattanooga, who had arrived at 7:30 a.m., said she's "a Trader Joe's fan."
"I've been looking for a Trader Joe's in Chattanooga for a long time," she said. Harr said she visits the grocer when she's in Knoxville or Atlanta. "They've got things you can't get anywhere else."
Stevens said Trader Joe's is in "the customer experience business."
"We happen to sell food," he said.
Customers will see that Trader Joe's does a lot of private labeling of merchandise, Stevens said. He said the store has a new item shelf which will hold goods every week.
Gina Acosta, executive editor of Progressive Grocer and Retail Leader, said Trader Joe's has built a cult following on the strength of its quality, globally-inspired private brand products, friendly customer service and smaller, easy-to-navigate stores.
Acosta said that grocery shoppers can find nearly everything they need at Trader Joe's, from eggs and milk to Spanish cheese and frozen Vietnamese Pho soup, to pet food and French soap.
Stevens expects the store to draw not just out of Chattanooga but from Georgia, Alabama and North Carolina.
"People have been waiting a long time," he said.
In terms of the coronavirus, Stevens said the store is following Centers for Disease Control and Prevention and local guidelines.
Contact Mike Pare at mpare@timesfreepress.com or 423-757-6318.