For more BlueCross Bowl coverage from the Times Free Press, read more here.
At 7 p.m. Thursday, McCallie senior linebacker Aaron Crowder will attempt to lead his school's football program to its third straight TSSAA Division II-AAA state title when the Blue Tornado face Montgomery Bell Academy in the BlueCross Bowl at Finley Stadium.
Exactly 24 hours later, he'll don a tuxedo and display the kind of velvety voice that few possess for the school's 37th annual "Candlelight" Christmas concert inside a sold-out McCallie chapel. There will be another performance Saturday night.
Said Lee Burns, the school's headmaster, of Crowder's diverse talents: "Aaron can knock your head off on the football field, then knock your socks off with his singing voice. He's so talented on so many fronts, and he has such energy. He brings out the best in everyone around him."
McCallie football coach Ralph Potter has watched both Crowder's athletic talent and talent for making those around him better since the player was in middle school.
"Even as a sophomore he was a leader," said Potter, who will be gunning for his fourth state title leading his alma mater, with the Blue Tornado having also won it all in 2001. "He really is like a coach on the field. I'll have to start earning my pay again next year."
James Harr, director of choral programs at the school, no doubt feels the same.
"When he's not available, it's obvious that something is missing," Harr said of Crowder's musical chops, which include some pretty impressive piano skills, as well as playing the guitar, trumpet or drums. "As good as he is on a football field, he's as good or better in the choir or the band. He even writes music. Nine out of 10 times when our videographer, Brandan Roberts, wants a singer or musician, Aaron's on the list."
Photo Gallery
McCallie senior linebacker Aaron Crowder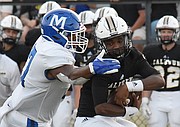 Those efforts have led to two of the most watched videos the school has produced, both featuring Crowder's grand musical skills. The first one was made last fall for Christmas and featured Crowder at the piano singing John Lennon's classic "Happy Xmas (War is Over)" while his friend and fellow student Samuel Ellis played the saxophone.
"People from all over the world have watched it," Burns said of the video that's been viewed more 25,000 times.
Said Crowder: "It exposed me to people in a different way."
Then came his starring role in the school's annual hype video that's released the week of the Blue Tornado's football game against rival Baylor.
"I got so many calls on that one," he said. "People I didn't even know congratulating me. But I didn't hear them because I always turn my phone off the week of the Baylor-McCallie game."
So what does Crowder - who also carries a 3.7 GPA in the classroom - like best: music or football?
"I don't know," he said. "Music is my thing. But I'd probably say football because of all the hours I spend on it with my teammates - the Brotherhood!"
But the Candlelight concert also demands a fair amount of his time, and Potter isn't cutting short his workouts for the musical show's lengthy practices.
"I've got a solo," Crowder said of his choral contribution. "But the only instrument I'm playing in Candlelight is the triangle. There's no part too small or too big."
He has played a big role on the football field for three years, including recording 2.5 sacks and seven total tackles against MBA in the 2019 BlueCross Bowl win.
"We started talking about three-peating at last year's football banquet," Crowder said. "There is a kind of pressure, but I expect nothing less. Plus, it's the 20th anniversary of the 2001 title. To get this ring would top off everything."
Back in September, the Blue Tornado came from behind to win 34-31 while beating MBA on its Nashville campus for the first time ever. But both Potter and Crowder know they're about to face a different, more dangerous version of the Big Red. For proof, merely check out their two games against Baylor. MBA won 38-28 at Baylor in late October. They beat the Red Raiders 35-0 in the second round of the playoffs in the Music City.
"We've just got to get the job done," Crowder said. "Go 100% every play."
For more than 20 years, Potter and assistant Chris Richardson have awarded jersey No. 17 to a high-character senior who gives the same 100% on every play as late Baylor School star Jason Green, who played for the two coaches during their time with the Red Raiders before he was later killed in an auto accident while in college.
Crowder was such an obvious choice to wear No. 17 this year that Potter forgot to have the ceremony he usually holds at the end of preseason camp to make it official.
"Aaron comes to me and says, 'Coach, we need to have the ceremony so the younger guys will learn who Jason was and why I'm wearing his number.'" Potter recalled. "So, of course, we did."
Come the end of the state title game, Crowder will wear No. 17 for the last time before starring in Candlelight a final time the next two evenings.
Said Burns in paying his Renaissance man the ultimate compliment: "I'd love to have a whole school of Aaron Crowders."
Contact Mark Wiedmer at mwiedmer@timesfreepress.com. Follow him on Twitter @TFPWeeds.
Thursday's TSSAA BlueCross Bowl at Finley Stadium
Division II-AACPA (11-2) vs. Lipscomb Academy (11-1), 11 a.m.Division II-ADCA (11-1) vs. Nashville Christian (11-2), 3 p.m.Division II-AAAMcCallie (12-0) vs. MBA (9-3), 7 p.m.