For more BlueCross Bowl coverage from the Times Free Press, read more here.
Lipscomb Academy left no doubt.
The Mustangs capped an already impressive football season with a dominating 27-0 win over Nashville rival Christ Presbyterian Academy in the TSSAA Division II-AA BlueCross Bowl state championship game Thursday at Finley Stadium.
It marked the first state title for Lipscomb since 2007.
"I get so much joy as a parent watching my kids succeed, and I would say this equals it," said Mustangs coach Trent Dilfer, who quarterbacked the Baltimore Ravens to a Super Bowl victory two decades ago. "The sacrifices they made, the buy-in it took to accomplish something bigger than themselves and to see them rewarded for that is really special."
The game was a rematch of Lipscomb's 38-0 regular-season win and was the second consecutive year these teams met for the state title, with CPA winning last season.
(READ MORE: Final scores and photos from Thursday's BlueCross Bowl state championship games in Chattanooga)
Photo Gallery
Division II-AA BlueCross Bowl: CPA vs. Lipscomb Academy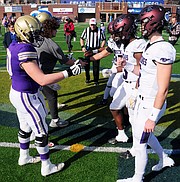 The Mustangs (12-1) opened the scoring Thursday with a 16-play, 82-yard touchdown drive that began midway through the first quarter and ended with Alex Broom's 7-yard run with 11:17 left in the second. Lipscomb punctuated the first half with a 61-yard scoring strike from Luther Richesson to Nathan Spillman with just six seconds remaining.
Broome, a Tennessee Titans Mr. Football finalist who is committed to Boston College, was named the game's MVP after finishing with 138 yards on 20 carries and adding a second touchdown run late in the third quarter for a 20-0 advantage. Richesson, who is also a Mr. Football finalist, was 17-of-19 passing for 147 yards and the one score with one interception.
The Mustangs - whose only loss was to nationally ranked Oakland, the Murfreesboro program that will play in the Class 6A BlueCross Bowl on Saturday at Finley - were 8-for-11 on third-down conversions and rolled up 341 total yards. They scored their final touchdown on Maureice Sherrill's 12-yard run with 2:25 to play.
Lipscomb's defense, which registered seven shutouts and allowed just 9.3 points per game, held CPA (11-3) to 223 total yards and forced two turnovers.
"We're by far the best defense in Tennessee," Dilfer said, "and they proved it again today."
Contact Stephen Hargis at shargis@timesfreepress.com or 423-757-6293. Follow him on Twitter @StephenHargis.