For more BlueCross Bowl coverage from the Times Free Press, read more here.
Whether traveling two-plus hours across the Cumberland Plateau to Cookeville - as it did the previous two seasons - or just making a quick three-mile trip from Dodds Avenue down Main Street to Reggie White Boulevard - Thursday's route to Finley Stadium - the McCallie football team's journey has led to the same destination.
For the third straight year, the Blue Tornado ended their season at midfield of a college stadium, hoisting the gold ball trophy as TSSAA Division II-AAA BlueCross Bowl state champions.
Thursday night, in front of a large crowd on the home side, McCallie capped only the second undefeated season in program history with an impressive 28-7 win over Montgomery Bell Academy, marking its second beating of the Big Red by the same score during the three-year championship run. McCallie beat Memphis University School 44-0 in 2020 to repeat at Tucker Stadium.
"We won the last two at Tennessee Tech, so to get to win one here at home is awesome," said Blue Tornado senior quarterback William Riddle, a Tennessee Titans Mr. Football finalist who was named MVP of the game after completing 10 of 15 passes for 172 yards and two touchdowns.
(READ MORE: Final scores and photos from Thursday's BlueCross Bowl state championship games in Chattanooga)
Photo Gallery
Division II-AAA Blue Cross Bowl: McCallie vs. MBA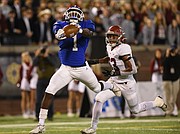 McCallie (13-0) is the fourth program in the 25-year history of D-II to win three straight championships in the state's largest private-school classification. Only three of the Blue Tornado's victories were by fewer than 17 points, but one of those was by three points against MBA (9-4) in Nashville during the regular season, when McCallie needed two touchdowns in the final 9:46 to come back from an 11-point deficit.
No such rally was needed in a dominant display Thursday.
"This is our turf, our city, and we got it done here," said Blue Tornado senior all-state linebacker Aaron Crowder. "We knew we would have a lot of support from our fans and from around Chattanooga, so we knew we couldn't lose. We had to get it done here.
"Last year when we won it, we instantly thought three-peat. To go undefeated, that makes it even better."
After missing a short field-goal attempt on its opening possession, McCallie converted on fourth-and-2 from its 48-yard line with a 6-yard run by Tario Price, and on the next play Riddle connected with Xavier Gaillardetz for a 46-yard touchdown. Gaillardetz, the area's leader in receiving yards, broke five tackles before outrunning the pursuit to the end zone. He finished with five catches for 117 yards, all in the first half.
Final: McCallie 3-peats as D-II AAA state champions with a 28-7 win over MBA. Blue Tornado HC Ralph Potter gets the Gatorade bath #BestofPreps pic.twitter.com/73OzL7pkHe

— Stephen Hargis (@StephenHargis) December 3, 2021
After pressuring Big Red junior Marcel Reed into a hurried pass that was intercepted by Kenzy Paul at the MBA 40, the Blue Tornado tacked on another touchdown on the first play of the second quarter when Paul caught a 30-yard strike from Riddle.
"Defensively, our plan was simple - rush the quarterback, rush the quarterback, rush the quarterback," Crowder said. "When you have that many people in your face, it's going to be tough to make plays, and that's what we were able to do, make it hard on (Reed)."
Reed, a four-star college prospect with offers from more than a half-dozen Southeastern Conference programs, finished with 56 rushing yards and threw for 133 with one interception under constant pressure. McCallie outgained the Big Red 359-215 in total yards, holding MBA to 1-of-7 on third-down conversions and allowing just 23 rushing yards in the second half.
After MBA, which has finished as runner-up the past five times it has reached the title game, cashed a McCallie turnover into a 10-yard run by Rhett Hayles to close within 14-7 just before halftime, the Blue Tornado answered in the third quarter with a 10-play, 58-yard scoring drive to regain control. On that drive McCallie converted two fourth downs, including a fourth-and-8 when Kenzy Paul picked up 11, before Damian Scott scored on a 12-yard run - getting a push from behind from 6-foot, 325-pound offensive lineman Cooper Rumfelt over the final 5 yards.
Price, a junior who finished with 114 yards despite a gimpy ankle, added McCallie's final touchdown on a 4-yard run midway through the fourth quarter.
"In a difficult situation, after letting them get back in the game, we really played extremely well," Blue Tornado coach Ralph Potter said. "What motivated me was I didn't want to have to go into our locker room after the game and face our kids, especially our seniors, after a loss."
"It's a great night for McCallie and a great night for Chattanooga. This is a historic moment. And what a legacy to leave for our seniors, winning three straight. It's something they'll remember the rest of their lives."
Contact Stephen Hargis at shargis@timesfreepress.com or 423-757-6293. Follow him on Twitter @StephenHargis.
McCallie is back-to-back-to-back state champions #bestofpreps pic.twitter.com/8ttjCUMk4N

— Stephen Hargis (@StephenHargis) December 3, 2021