For more BlueCross Bowl coverage from the Times Free Press, read more here.
Sometimes Cinderella wears cleats.
The South Pittsburg High School football team capped a fairytale playoff run - which overshadowed a turbulent regular season - with an improbable second-half rally past previously unbeaten McKenzie, 24-21, in Friday's TSSAA Class 1A BlueCross Bowl at Finley Stadium.
The Pirates are no strangers to state title games, with this their 13th appearance, but the sixth championship in program history and first since 2010 was a particularly hard-earned prize.
"I told my teammates when we were down at halftime, 'Just keep fighting,'" said South Pittsburg running back De'Andre Kelly, who was named the game's MVP after rushing 19 times for 177 yards and two touchdowns, including the go-ahead score with 7:53 remaining. "We've been down before. We've been down on the field before and we've been down in life before when our head coach left us and when other coaches left this year.
(READ MORE: Live coverage of Friday's BlueCross Bowl state championship games in Chattanooga)
Photo Gallery
Class 1A BlueCross Bowl: South Pittsburg vs. McKenzie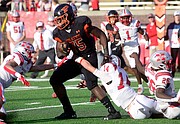 "None of that discouraged us at all. We didn't quit then and we didn't quit tonight, and we proved what can happen if you just keep fighting together. Nobody thought we could do it, but we won the state championship."
In a microcosm of its season, when first-year head coach Chris Jones abruptly resigned after just one game leading the program, South Pittsburg (11-2) looked as if it had no chance of ending the year on such a high note after falling behind 14-0 in the first quarter.
But the Pirates battled back to cut the deficit in half on Kelly's 19-yard run midway through the second quarter, then slowly began to swing momentum with a defense that continually blitzed McKenzie (14-1) into mistakes.
South Pittsburg defenders collected seven of their nine tackles for loss in the second half, allowing just 136 rushing yards in the final two quarters after giving up 203 before halftime.
"We brought a lot of pressure," Pirates co-head coach and defensive coordinator Heath Grider said of the team's halftime adjustments. "I just felt like we had to use some of our quickness to combat against their strength."
Final: South Pitt is your Class 1A state champs with a 24-21 win over McKenzie #bestofpreps pic.twitter.com/t8bo3HzsLF

— Stephen Hargis (@StephenHargis) December 3, 2021
The rally began with a 16-yard fumble return by Dezman McNeal for the tying touchdown, after Josiah Huntley had stripped Rebels all-state runner Marquez Taylor with 5:28 left in the third quarter. After two more defensive stops, the Pirates set out on a five-play, 78-yard touchdown drive, kick-started by Kelly's 34-yard gain to begin the possession and punctuated by his 28-yard run to give his team its first lead.
Four plays later, McNeal stripped the Rebels' Rashad McCreary, then tossed the ball back as he was falling to a trailing Jamarion Farrior, who returned the ball 20 yards to inside the McKenzie 10. That set up a 19-yard field goal by Cooper Keown for a 24-14 lead with 3:01 remaining.
"Josiah made the hit, and when I saw the ball pop up in the air, I just grabbed it and took off," McNeal said. "I think we showed what teamwork can do. That's how we succeeded. It took all of us working together."
After the Rebels pulled within three on a 15-yard touchdown pass from Jackson Cassidy to Zach Aird with 1:14 to go, South Pittsburg's Reginald Hunter recovered the onside kick and his twin brother Richard, who threw for 85 yards, knelt on the ball to run out the clock.
6th state title in program history, first one since 2010 for South Pittsburg #bestofpreps pic.twitter.com/0dRXolOWe9

— Stephen Hargis (@StephenHargis) December 3, 2021
"It's really hard to put into words what these kids have overcome in terms of the amount of adversity over the last few months," Pirates co-head coach Wes Stone said. "The kids kept believing in what we were trying to do and refused to quit. They were determined to finish this thing the right way."
The title is the first for the Pirates in 11 seasons after finishing as runners-up three times in that span, including last year.
"I don't know if what happened throughout the course of the year when Coach Jones left, if all that stuff just fueled us, but in the playoffs we were a motivated team," said Grider, whose father, the late Don Grider, was the head coach for the program's first championship in 1969, and whose older brother Vic later won three titles as coach of the Pirates. "What was so amazing was our kids played every snap hard. You don't see guys do that play after play.
"Somewhere in heaven, I know my dad was watching the way the Pirates played and he's awfully proud."
Contact Stephen Hargis at shargis@timesfreepress.com or 423-757-6293. Follow him on Twitter @StephenHargis.
In the words of Larry Munson "there's gonna be some property destroyed tonight." State champion Pirates are back home and I'd say the party is about to really crank up #bestofpreps pic.twitter.com/rGMV8tBLhp

— Stephen Hargis (@StephenHargis) December 4, 2021