For more BlueCross Bowl coverage from the Times Free Press, read more here.
Friday's late-night crowd at Finley Stadium saw quite the quarterback duel between Jordyn Potts and Jake McNamara.
Potts finished with the upper hand in the battle of star gunslingers.
The junior was brilliant in the second half, leading Powell to a thrilling 42-34 victory in the TSSAA Class 5A BlueCross Bowl.
"I can't tell you how much this means to us all," said Potts, who was 24-of-30 passing for 324 yards and four touchdowns. "I caught a rhythm in the second half with my receivers. It's been a long time waiting for this. Especially Coach (Matt) Lowe. He's been doing this since 1991 as a player, and he lost it in 2011.
"In the back of my head, I knew I wasn't going to lose this game for him or my teammates."
(READ MORE: Live coverage of Friday's BlueCross Bowl state championship games in Chattanooga)
Photo Gallery
Class 5A BlueCross Bowl: Powell vs. Page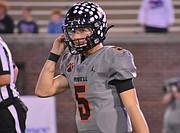 Powell (13-2) jumped out to a 21-0 lead in the first quarter, but the Panthers could not deny a strong comeback attempt as Page (13-2) cut its deficit to 21-20 by halftime.
Despite being chased for his life by a dominant Powell defensive front led by Walter Nolen and Steven Soles, McNamara willed his team back by making incredible plays on the run with his arm and legs. The younger brother of Michigan quarterback Cade McNamara became a state championship game legend in his own right, completing 32 of 56 passes for 291 yards and four touchdowns while also rushing for 65 yards.
Seeing McNamara's success fired up Potts, who threw for 206 yards in the second half and three touchdowns. His 25-yard strike to four-star recruit Adarius Redmond at the back line of the end zone gave the Panthers a 35-20 lead with 46 seconds left in the third quarter.
The Patriots recovered an onside kick late, but McNamara's 26-yard heave to the end zone as time expired fell incomplete.
"Jake is a heck of a player," Potts said. "I didn't know he was that fast. Hats off to him. He really kept them in the game and is really good. I saw him doing his thing, so I had to do it, too."
Contact Patrick MacCoon at pmaccoon@timesfreepress.com. Follow him on Twitter @PMacCoon.