For more BlueCross Bowl coverage from the Times Free Press, read more here.
Tullahoma High School's football team had waited 100 years to play for a state championship, so a little extra time after regulation was not an issue.
In the program's centennial season and its first appearance in a title game, the Wildcats outlasted two-time reigning champion Elizabethton 21-14 in double overtime to win Saturday's TSSAA Class 4A BlueCross Bowl at Finley Stadium.
"I had nerves, I'm not going to lie, but I trusted my teammates and they trusted me," said Wildcats quarterback Ryan Scott, who was named the game's MVP after completing 12 of 16 passes for 124 yards and a touchdown and also leading his team in rushing with 88 yards and a score. "All that matters is we came through."
Scott's 7-yard run early in the second quarter provided the game's first points, capping an eight-play, 86-yard drive. But then the Cyclones - whose offense had 23 more snaps in the game and was 11-of-18 on third-down conversions - answered with a methodical 13-play, 80-yard touchdown drive capped by Bryson Rollins' 3-yard toss to Jake Roberts to tie the game just before halftime.
Photo Gallery
Class 4A BlueCross Bowl: Tullahoma vs. Elizabethton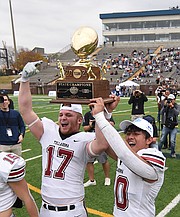 After a defensive struggle throughout the second half, the Wildcats faced fourth-and-goal at the Cyclones' 1-yard line with 2:29 remaining in the fourth quarter and the score still 7-all. They opted to pass up giving Justus Chadwick - a kicker of the year finalist in Tennessee Titans Mr. Football recognition - a chance at a short field-goal attempt, and Elizabethton stuffed Scott's sneak for no gain, eventually leading to overtime.
"I backed myself into a corner there," Tullahoma coach John Olive said. "Our whole buildup to this was we would play to win and not play to not lose, so when the kids came to the sideline, they said we're going to go for it and that's what we did."
After swapping touchdown runs in the first extra frame, Tullahoma scored on its third play of the second overtime when Scott hit Jacob Dixon on a 5-yard pass. The Wildcats then sealed the win on defense when Krys Uselton intercepted a pass in the back corner of the end zone.
"All through the playoffs, it's been somebody different making big plays to get us here," Olive said. "It's not been the same person each week, and that's what makes this team awesome."
Contact Stephen Hargis at shargis@timesfreepress.com or 423-757-6293. Follow him on Twitter @StephenHargis.