For more BlueCross Bowl coverage from the Times Free Press, read more here.
Ty Simpson finished a storybook senior season with a mesmerizing performance at Finley Stadium.
A dual-threat quarterback who has committed to Alabama, Simpson led Westview to its first TSSAA state championship with a commanding 55-14 victory over Hampton in the Class 2A BlueCross Bowl on Saturday afternoon.
The five-star recruit finished the season with 57 touchdowns, but he spent most of the first quarter on the Chargers' sideline as Hampton (11-3) opened the game with a 17-play, 74-yard touchdown drive led by Conor Jones and tacked on a 2-point conversion.
Simpson, who is ranked No. 3 at his position by 247Sports.com, needed almost no time to strike back in a big way, unloading a 45-yard touchdown pass deep down the right sideline to Quincy Hamilton on the Chargers' first play from scrimmage.
A 2-point conversion attempt failed, but after a fumble recovery by Chargers defensive lineman Quindarian Johnson seconds later, Simpson's pass on the first snap of the next possession was perfectly placed down the left sideline to Garner Anderson for a 34-yard touchdown. Hamilton's 2-point run made it 14-8, and Westview's offense had used only a little more than 20 seconds of game clock.
Photo Gallery
Class 2A BlueCross Bowl: Westview vs. Hampton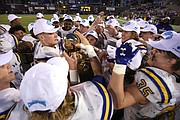 Hampton drew even on a Jones touchdown pass in the next series early in the second quarter, but on Westview's next snap, Simpson used his legs to scamper down the left sideline as he juked a defender and carried another to the 1 on a 55-yard gain. He scored a play after to put his team ahead for good, and Westview finished the season 14-1 after having won a combined 15 games the previous three seasons.
"I couldn't have dreamed up a better start," said Simpson, who rushed for 181 yards on 10 carries, passed for 99 yards, totaled five touchdowns and was named MVP of the game. "I just want to thank God for the opportunity and how awesome this experience is. I never thought we would get here.
"This isn't for us but all the players who have come before us in this program. And it's for our community. I am super excited and proud of my team."
Westview senior Javion Goins added a 19-yard touchdown run and returned an interception 29 yards for a touchdown.
"To make it this far took awhile, but we stuck with it. I am so happy we could get it done my senior year," said Goins, who had some 15 family members in the crowd. "We won this for all of those who wear the blue and yellow."
Contact Patrick MacCoon at pmaccoon@timesfreepress.com. Follow him on Twitter @PMacCoon.