One year ago, our region, country and world were preparing to enter 2021 with high hopes that it would end better than 2020. While the COVID-19 vaccine became widely available to those who wanted it this year, the pandemic generated new variants, mandates and political controversies in 2021 as locals attempted to get back to a somewhat normal way of living.
From a contentious mayoral election to the Atlanta Braves winning the World Series, Times Free Press readers have voted, and listed below are what more than 230 surveyed said were the top 10 stories in the Chattanooga region for 2021.
1. COVID-19 VARIANTS AND VACCINES: The coronavirus pandemic was still a reality in 2021 with the rise of variants, like delta and omicron, and low vaccination rates across the Chattanooga region despite the widespread availability of COVID-19 vaccines.
2. BRAVES WIN IT ALL: For the first time since 1995, the Atlanta Braves won the World Series, beating the Houston Astros.
3. LABOR AND SUPPLY SHORTAGES: Following the pandemic slowdown that pushed unemployment in metro Chattanooga to 14.1% and in metro Dalton, Georgia, to 19.8% in the spring of 2020, most jobs have returned to the market while not all workers have come back into the labor force, creating labor and supply shortages for many businesses.
4. US-27, I-24 CONSTRUCTION: The $143.2 million U.S. Highway 27 improvement project through downtown Chattanooga ended. Phase one of a project to improve the infamous Interstate 75/Interstate 24 "Split" near the Tennessee-Georgia state line was completed, costing $133.5 million.
5. COVID-19 POLITICS: A three-day special session of the Tennessee legislature placed limits on what governments and businesses can do to address the COVID-19 pandemic, including a law limiting masks and vaccine mandates despite President Joe Biden's federal vaccine mandate for employers with 100 or more employees.
6. GUN VIOLENCE INCREASES: The Hamilton County Commission voted 8-1 to offer the Light House Collective $100,000 in a one-year grant to mentor and safeguard youth and steer them away from violence following a string of shootings and killings in the city amid the COVID-19 pandemic.
7. RISING HOME SALES: Home prices and real estate values were pushed up as housing demand outstripped supply, creating the fastest-selling time for the average home on record and attracting more than $500 million of investments in Hamilton County properties by out-of-town investors.
8. CHATTANOOGA MIGRANT SHELTER: Local and state politicians were outraged in May when video surfaced of immigrant children getting off a plane in Chattanooga to travel to a shelter in Highland Park or across the region. The politicians alleged a lack of transparency by the Biden administration in moving the immigrant children and created a special committee to investigate. Documents later revealed the state had approved the Chattanooga operation in May 2020 and unaccompanied migrant children began arriving in the city under President Donald Trump. The state shut down the shelter when concerns were raised about child abuse, which led to three arrests.
9. MAYORAL RUNOFF: After a contentious mayoral runoff campaign between local businessman Tim Kelly and businesswoman Kim White, Kelly won and promised to create "one Chattanooga."
10. PONZI SCHEME: The SEC charged financier John Woods of running a Ponzi scheme. Woods, an East Ridge native, built up Southport Capital and invested in many area businesses, including the Chattanooga Lookouts.
Photo Gallery
Top stories of 2021 for Chattanooga region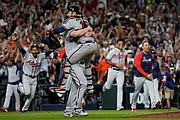 While readers voted on the top stories listed above, below were some of the most popular articles on the Times Free Press website based on what subscribers read the most.
1. Video: Tim Kelly, Kim White snipe over politics, business in Chattanooga mayoral debate
2. Chattanooga Area Chamber of Commerce's racial equity pledge attracts support and criticism
3. The search for a new American dream led these millennials to Chattanooga
4. Think tank blasts Hamilton County's purchase of farmland for industrial park
5. Mayor Tim Kelly seeks to restructure Chattanooga City government, dissolving some departments, creating others
6. Most elected officials in Chattanooga area have taken COVID-19 vaccine, but some won't say
7. Tennessee Rep. Robin Smith directed colleagues' taxpayer-funded mail to New Mexico vendor
8. Hamilton County mayor decries state stripping of local public health powers
9. 'Worried sick': Erlanger retirees reel over pension changes a month after current employees, executives get bonuses
10. Legal tug of war over $6 million Christian summer camp pits Bryan College against nonprofit group
- Compiled by Allison Shirk