NASHVILLE - The math wasn't overly difficult.
Redshirt junior Cedric Tillman entered the Music City Bowl needing 69 yards to become Tennessee's first 1,000-yard receiver since Justin Hunter in 2012 and just the ninth in program history. Tillman's first catch of the day went for a 41-yard touchdown on the fourth offensive play for the Volunteers.
His second reception midway through the opening quarter went for a 61-yard score.
"I had a strong feeling," Tillman said when asked if he knew he had eclipsed the milestone at that point.
The 6-foot-3, 215-pound junior from Las Vegas wound up with seven catches for 150 yards and three touchdowns, with his three receiving scores setting a Tennessee bowl record. Tillman finished the year with 1,081 yards, placing him fourth on the single-season charts behind Robert Meachem (1,298 in 2006), Marcus Nash (1,170 in 1997) and Hunter (1,083).
Tillman's first touchdown clinched a seventh consecutive game with a receiving score, breaking the mark of six straight set by Joey Kent in 1995.
"The biggest thing for me was the team and seeing us grow," Tillman said. "Truth be told, we were really just falling apart, and Coach (Josh) Heupel came in here and set a standard. He's done so much for me and my teammates, and I try to play my butt off for them and him.
"We're just going to continue to get better. We're going to continue to work out and stay after to watch extra film so we don't have this feeling in our mouth again next year."
Photo Gallery
Tennessee vs. Purdue at Music City Bowl on Dec. 30, 2021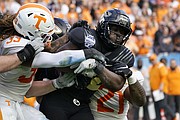 Second quarter woes
Tennessee outscored Purdue 21-7 in the first quarter to extend its advantage to a staggering 190-51 in the game's opening 15 minutes.
The Vols couldn't carry that over, however, as the Boilermakers used a 16-0 surge in the second quarter to take a 23-21 halftime lead.
"It was completely out of the ordinary," Heupel said. "We didn't execute some simple things very well. We had a couple of chances at explosive plays and didn't execute them, and we had some simple things in third-down situations that we didn't execute.
"I'm not taking anything away from Purdue, but we were not very good in that quarter."
The Vols wound up being outscored 143-109 in the second quarter this season.
"Maybe it was the layoff, but it was uncharacteristic of us compared to how we were playing later in the football season," Heupel said.
A very busy Banks
Vols redshirt junior linebacker Jeremy Banks was credited with 20 tackles and 2.5 tackles for loss. His 20 total stops matched Tennessee's bowl record set by Carl Zander in the 1984 Sun Bowl loss to Maryland.
Banks nearly made a huge play with 9:11 remaining in regulation but failed to come up with an interception near midfield.
Injuries questioned
The second half of the four-hour and 38-minute Music City Bowl included multiple players staying on the ground with questionable injuries.
Heupel has discussed this topic on occasion this season and was asked Thursday whether there should be a mandatory cooling off period for players before they are allowed to return to the game. His response took the news conference by surprise.
"You know what's crazy? The officials wanted that, too," he said. "I thought that was pretty comical that they came up and said that to me. They think there needs to be a rule change."
Color it orange
Thursday's announced crowd of 69,489 set a Music City Bowl record, topping the 69,143 who attended Tennessee's 30-27 double-overtime loss to North Carolina in 2010.
To nobody's surprise, the overwhelming majority of the audience was dressed in orange.
"The passion of our fan base is unsurpassed anywhere in all of college football," Heupel said. "They were on fire. Driving up in the buses was a special scene, as good as I've ever been a part of. I appreciate their support tonight but really all season long.
"I appreciate them being on this journey with us."
Odds and ends
Tennessee's bowl record slipped to 29-25, with Thursday's outcome ending a four-game postseason winning streak over Big Ten teams. ... Chase McGrath, who missed a 56-yard field-goal attempt on the final play of regulation, finished 12-of-16 this season. ... Having to miss the Music City Bowl due to injuries in addition to right tackle Cade Mays were defensive backs Kenneth George and Brandon Turnage and nose tackle Elijah Simmons.
Contact David Paschall at dpaschall@timesfreepress.com or 423-757-6524. Follow him on Twitter @DavidSPaschall.