As one of Tennessee's biggest and oldest credit unions with more than 158,000 members, the Tennessee Valley Federal Credit Union has printed millions of checks, bank statements and tax forms in its 85-year history.
But in the past five months, TVFCU has teamed with a Chattanooga robotics and design company to also print part of its newest bank branch.
The new Southside office being erected at 125 West 20th Street is the first-ever building to use a 3D-printed exterior using a patented cellular fabrication method developed by Branch Technology. The 207 unique blocks that form the facade of the new TVFCU branch were prefabricated by 3D laser printers by Branch Technology to feature the wave design and appearance of the credit union's logo.
"With this new technology, the facade of this building is very unique and innovative and very much fits in this community on the Southside," said Todd Fortner, president of the Tennessee Valley Federal Credit Union which hopes to open the new drive-thru branch by May. "As a credit union, we have been among the first to offer online banking, remote tellers and interactive banking and we're pleased to be able to offer one of the first 3D-printed building facades in the world."
Photo Gallery
3-D printed building facade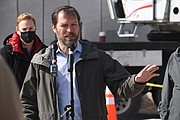 Crews from Construction Consultants, which is building the two-story office just west of Market Street on 20th Street, are using cranes to hoist the blocks that form the facade into place and form the exterior of the new branch.
"This will be the only building like this in the world and TVFCU has its fingerprint on it and will create a signature identity for its brand and this facility," said Platt Boyd, an architect who founded Branch Technology and moved to Chattanooga six years ago.
The facade features the credit union's iconic wave branding into its design and was developed in a partnership between the credit union and Branch Technology using a design by River Street Architects.
"The undulating facade is patterned to identify entrances and expand around the building's curvature, serving as way finding for visitors," said John McCade, advanced concepts director at Branch Technology.
Boyd said 3D printing of building components allows for most any type of design and the building to be constructed with less waste and more energy efficiency. Rather than cutting lumber, insulation and other building parts on site and throwing away what's not needed as is done in conventional site-built projects, the 3D printing design only makes what is required and there is virtually no building waste.
Boyd won the Spirit of Innovation Award for his business in 2016 and Fortner said TVFCU and Branch Technology have been talking and doing business ever since. Branch Technology has grown to about 50 employees at its 50,000-square-foot headquarters on Riverside Drive and is now focusing primarily on commercial buildings and facades.
"We have interest coming from all over the world and we hope to continue to grow," Boyd said, noting that the company is now involved in at least a half dozen building projects including the 3D-printed facade being added at a Huntsville, Alabama, parking garage.
The new Southside branch for TVFCU will be the 20th branch for the Chattanooga-based credit union, which operates in 13 counties in Southeast Tennessee and Northwest Georgia. Fortner said he hopes to open the branch by May as a full-service branch, including a drive-through location to help offer an alternative to the drive-through site that will close this year at TVFCU's former headquarters on Market Street.
TVFCU shifted its operations and headquarters in 2018 to the former IBM building on Chestnut Street and put its former headquarters building up for sale. The downtown branch will soon shift across the street into part of the Market City Center and the new 20th Street location will offer a drive-through alternative for downtown credit union members wanting such service.
"While our competitors are closing branches, we are opening them," Fortner said. "We saw a void in our service area and decided to add a branch."
Contact Dave Flessner at dflessner@timesfreepress.com or at 423-757-6340.