Michael Christiansen first came to Aaron's to get a refrigerator for his mother through the store's rent-to-own option and has since returned several times to buy furniture and appliances outright from the discount retail chain.
As he prepares to move into another home with his girlfriend Shawna West, Christiansen was shopping again this week at Aaron's in Fort Oglethorpe. The newly remodeled and expanded store quickly impressed Christiansen with its upgraded layout and look.
"It's definitely changed a lot and looks a lot brighter and better with more options," he said.
Aaron's added another 3,000 square feet to its 10,000-square-foot store on Battlefield Parkway in Fort Oglethorpe to separate its new merchandise from its pre-leased and used goods. The store was also completely remodeled with new flooring, lighting and merchandise displays as part of a $500,000 upgrade of the furniture showroom.
The Fort Oglethorpe Aaron's is one of 75 stores undergoing similar upgrades this year under a five-year plan to eventually renovate many of the more than 1,200 stores nationwide, including the other local Aaron's store on Brainerd Road during 2022. Aaron's debuted the first 50 of the "GenNext" stores last year and already the new store concept is boosting sales at most of the renovated locations by 20-30%
Photo Gallery
Daily Photos 05/16/2007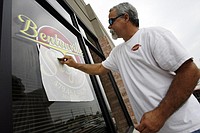 Sonia Wade, the senior implementation manager for the new Aaron's store concept, said the new design features larger, brighter and more colorful main showrooms with only new furniture, appliances and electronics. Previously leased items, once intermingled with new merchandise, occupy a separate, smaller showroom.
"All of the new merchandise is delivered to you straight out of the box and has never been sat on by anyone else, " Wade said. "We also have a lot more offers we can make for our customers and will work with you to find what is appropriate for your needs and fits within your budget.
Aaron's shoppers also can get same-day delivery of new merchandise. Wade said the new, larger Aaron's stores make room for more merchandise than older stores.
The cumbersome process of filling out pages of paperwork to seek lease approval has been replaced by in-store computer kiosks that allow customers to learn their buying power in less than three minutes. Shoppers can either use the store's computers or their own smartphones to calculate what they can buy and how they can pay for it.
"Our new GenNext store concept includes an enhanced showroom, improved digital technology, an expanded product assortment and better brand imaging," Aaron's CEO Douglas Lindsay said Tuesday in a conference call with industry analysts. "Our GenNext stores are performing well, delivering new sales volumes that are higher than our corporate averages. While the new stores still represent a small share of our overall store count, we believe that over time the execution of our GenNext store design strategy will provide a meaningful lift to our overall performance."
Aaron's has reduced the number of company-owned stores by 253 in the past couple of years, but Aaron's revenues in 2020 totaled more than $1.7 billion, which was down only 2.8% from the previous year despite the drop in the store count. Aaron's reported earnings per share in 2020 of $3.02, or 43.8% above the $2.10 per share earned in 2019.
Tuesday marked the first earnings announcement by Aaron's since the Atlanta- based retailer was spun off last fall and formed its own stand-alone company traded on the New York Stock Exchange.
Contact Dave Flessner at dflessner@timesfreepress.com or 423-757-6340.