When is a victory by an unranked team over the No. 11 Football Championship Subdivision program in the nation not considered a major upset?
When the winning team expected it to happen all along.
It took a defensive series for the University of Tennessee at Chattanooga to settle in Saturday against Wofford, but that shift happened really quickly. From that point forward, the Mocs were the more dominant team on both sides of the ball.
On offense they executed, led by a fifth-year senior in his first season as a starting quarterback for a college team, with a former All-Southern Conference running back getting the bulk of the carries and a converted safety and a walk-on stepping up as the team's two leading receivers. On defense they played so well that if someone was watching the game without graphics or sound, they would have concluded it was UTC that was ranked, not the Terriers.
The 24-13 win at Finley Stadium was impressive for the home team in all aspects as UTC - which lost its lone game of the fall 13-10 at Western Kentucky in October - returned to the field to open its spring semester SoCon schedule. The Mocs outgained the Terriers 301-199 in total offense. The hosts forced a turnover on defense and another on special teams. They sacked Wofford's Jimmy Weirick three times, with two of those by 2019 All-SoCon selection Devonnsha Maxwell.
Photo Gallery
UTC vs. Wofford football on Feb. 27, 2021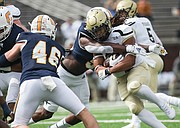 Drayton Arnold, who prior to the Western Kentucky game hadn't started since his senior year of high school in 2015, looked much better in start No. 2, throwing for 223 yards. Arnold also had the first touchdown pass of his collegiate career, connecting with tight end and former McCallie standout Jay Gibson on a 2-yarder in the first quarter as the Mocs responded after Weirick capped the opening possession with a 2-yard touchdown run.
Reginald Henderson, who started his career at Middle Tennessee State as a receiver before being moved to safety and then going back to offense at UTC, had 102 yards on seven catches. On one third-quarter series he had two grabs in the end zone, including a one-handed snag while falling backward, that were ruled incomplete because he was out of bounds.
It was also the first game without Bryce Nunnelly, the two-time All-SoCon selection who plans to finish his college football career at Western Michigan after graduating from UTC this spring. Nunnelly's former backup, sophomore Andrew Manning from Ooltewah High School, had 77 yards on three catches, two of them for more than 30 yards.
Gibson showed he was a solid option behind preseason All-American Chris James, who was out because of injury. Running back Ailym Ford, who tore an ACL late in the 2019 season, didn't play either, but that just gave opportunities to 2018 All-SoCon running back Tyrell Price and Western Kentucky transfer Gino Appleberry, who combined for 93 yards on the ground and a score each.
"To be honest, I wouldn't even say it was a big win for us because we know what we can do," Henderson said.
But it was a big win for the program, which hadn't beaten Wofford since 2015, when current UTC head coach Rusty Wright was the linebackers coach and current tight ends coach Jacob Huesman was still playing quarterback.
This is a team that has been built by both the current staff and the previous two. Senior safety Jerrell Lawson was a recruit of Russ Huesman - for whom the 2016 season was his eighth and final in charge of the Mocs - as were linebacker Rashun Freeman, cornerback Jordan Jones and offensive lineman Cole Strange. A number of the current players were brought in by Tom Arth, who headed the program for two seasons after Huesman, and Wright and his assistants have just built on that and instilled a necessary toughness.
"They're a good football team," Wright said of Wofford, which had gone 488 days between football games before last week's 31-14 win against Mercer. "They don't have all the pieces either right now, and you can tell they're still trying to develop offensive linemen, but they're a good football team. They just happened to make a couple of mistakes they didn't make the first week, and we took care of ours."
Oh, and the defense, in control for most of the nonconference loss to the Hilltoppers in October, shook off a slow start to Saturday's game to dominate despite allowing 71 yards on the opening series. Brandon Dowdell had the sixth interception of his UTC career, Kam Jones had 10 tackles and freshman John Prince had a sack.
Special teams even got into the act: Freshman Skyler Wilson kicked three extra points and a 26-yard field goal, and Boyd-Buchanan graduate Kohl Henke recovered a fumble that set up Price's 1-yard touchdown run just before halftime that put the Mocs ahead for good.
"We knew Wofford had a game on us, but we knew defensively what we wanted to do," Dowdell said. "After that first drive, we just kicked and knew it was time to play ball. Everybody was kind of winded, but we got the first-drive jitters out and just played ball."
Next Saturday's 1 p.m. game at The Citadel (0-5, 0-1) is one of six remaining on the 2020-21 regular-season schedule for the Mocs - their original SoCon opener, a Feb. 20 home game against Virginia Military Institute, was postponed due to COVID-19 limitations for UTC - and after that, who knows? The FCS is set to have playoffs both this spring and for the traditional fall season in 2021.
There was a time in the last decade when UTC would celebrate wins over ranked competition, because the Mocs were consistently ranked, too.
Saturday could be a step back in that direction.
Contact Gene Henley at ghenley@timesfreepress.com. Follow him on Twitter @genehenley3.