Tennessee athletics this week could use a redo.
After Monday afternoon's termination announcement of football coach Jeremy Pruitt due to a significant number of NCAA Level I and Level II violations, the vaunted Volunteers basketball team visited Florida on Tuesday evening for an expected dispatching of the hampered Gators. That would not be the case at all, as Florida did not have the services of Keyontae Johnson, Scottie Lewis and Colin Castleton yet shredded the No. 6 Vols 75-49 inside a socially-distanced O'Connell Center in Gainesville.
Florida closed the shocking blowout on a 20-5 run.
"We weren't very good tonight, and I am really disappointed," Tennessee coach Rick Barnes said. "I don't know what it's going to be, but I'm going to change our lineup. I'm not going to let anybody take anything for granted and thinking we can just walk out there and play and show up and think we're good enough. That's what I felt tonight.
Photo Gallery
Florida vs. Vols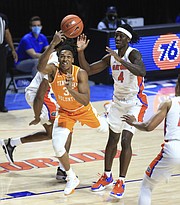 "I don't want to take anything away from Mike White and Florida, because they've had a hard year with a lot of things that have gone on. They deserved to win the game from start to finish, but I'm not going to watch us do this."
Tennessee played without freshman guard Jaden Springer, who continues to be bothered by an ankle injury.
A John Fulkerson jumper 13 seconds into the game gave Tennessee its only lead at 2-0, and a Santiago Vescovi 3-pointer was the lone highlight for the Vols during an 11-3 Florida run that provided the Gators early confidence and an 11-5 advantage. Osayi Osifo's layup at the 6:45 mark of the first half gave Florida its first double-digit lead at 25-14.
The Gators led 38-27 at halftime after shooting 50% from the floor, holding Tennessee to 28.1% and outrebounding the Vols 26-15.
"There is not one guy who started the game for us who was productive," Barnes said. "Then we went to the bench, but there wasn't great production there, either. We got exactly what we deserved."
Fulkerson scored a game-high 15 points for the Vols, who dropped to 10-2 overall and 4-2 in Southeastern Conference play, but that wasn't nearly enough to counter Florida's balanced attack of Noah Locke scoring 14 points, Tyree Appleby 13, Tre Mann 12 and Ques Glover 10. The Gators improved to 7-4 overall and 4-3 within the league.
Florida led 42-33 early in the second half when the Gators erupted for an 11-0 run behind 3-pointers from Appleby and Glover and a pair of layups by Locke, the first of which resulted in a three-point play. The second of Locke's layups gave the Gators a stunning 53-33 advantage with 14:19 remaining.
"We just hoped for something to change, but we didn't really try to make an impact as best as we could," Vols sophomore guard Josiah-Jordan James said. "We didn't do that, so we got this result. We're not going to ever let that happen again."
The Vols chipped away with an 11-2 run to make it 55-44, but three straight Tennessee possessions resulted in an E.J. Anosike missed layup, a Victor Bailey turnover and an Anosike turnover as the Gators quickly built the bulge back to 63-44 with 7:51 left.
Tennessee, which had a four-game winning streak against Florida snapped, shot 29.3% from the floor for the game and 16.7% from 3-point range.
Contact David Paschall at dpaschall@timesfreepress.com or 423-757-6524.