"I learned to swim here!" Looking around the room, there was no sign of the pool that led to that excited memory, save for the vestiges of rules from the building's time as a YMCA, emblazoned in austere black letters above the new parquet floor: "No running. No pushing. No horseplaying. No diving in shallow end."
Opened in 1930 as a haven and health club for men, the stately stucco building at 1517 Mitchell Ave. has retained its roots as a social club. Now welcoming men and women from all walks of life, it offers cultural events, a full-service restaurant, several different bars and lounges, hotel rooms, co-working and special event spaces, an outdoor saltwater pool, and a fitness center built on top of the original in-house pool where many native Chattanoogans learned to swim.
It has also retained much of its original character, an important part of the design process, says Derek Sieg, co-founder and chief creative officer for the Common House membership club that now occupies the space.
"It's a great example of people trying really hard to make a building do something," he says of the original design, which he and his team tried to build upon. "It was built as a YMCA, and it's not an obvious aesthetic for it. It has this Italian Renaissance Revival architecture, and it sticks out.
Photo Gallery
Daily Photos 08.27.2011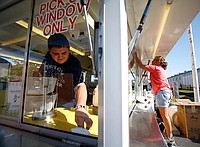 "Why they did that, I don't know, but I guess at the time you had people moving from the country to Chattanooga to work in this industrial town and getting exposed to all a city has to offer. It felt like the building was trying to give people a home and a place to feel like they could go to and connect with other people who were maybe in the same boat, and also to broaden their horizons by showing them something that was really foreign and suggestive of this great, beautiful world that was out there."
A former travel writer and lifelong lover of architecture, Sieg knows the impact creating a unique yet inviting sense of place can have. "I think the thing I was always most sensitive to is where I felt comfortable and at ease and I have wanted that for Common House," he says.
He and his team, which for this project included local design company Studio Boca, tried to think through each design choice to make the overall space feel welcoming and lived-in. Crisp white and cloud-like blue paint brightens the rooms. The walls are uncluttered, saving space for simple yet dramatic pieces of local art. Worn tufted leather couches sit in tandem with wicker chairs around antique-looking rugs, while statement light fixtures offer a touch of drama.
The eclectic mix of furnishings mirrors the essence of a personal home, and offers inspiration for Sieg.
"I love things that have been around a long time," he says. " ... They have a story and feel unexpected, and that's how a house is a lot of times. You kind of add to it over the years and continue to tinker with the different rooms and whatnot. So it feels good to me to find different stuff and kind of build things out of objects."
The billiards room off of the lobby downstairs was originally painted white to match the rest of the first floor, but a chance visit to a local antique store led to an overhaul of the room. After finding a porcelain elephant side table, Sieg decided at the last minute to redo the room in a mossy green and swap out the art with vintage local finds to give it a more worldly feel.
"We decided to take the Italy theme and blow it up," he says. "Common Houses are melting pots, and having the opportunity to show a lot of the culture of the world is fitting in that way."
Anchoring the space is an antique "YMCA Special" Brunswick pool table, which the company manufactured specifically for YMCAs in the 1920s. Sieg says it's an example of the attention paid to detail in every aspect of the design "so that hopefully it would feel authentic and appropriate."
Upstairs, a nook tucked between the second-floor bar area and lounge-like co-working space holds a reading room for which he personally selected each book during the annual library sale in Charlottesville, Virginia, where the original Common House is located. "It was a labor of love," says Sieg, who transformed the otherwise unused pocket into a meditative haven with the help of his kids, who painted the bookshelf he constructed for the space.
"I think that is the best form of architecture and design - something that's trying to be inspirational and meaningful to the people using it," he says.