NASHVILLE - Tennessee Health Department officials on Thursday released a memo outlining their justifications for firing the state's top vaccination official, Dr. Michelle Fiscus, who was fired Monday after lawmakers objected to a state policy of encouraging teens to get vaccinated against COVID-19.
The July 9 memo, written by the department's Chief Medical Officer Tim Jones, was provided to the Times Free Press following a public records request.
In it, Jones laid out a rationale and recommendation to Health Commissioner Lisa Piercey that Fiscus be fired, leveling a number of criticisms and justifications for doing so.
That came despite several years of annual evaluations in which Fiscus was awarded high marks and praise, with Jones himself signing off and approving the evaluations of her work as director of the Tennessee Vaccine-Preventable Diseases and Immunization Program.
Fiscus said Thursday in a Times Free Press interview that "I'm in a little bit of shock at the content of that letter to justify my termination," adding the criticisms and allegations weren't shared with her when she was given a choice to resign or be fired.
The physician said she had done nothing wrong and had refused to resign at Jones' request.
She added: "I also find it odd because it was Dr. Jones who had called me on July 3 because he felt so terrible" about the controversies that had erupted at the June 16 meeting of the GOP-led joint House and Senate Government Operations Committee meeting.
Document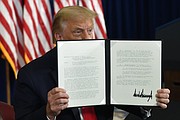 That was where majority Republicans blew up over the department's direct outreach to minors with one Republican, Rep. Scott Cepicky of Culleoka, threatening at one point to make a motion to abolish the department.
Republicans were especially incensed over flyers and other advertisements on the Health Department's website featuring teens and slogans including "Give COVID-19 vaccines a shot" and "Tennesseans 12+ eligible for vaccines."
Fiscus said Jones later told her "I didn't want you to think you were the only one laying awake at 3 a.m. thinking about this."
Tennessee has one of the nation's lowest COVID-19 vaccination rates, hovering about 38%.
The uproar over the firing has put Gov. Bill Lee under a glaring state and national spotlight, with Tennessee Democratic lawmakers sharply criticizing him. It's even made its way into late-night television, where comedian Stephen Colbert on Wednesday night fired a salvo at the state over Fiscus' firing: "Tennessee, the Volunteer State, has one of the worst vaccination rates in the country. And they aim to keep it that way."
Lee said in early July he expected the state to work through parents and not directly with teens to promote vaccinations.
In his letter to Piercey dated Friday, Jones wrote that Fiscus should be terminated due to her "failure to maintain good working relationships with members of her team, her lack of effective leadership, her lack of appropriate management and unwillingness to consult with superiors and other internal stakeholders."
Less than a year earlier, Jones signed off on her evaluation, which stated Fiscus "has been attentive to her team. She has exceeded expectations in managing all programmatic activities while being fully immersed in C19 response efforts. She has appropriately and effectively advocated for her team. Her program has had some key transitions during this evaluation period which have been managed well."
Among other things, Jones in his letter to Piercey wrote that over the past three months Fiscus had requested to provide a new nonprofit organization state funding to "support" her program's activities.
He said the nonprofit was "founded and led by Dr. Fiscus" and had no executive director or other employees and no other "substantive source" of funding. Providing money to "such an entity would be poor judgement [sic] and a substantial conflict of interest."
Dr. Fiscus's husband, Brad Fiscus, said the creation of the nonprofit was in his wife's "job description. It was part of the process of doing this job to create opportunities to increase vaccine acceptance. It's just mind-boggling, this letter is so false. It's not surprising, unfortunately, but the attempt to attack her is not going to go well. We're not going to stand by."
Brad Fiscus was filling in for his wife, who had left the Times Free Press interview to participate in another interview with Bloomberg News, one of a number of appearances she has made with national media this week.
Her husband said the nonprofit has a board of directors, is active and holds meetings. He said any insinuation that his wife was personally seeking to benefit from it was "totally false." The organization has sought and been approved for IRS nonprofit 501(c)(3) status, he said.
"They just thought she would leave quietly, they wanted her to resign," Brad Fiscus said. "She didn't do anything wrong."
Earlier, Dr. Michelle Fiscus told the Times Free Press that what Health Department officials provided to reporters "is really half-truths and hyperbole. I'm a little disappointed, it took them a week and this was the best they can do."
She noted that her understanding is that Piercey herself is in Greece for a long-planned vacation.
"I will defend her on that," Fiscus said. "She did not flee the country as a result of any of this."
Contact Andy Sher at asher@timesfreepress.com or 615-255-0550. Follow him on Twitter @AndySher1.