The return of in-person schooling, consumers with extra cash from child tax credit payments and Tennessee's annual tax-free holiday have converged to create what retailers hope will be a season of brisk spending.
"We're definitely seeing traffic return to pre-pandemic levels," said Stacey Keating, a spokesperson for CBL, the Chattanooga-based owner of more than 60 shopping malls across the nation. "It's been really positive, and we're hoping it's an indicator for the rest of the year and the holidays."
A study from Deloitte earlier this month predicted back-to-school spending will top $32 billion for K-12 students for the first time in five years. That level of spending would represent a 16% increase from 2020, reaching the highest level in recent years and topping pre-pandemic levels, according to the study.
Retailers at CBL's Parkway Place Mall in Huntsville, Alabama, reported sales during a tax-free weekend July 16-18 that rivaled Black Friday 2019, with many exceeding their sales goals for the weekend and seeing an increase in average dollar per transaction amount, Keating said.
Photo Gallery
Tax-free back-to-school shopping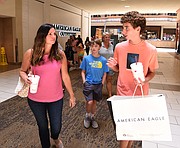 At Hamilton Place mall on Friday, the food court was busy at midday and groups of shoppers were wandering the corridors toting bags and looking for bargains. Kent Millwood, of Anderson, South Carolina, brought his granddaughters, Mason, 14, and Payton, 11, to the mall to look for back-to-school clothes.
"I was surprised when I saw the food court - it was packed," Millwood said.
The tax-free weekend also drew Heather Tate and her sons Tyler, 15, and Conner, 12, to find new clothes for back-to-school season.
"With the tax-free weekend, we figured we might as well," Tate said.
In-person shopping, which dropped dramatically in 2020, is poised to make a comeback, according to the National Retail Federation. Online shopping peaked in April 2020 at almost 19% of retail sales. Since then, levels have dropped to 15% - higher than pre-pandemic but lower than the highest levels in early 2020.
As of May 2021, 73% of consumers felt comfortable going to the store, up from 34% a year prior, the federation reported.
"2020 was definitely challenging for our industry, and every industry, but it solidified the need for in-person shopping," Keating said. "It reinforced the value of that social experience."
More Info
Tax-free in Tennessee> Friday, July 30 – Sunday, Aug. 1: Clothing, school supplies and computers. During this weekend holiday, clothing priced under $100, school supplies priced under $100 and computers priced under $1,500 are exempt from sales tax. Online purchases are included.> Friday, July 30 – Thursday, Aug. 5: Food, food ingredients and prepared food. During this week-long holiday, food, food ingredients and prepared food are exempt from sales tax. This includes qualified sales of food and prepared food at grocery stores, restaurants and food trucks. Takeout food is included in the holiday; however, alcoholic beverages are not included.> July 1, 2021- June 30, 2022: Gun safes and safety equipment. During this holiday, which lasts one fiscal year, gun safes and specified gun safety devices sold at retail are exempt from sales tax.See details on excluded items at tn.gov/revenue/taxesSource: Tennessee Department of Revenue
Tennessee's tax-free holidays have expanded in recent years, and so have the savings. In 2020, the annual sales-tax holiday weekend for back-to-school items expanded to include items of greater value, including computers up to $3,000 and restaurant meals, in a bid to throw support to an industry hit hard by the COVID-19 pandemic.
As a result, consumers saved about $90 million in 2020, which is nine times the typical tax-free weekend savings of $10 million, said Kelly Cortesi, spokesperson for the Tennessee Department of Revenue.
"While it is difficult to know the direct impact of the pandemic on last year's numbers, the inclusion of additional items certainly had an impact," she said.
This year, the tax-free weekend for school supplies has returned to its previous thresholds for the value of purchases - computers up to $1,500 are tax-free, for example - but the event has been expanded to include groceries and restaurant meals for a week, and some gun safety devices for the year.
In Hamilton County, sales tax on most items is nearly 10%. The Tennessee state sales tax rate is 7%, while the Hamilton County sales tax rate is an additional 2.25%. Sales tax for groceries in Tennessee is 4%, plus an additional 2.5% in Hamilton County.
Despite the bright outlook for tax-free shopping, one barrier to brisk sales may be lingering supply chain issues. Shortages of essential materials - including computer chips that power the brains of products from cars to computers - have been severe enough to impact second-quarter gross domestic product numbers.
More Info
Back-to-school spendingFamilies will spend more than $32 billion — a record amount — on back-to-school shopping this year, according to the National Retail Federation.Overall spending will increase across categories with 40% of K-12 households planning to spend more on back-to-school items (up from 22% in 2020), including clothing, supplies, computers and electronics.Spending on technology products (personal computers, smartphones, tablets, wearables, etc.) is set to increase 37% over 2020 to $11.8 billion.Source: The National Retail Federation
GDP numbers for the second quarter released Thursday showed the economy grew 6.5% from April through June, though forecasters were expecting growth of around 8.5%.
And as strong as sales were during the recent tax-free weekend in the mall in Huntsville, some limited inventory curbed outcomes, Keating said.
"Some retailers said their numbers could have been stronger if it wasn't for supply chain issues," Keating said.
Contact Mary Fortune at mfortune@timesfreepress.com. Follow her on Twitter at @maryfortune.