The Alton Park community's Southside Community Park got a $50,000 grant from the Washington, D.C.-based Trust for Public Land for the construction of a play area for children.
The grant is part of a $1 million investment by L.L. Bean in a joint effort with the trust to provide funding for community park improvements across the country, according to a statement from trust officials.
"In Chattanooga, this grant will provide the final funding needed to construct a play area in Southside Community Park that the Alton Park community desperately needs to give residents a welcoming place to play and be active," said Rebecca Bullis, spokesperson for the trust.
The five-acre Southside Community Park on Central Avenue was opened in 2017 by the city of Chattanooga in the Alton Park neighborhood, trust officials said, but funding will help to add a distinctive playground designed by the neighborhood's youth to give the community a welcoming place to play and be active.
Trust officials said Alton Park's history of environmental injustice, with soil contamination persisting in much of the neighborhood today, has been both a barrier to outdoor engagement and an impetus for advocacy.
Southside Community Park is the only park within a 10-minute walk of most Alton Park residents, yet children have little to do there, and the park sits empty most days. This grant will provide the final funding needed to construct the play area this community desperately needs, trust officials said.
Alton Park resident Charles Hudson was happy to hear of improvements as he set up for a recent family event at the park's pavilion.
"That'll be real cool," he said. "That's the only thing missing really."
Photo Gallery
Southside Community Park grant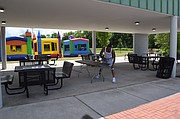 Hudson said he rented some inflatables for the event because of a lack of other play equipment for children.
"This is the second event we had here," Hudson said while unloading and setting up folding tables. "We had a '90s party here about three weeks ago."
Ivan Kinamore, who was at the park with his son, Keon, that same day setting up children's inflatables for a company based in Brainerd, said he frequently works with Alton Park residents who host events at the park. The park needs permanent facilities for neighborhood children, Kinamore said.
"It'll be good to have out here," he said.
Jenny Park, state director for the trust, said construction is expected to start sometime in the next month, and the play areas should be complete and open to the public by late summer.
"We're looking to do an opening celebration after school starts, and we'll plan that with partners in the neighborhood," Park said.
Youth from the neighborhood participated in choosing equipment for the play area.
"Through several months of activities with kids and teenagers in Alton Park we created a site plan that incorporated their favorite elements into the space," she said. "The play space will have a variety of swings, a zip line, a whirl like a merry-go-round and a composite structure that has slides and climbing pieces and platforms."
Park said the trust will contract with playground equipment manufacturer GameTime, which uses a certified contractor for installation of equipment at the park.
Besides major sponsor L.L. Bean, other sponsors of the park include the Lyndhurst Foundation and the Community Foundation of Greater Chattanooga, with technical support from the city of Chattanooga, she said. A key community partner whose youth supported the playground design was the Net Resource Foundation, according to Park.
Contact Ben Benton at bbenton@timesfreepress.com or 423-757-6569. Follow him on Twitter @BenBenton.