While the pandemic shut down most live entertainment venues, the folks with the Tivoli Theatre Foundation used the time to make significant improvements to the Memorial Auditorium. Those improvements are one reason why the foundation decided to move the entire Broadway at the Tivoli season to the larger auditorium for the 2021-'22 season.
"It's a chance to show it off," said foundation Executive Director Nick Wilkinson. "It's also a chance to hopefully get people used to the idea of coming here when we get some of the bigger Broadway shows like 'The Lion King' and 'Wicked.'"
The improvements are part of a master plan to improve both the Memorial Auditorium and the Tivoli Theatre in the coming years. Since taking over fundraising and management of the city-owned venues, the Tivoli Theatre Foundation has spent nearly $10 million on improvements at both places, with $2.5 million being put into the auditorium.
The foundation is now poised to begin a $42 million renovation of the Tivoli Center on Broad Street.
That work is set to begin at the start of the new year, which is another reason for shifting the Broadway series to Memorial. The bulk of the work will be done in the building next to the theater but will add new bathrooms and concession spaces that are easily accessed by upstairs and downstairs audience members. It will also create new spaces for outside arts groups to use, as well as green rooms, offices and rehearsal spaces for theater events and groups in the center.
Photo Gallery
Memorial Auditorium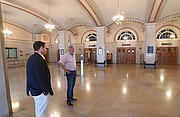 Some changes will be noticed by regulars right away, such as new paint, improved lighting throughout the building and retractable curtains that can block off the balcony for smaller crowd capacities at Memorial.
Other improvements will be less obvious, such as soundproofing that should allow both the upstairs Walker Theatre and the main auditorium stage to be used on the same night.
"We are working on having some sound-management tests done to eliminate sound bleed, but it should make having two shows in both places doable," said General Manager Dave Holscher.
The biggest and perhaps most obvious change will be in the concourse area between the main lobby and the theater itself. This is the area that previously was home to merchandise tables and two small concession areas. New paint, new lights and new larger concessions spaces give it a fresh, open feel. Late this week, crews were installing a second wall at the very back of the theater between it and the concourse wall. The almost two-foot empty space between the two will act as a buffer, Holscher said. Patrons on either side will simply see a wall.
Tivoli Theatre Foundation Capital Improvements by venue since July, 2015
Tivoli Theatre - $5,300,000Memorial Auditorium - $2,300,000Walker Theatre - $400,000Total - $8,000.00Additional venue repairs, maintenance and equipment - $2,100,000Top 10 ProjectsTivoli Theatre Renovation - $4,000,000Memorial Auditorium Chiller - $900,000Tivoli Theatre Film System - $385,000Walker Theatre Relaunch Improvements - $ 350,000Memorial Auditorium Concessions - $350,000Tivoli Theatre Marquee and Equipment Upgrades - $ 450,000Tivoli Theatre Lobby Roof - $320,000Memorial Auditorium Boiler - $300,000Memorial Auditorium Sound Proofing - $200,000Memorial Auditorium Curtain System - $150,000Total - $7,405,000
Prior to the improvements, the concession spaces were small and offered only two points of sale each. For many years, food and drinks were not allowed inside the seating areas, so concessions were not much of an emphasis. People had to rush to finish their drinks and popcorn during intermission.
Since the foundation has taken over running the facilities, city leaders have voted to allow alcohol sales and food in the seating areas, and Holscher has emphasized concession sales by adding additional points of sale throughout both buildings.
The concession area in the Walker Theatre was given a complete makeover two years ago in addition to a new sound system.
The new concession spaces in Memorial are four times bigger than they were, with eight points of sale each and brand-new equipment such as coolers, point-of-sale machines and TV screens that scroll menu items and show announcements that can be seen from most angles.
"You should be able to see what you want and walk right up," Holscher said.
The other big changes are the retractable curtains that allow the theater to be reduced from a seating capacity of 3,800 to 2,200. Red curtains match the theater's decor and hang from the ceiling in sections. They can be raised or lowered to allow for spotlights, and they can be individually retracted if more seating is needed.
"It allows for bigger shows with more people," Wilkinson said.
The series will feature six productions starting with "Waitress" on Oct. 25-27 and ending in July 2022. The success of the series, as well as an unexpected bump in revenue generated from shows at the Walker Theatre, is part of the reason the foundation has been able to make the needed improvements, Wilkinson said.
Money for the works comes from ticket revenues and donations, and he said the Broadway series has been a hit with subscribers who provide much-needed funds.
His staff is working to ensure that regular subscribers, who are able to get the same seats at the Tivoli from year to year as well as other benefits, are given similar seats and assurances with shows at Memorial.
'That's really what we want to make sure people understand," he said. "Our subscribers are very important to us."
Contact Barry Courter at bcourter@timesfreepress.com or 423-757-6354.